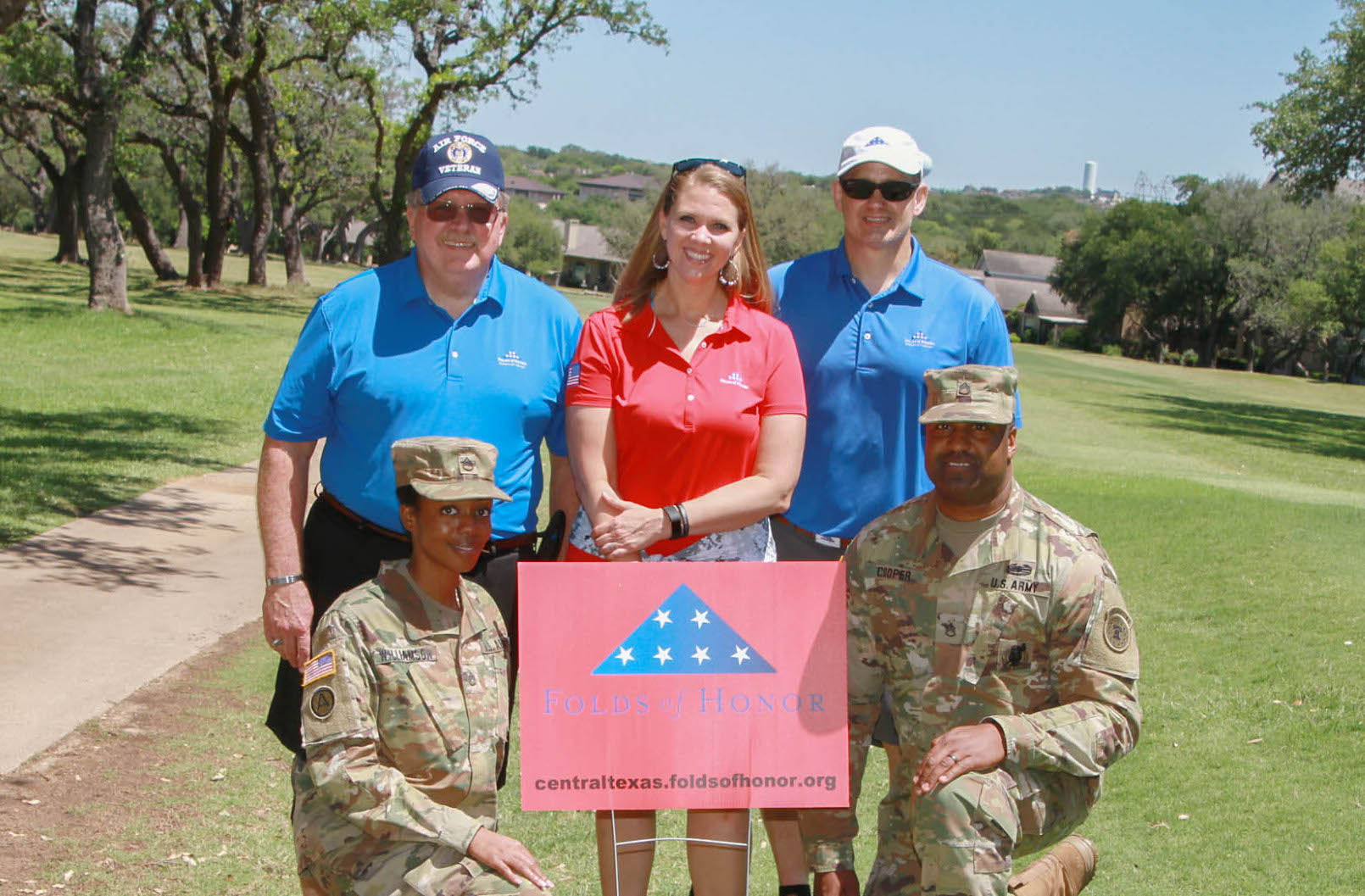 Marina Events and Charity Fundraising Go Hand In Hand for Crosswater Yacht Club
Published on December 2, 2019
Crosswater Yacht Club General Manager Roland Adams says sometimes it feels like he has a second job as a fundraiser, but the end results are worth all the extra work. His marina hosts five events each year to raise money for Folds of Honor, a charitable organization that provides scholarships to the children and spouses of fallen or wounded soldiers.
During the past six years, Crosswater, located on Lake Travis in Austin, Texas, has raised nearly $379,000 for Folds of Honor, which equates to about 75 scholarships. "That is a pretty cool feeling," Adams said. "Hearing them talk about how it changed their lives makes it all worthwhile."
Each April the marina hosts the Patriots Cup golf tournament at a local country club. The tournament raised $30,000 in 2019. During the major holidays – Memorial Day, July 4th and Labor Day – the marina hosts cookouts. In addition to the July 4th cookout, the marina promotes "patriot boating days" throughout July where people buy tickets to win prizes donated by vendors. The dock hands compete to see who can sell the most raffle tickets with the top sellers winning prizes. During Labor Day weekend, the marina auctions off a reserved parking space, which usually raises about $5,000.
"Rods and Ribs" in October is the marina's signature event, which has raised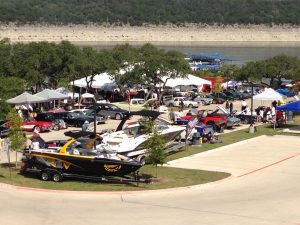 more than $160,000 over six years. The event features hot rod cars, a BBQ rib cooking contest, live and silent auctions, live music, an in-water boat show, and radio-controlled boat races. "The RC races have been a big hit," Adams said. "They don't raise the most money, but they create a lot of interest and excitement."
Adams said it's difficult to estimate the crowd size for the event because people come and go throughout the day. The event runs all day, closing at 6 p.m. "It takes a lot of hands and a lot of volunteers," he said. This year about 30 people volunteered in addition to the marina staff.
To promote the event, Adams uses social media and the silent auction donors help promote it by displaying posters at their businesses as well as sharing on social media. He makes business cards promoting the Rods and Ribs and leaves them on windshields of hot rods he sees that would make a good addition to the show. Prior to the event, Adams also visits other car shows to drum up interest with the car enthusiasts.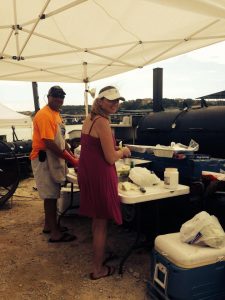 The boat dealers participating in the boat show also promote the event as a way to showcase their boats. The dealers pay $100 for each boat they put in the show with all proceeds going to Folds of Honor.
Adams is currently serving as the 2019 president of the Marina Association of Texas (MAT) and helped promote the idea of Folds of Honor being the recipient of the MAT Gives Back fundraiser in 2018.
MAT Gives Back
The first MAT Gives Back fundraiser was held in 2017 to benefit Hurricane Harvey relief efforts. As part of the annual conference that year the association hosted a pool tournament with the winning team selecting the recipient, Rockport Volunteer Fire Department.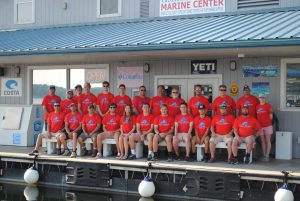 Adams said that first year they thought they would be lucky if they raised $1,500. But as the tournament got underway, the marina representatives and their companies began challenging each other. "It started an avalanche," Adams said. They ended up raising just over $17,000.
Additionally, the marinas collected tools, chainsaws, hammers, nails, gloves, as well as underwear, socks, toiletries and hygiene items. "Basically, we wanted to give some very useful items to the first responders," Adams said.
In 2018, MAT was set to host a golf tournament at its annual conference to benefit Folds of Honor, but the golf course was flooded. Instead, the organizers went to Walmart, bought all the cornhole boards and set up a cornhole tournament in the ballroom.
Adams arrived at that conference with a $15,000 pledge for Folds of Honor from his marina's former owner, Suntex. "We got everybody really excited about it and had a (scholarship) recipient come talk about what Fields of Honor means to them and how it impacted their life. It was a real tear-jerker."
MAT Gives Back raised $61,000 for Folds of Honor in 2018. At the 2019 conference in October, 27 teams participated in the cornhole tournament, raising an additional $70,198. The MAT donation will enable Folds of Honor to offer 14 scholarships.
Ryan Miller, past president of MAT, chaired the MAT Gives Back event this year. "It took on a life of its own," he said. "There is a lot of interest among our members in supporting something like this."
Miller said the tournament also serves as a good social gathering and network event. "It's an excuse to get everyone in the same room and having fun together." The entry fee is $20 per person and people are randomly assigned to teams, giving them an opportunity to meet others.
"It has been a positive thing for MAT," Miller said. "It has made us a stronger organization. It brings people together that much more."
The tournament entry fee is waived if someone's marina held a previous fundraiser for Folds of Honor and brings a donation to the conference. Miller brought $6,000 from his Labor Day fundraiser at Cottonwood Creek Marina. During the holiday weekend, the marina designates all proceeds from fuel sales to the charity.
The marina uses its email list and Facebook to promote the fundraiser, but word of mouth helps too. "We get people coming back that remember it from last year," Miller said.
The fundraiser draws people to the marina. Miller said he knows some boaters who try to run out their fuel the weekend before so they can gas up or bring their bigger boats in during the fundraiser.
Labor Day is a naturally busy weekend, but with promoting the Folds of Honor fundraiser, Miller estimates the fuel sales are 10-20 percent higher than they would be.
"It's been great for us. People come buy gas and are giving to a good cause," he said.