Marina Renovations Completed in South Portland, Maine
Published on March 15, 2022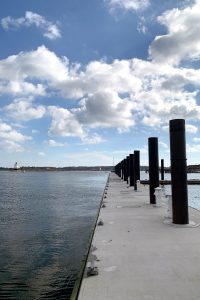 Located on Maine's lively and scenic Portland Harbor in Casco Bay the Spring Point Marina offers transient dockage near one of the Northeast's up and coming destination towns. A marina with a rich history, the site was once a dry dock for Liberty ship building during the Second World War. Located in the town of South Portland, Spring Point recently upgraded their facilities with the help of Prock Marine Company out of Rockland, Maine. Serving as contractor, Prock installed new concrete pontoons manufactured by SF Marina.
Overall, the renovations added 1,150 feet of dockage and brought the total number of slips up to 275. Prock installed seven 65.5 foot long by 17 foot wide SF Marina 1250 floating concrete pontoons for slips and a narrower 1240 concrete pontoon for a walkway. Taking a little over a month, the project began in late summer of 2021 and wrapped up in the fall. Dockmaster Peter Rauscher was quick to commend Prock on the success of the project, noting that they were "excellent to work with."
Port Harbor Marine director of operations Mike Soucy explained that, "the SF Marina pontoons are easy to put together, construction went very smoothly." Spring Point Marina is one of five employee-owned Port Harbor Marine properties. Rauscher was also pleased with the new design and noted the thoroughness of SF Marina. "They were there when the docks were delivered, ensuring they were unloaded properly," Rasucher said.
The new docks are set with 24" diameter steel piles to match those existing in the marina and are built to stand up against the harsh winter storms common to the region. The SF Marina docks also serve as a barrier, taming large waves and sheltering the existing dock and slip-array with their wave-attenuating design. Internal ducts carry 30A, 50A, and 100A power service, water, and other key utilities through the pontoons to the slips. The new setup also has more water in all tides so the marina can now accommodate vessels with greater draft such as sailing yachts. "Before the renovation we were limited to a 9-foot draft," Rauscher explained. "Now we're well above that." Spring Point is also a full-service boatyard and with the new docks they look forward to accommodating the growing number of vessels visiting Portland.
Sign up for the Marina Dock Age newsletter.
Our newsletter delivers the latest news straight to your inbox including breaking news, our exclusive content covering the marina and boatyard industry, new products, and much more.