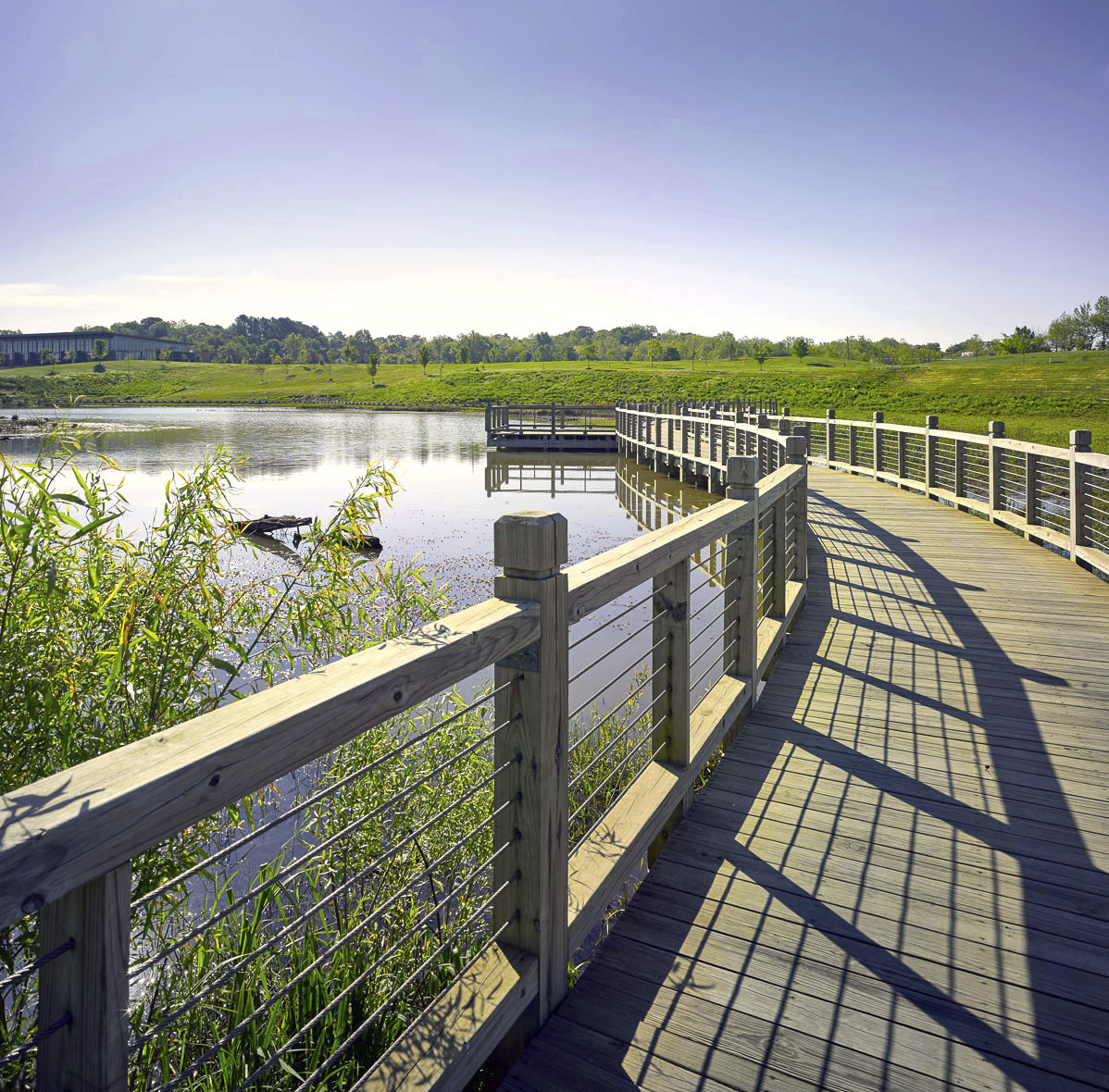 Marina Water Quality Management: Realizing the Value of Cleaner Water and Cleaner Marinas
Published on August 26, 2019
Market demand for new amenities and services continues to push the marina industry to adapt. At the same time, the water itself remains the ultimate attraction and amenity for boaters and visitors. There is increasing awareness of the importance of protecting and maintaining good water quality as part of marina operations. Marina developers, owners, operators and patrons have the opportunity to lead in this regard, and to advocate for better water quality standards as both good business and environmental stewardship.
While regulations play an important role in mitigating water quality impacts, they tend to emphasize baseline compliance versus maximizing improved water quality and what that can mean for water-based businesses. Along with fuel dispensing and on-site storage of chemicals and other materials, most of the water quality regulations for marinas focus on meeting minimum standards for managing upland stormwater runoff.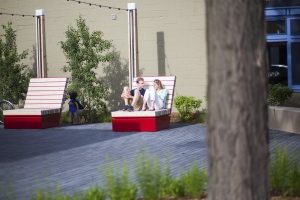 But what about managing water quality within the marina basin itself? A basin full of algae and water that smells isn't exactly a boater's paradise, but unless there's a swimming beach, there aren't as many regulatory requirements for addressing this. While some states such as California have established standards for problems like copper levels within harbors and marina basins, many places aren't yet at the point of addressing water quality in its most holistic sense, integrating both upland and basin management practices.
Recognizing that water and stormwater are both key resources to be managed, two questions come to the forefront:
• How can marina owners and operators create additional value for their businesses by managing their upland runoff differently?
• What approaches and solutions are available to improve water circulation and quality within marina basins and harbors?
Upland Stormwater Management
Traditional site best management practices (BMPs) tend to follow basic standards rather than leveraging stormwater as a resource. There is so much opportunity to add value to a marina through the improved aesthetics, placemaking and biodiversity, which an integrated blue-green-infrastructure approach can provide. Landscape architects, ecologists, architects and engineers all play a key role in developing solutions that treat stormwater and upland runoff as a managed asset.
While recirculating boat washdowns and small parking lot islands can be effective and help meet regulatory requirements, larger-scale approaches can help create an enhanced sense of place. The marina at Caesar Creek State Park in Ohio leverages a larger stormwater treatment train to create an interconnected series of swales, biofiltration areas, naturalized shoreline, and nearshore habitat zones for fish and other species. The design complements the marina's state-park context while improving the visitor's experience.
In much the same way, the fishing pond at Liberty Park & Marina in Clarksville, Tennessee, has become a major asset to the public space. Nearly 300 acres of runoff from upland portions of the park are conveyed through a series of stepped pools before entering the enlarged fishing pond. In addition to filtering upland runoff, habitat shelves carved into the pond and wetland edge support diverse fish species, while the boardwalk and fishing platforms make it a memorable destination for park goers.
Using stormwater design to create destinations isn't limited to wide open parks and natural areas. While swaths of native prairie and interconnected swales are great, creative approaches to more urban/hardscape environments can also be transformative. Permeable pavers, biofiltration planters and rainwater harvesting are just a few strategies applicable in more built-out upland areas where space is often limited, and where a good design team can do amazing things despite space limitations.
Cost and Benefits
Like all improvements, better stormwater management comes with a cost. While the cost differential isn't necessarily significantly more expensive than standard BMPs, it needs to be accounted for. While initial installation costs are an important consideration, the increased appeal of a facility can very much translate to higher slip rates and occupancy levels in competitive markets, and the potential for additional revenue streams, such as the integration of restaurants, bars and even leases to businesses seeking a destination-waterfront address. Being designated a Clean Marina represents another way to improve a marina's market position.
Financial incentives and sources of funding are also available to manage stormwater in a more comprehensive way. Many states offer stormwater management grant programs to incentivize the integration of stormwater and green infrastructure practices. Coastal management programs supported by funding from the National Oceanic and Atmospheric Administration, and in some cases state-run programs fueled by marine gas taxes, are other sources that can be leveraged. In many instances, these funds are available for retrofits to existing facilities as well as for new marina/waterfront development.
Keep it Moving
While harbor water quality can be heavily influenced by upland runoff, improved basin flushing and water filtration are also key water quality management considerations. Product vendors are starting to introduce innovative new options for water filtration, including habitat-supporting living walls (see Water Marks article in July/August issue) and floating skimmers designed to constantly filter and capture pollutants from within the basin. Others have developed floating islands planted with native vegetation that help absorb and filter nutrients. While all these approaches offer some benefit, actions at a basin scale are likely to have the greatest benefit.
While a tranquil basin is highly desirable from a boating perspective, too little water movement can create a stale environment with relatively poor water quality. Depending on the basin's shape, position and proximity to the ocean, lake or river it connects to, limited flushing can become a major water quality issue. Wherever natural flushing is limited, it is critical to find ways to introduce water movement and exchange.
A recent project in Georgia, located along a river and marsh complex that connects to the Atlantic Ocean, highlights the potential environmental impact of poor water quality within a marina basin. The proposed marina basin was being incised into the upland area immediately along the river, an area accustomed to heavy boat traffic. The U.S. Fish and Wildlife Service raised concerns over water quality within the basin, anticipating that the basin's shape and orientation to currents would allow water to stagnate there, resulting in extremely low oxygen levels. Occasional changes in currents would have the potential to flush this "dead water" out into the river, killing nearby manatees.
While the basin at Ayia Napa Marina in Cyprus is dramatically different in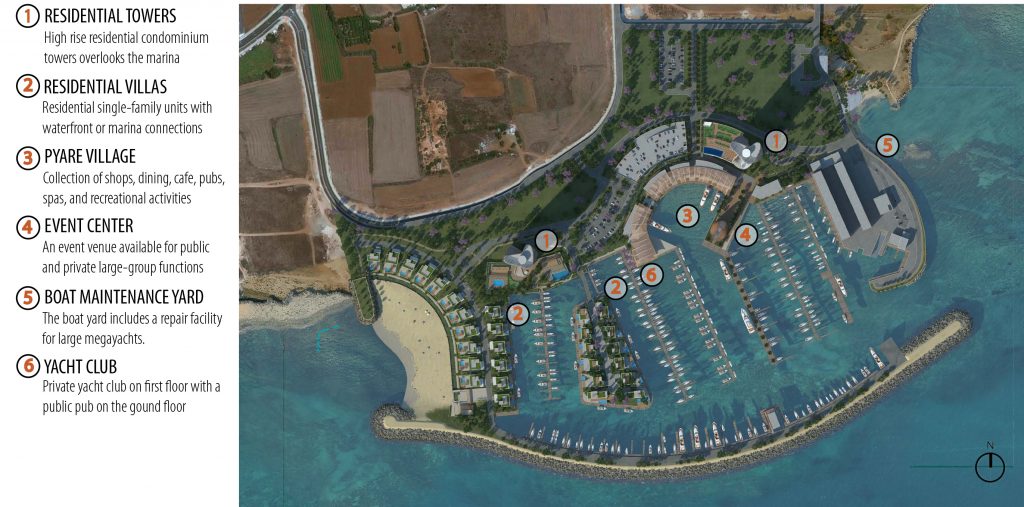 context, water quality there was a primary design concern. As plans for the marina basin were being developed, the connection between the western beach and peninsula and the large breakwater protecting the marina was studied extensively. Initial design plans called for this connection to be left open to promote flushing within the marina basin. While computer modeling of basin circulation suggested this approach would be beneficial, physical modeling of the design revealed that wave transmission through the peninsula and disconnected breakwater exceeded desired harbor tranquility levels.
When this area was reconnected, computer models indicated the potential for stagnant water to form within a portion of the basin (see area 3 in graphic on page 19). To counteract this, ¾-hp circulation pumps were placed into the model. Multiple configurations were tested, and the recommended pumps are being installed to eliminate potential dead zones.
Modeling and Planning Ahead
Studying basin circulation through computer/numerical models can also help protect water quality outside of the marina basin. Fuel spills are a very real concern for marina operators. While the familiar box full of pads and absorbent booms are key, proper location of the fueling dock to minimize the potential spread of a spill can also play a critical role.
While basin flushing was a priority for the Ayia Napa project, numerical modeling of the basin was also used to evaluate locations for the fuel pier. Initial design plans called for installation of the fuel pier along the inside portion of the outer breaker near the harbor entrance. After circulation-model simulations were run, an interior location adjacent to the boat maintenance yard was selected instead. The plume or distribution of fuel resulting from a simulated fuel spill suggested that the closer-to-shore location would provide the marina operator more time and a higher level of success containing the spill before it could escape the basin.
Water quality represents a significant consideration for marina design and rehabilitation. It can enhance the quality and experience for visitors and provides an opportunity for marina developers and operators to differentiate themselves in the market. As frontline stewards of our water resources, professionals in the recreational boating industry can do more than is required by minimum regulatory requirements; they can commit to higher standards for managing water quality upland and within the basin as part of a truly sustainable business plan.
Jason Stangland is SmithGroup's waterfront practice director. He can be contacted at 608-327-4412 or at Jason.Stangland@smithgroup.com.