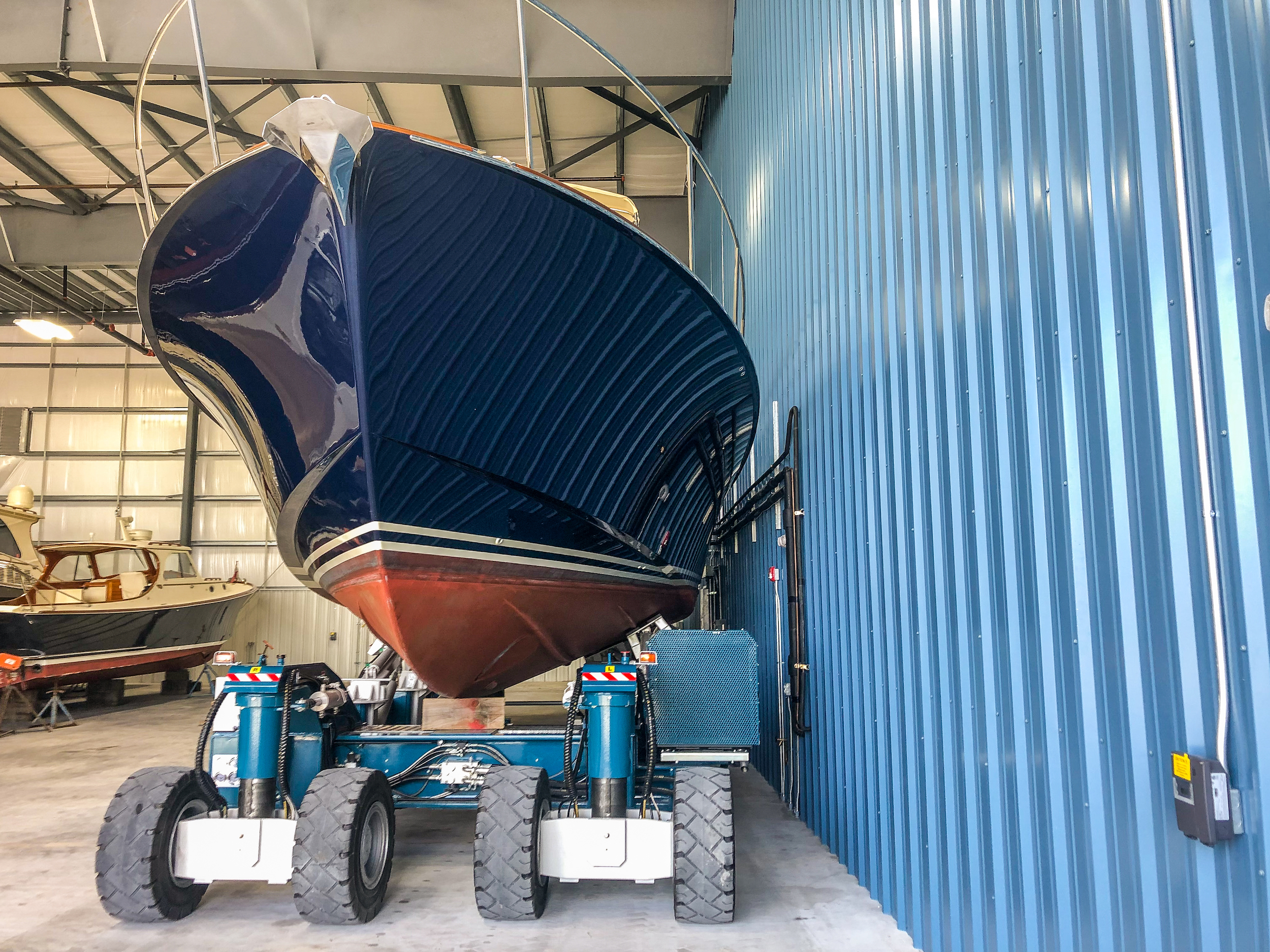 Marine Travelift Delivers Transporter to Hinckley Yard Services
Published on August 23, 2019
Marine Travelift delivered a customized TM60 self-propelled transporter to Hinckley Yacht Services in Stuart, Florida. This transporter model features a 132,000-pound capacity and joins the yard's lineup of Marine Travelift boat hoists, which includes a 50 BFM, 88 BFM and 150 AMO. Hinckley Yacht Services is located in Manatee Pocket, where the boatyard has been serving the needs of boat owners for decades.
The full-service yard includes inside storage in a new 40,000-square-foot climate-controlled building that has room for more than 50 boats and can withstand Category 5 storms. With the addition of the new building, Hinckley Yacht Services needed a solution for boat transportation that could navigate the storage building and exterior yard.
Matt Berbig, Hinckley Yacht Services general manager said, "We went with Marine Travelift because we wanted a machine that could transport our larger size boats and position them in any area of new building interior. This made maneuverability a key factor in our decision."
The previous trailer at the location was not self-propelled, so when construction of the new facility was complete, Hinckley started looking for a more innovative solution to transport larger boats into tight spaces. The new TM60 from Marine Travelift is equipped with hydraulic self-leveling suspension, a wireless remote control, solid tires and more. Additionally, through engineering by Marine Travelift this TM60 transporter was designed with optional hydraulic telescopic arms, which can be rotated 180 degrees and adjusted to easily fit any boat. All Marine Travelift self-propelled transporters come standard with highly versatile crab steering, which is part of the 4-wheel steering package.
Sign up for the Marina Dock Age newsletter.
Our newsletter delivers the latest news straight to your inbox including breaking news, our exclusive content covering the marina and boatyard industry, new products, and much more.
Marine Travelift self-propelled transporters are designed to work in tandem with its mobile boat hoists. Hinckley Yacht Services can now increase the number of boats that can be transported in the same amount of time by using the two machines together.