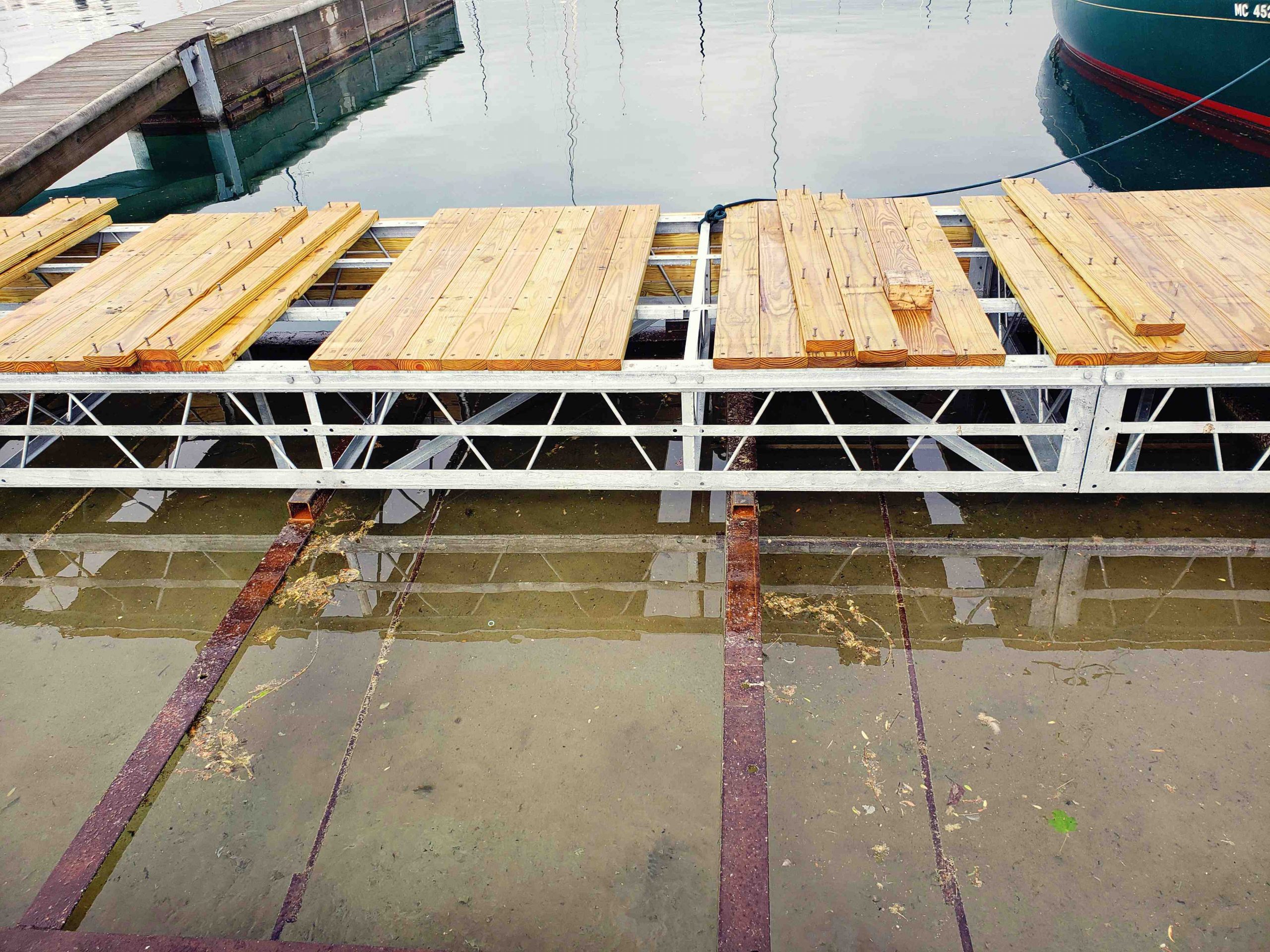 Michigan Marina Adds New Dock on Top of Old
Published on September 26, 2020
Lake Michigan usually sees water levels decline in the fall and winter, but that didn't happen in 2019. When those water levels reached record highs in Lake Michigan this year, the Irish Boat Shop, located in the Little Traverse Bay area of the lake, had a problem. Its fixed transient dock was fully submerged, making it unusable for boaters. At the suggestion of Meeco Sullivan, the marina built a new dock on top of the old.
The Irish Boat Shop's transient dock was built in an old style, consisting of two pile-like metal walls filled with sand, topped by a wood and metal structure and then wood. Taking out the dock would have been expensive, and it may not have even been permitted by Michigan's Department of Natural Resources.
After looking at the pros and cons of various solutions, Meeco Sullivan recommended a system that would solve the problem while leaving the original dock in place to serve as the foundation for a new dock.
"We developed a 12-inch steel truss frame that could sit atop the existing submerged deck," said Nick Nelson, regional sales manager for Meeco Sullivan. The new dock structure features southern yellow pine decking as well as a customized electrical chase. After Meeco Sullivan designed and built the new dock structure, the marina's crews did the installation work for it.
Nelson said that some marinas have placed a wooden frame on top of their submerged docks, but this is not as stable and won't last as long as the galvanized steel structure.
Sign up for the Marina Dock Age newsletter.
Our newsletter delivers the latest news straight to your inbox including breaking news, our exclusive content covering the marina and boatyard industry, new products, and much more.
The solution gives the Irish Boat Shop some options for the future if water levels decline again. "If they see a need, they could take the dock off, put floats underneath it and use it as an extension for the marina," Nelson said.