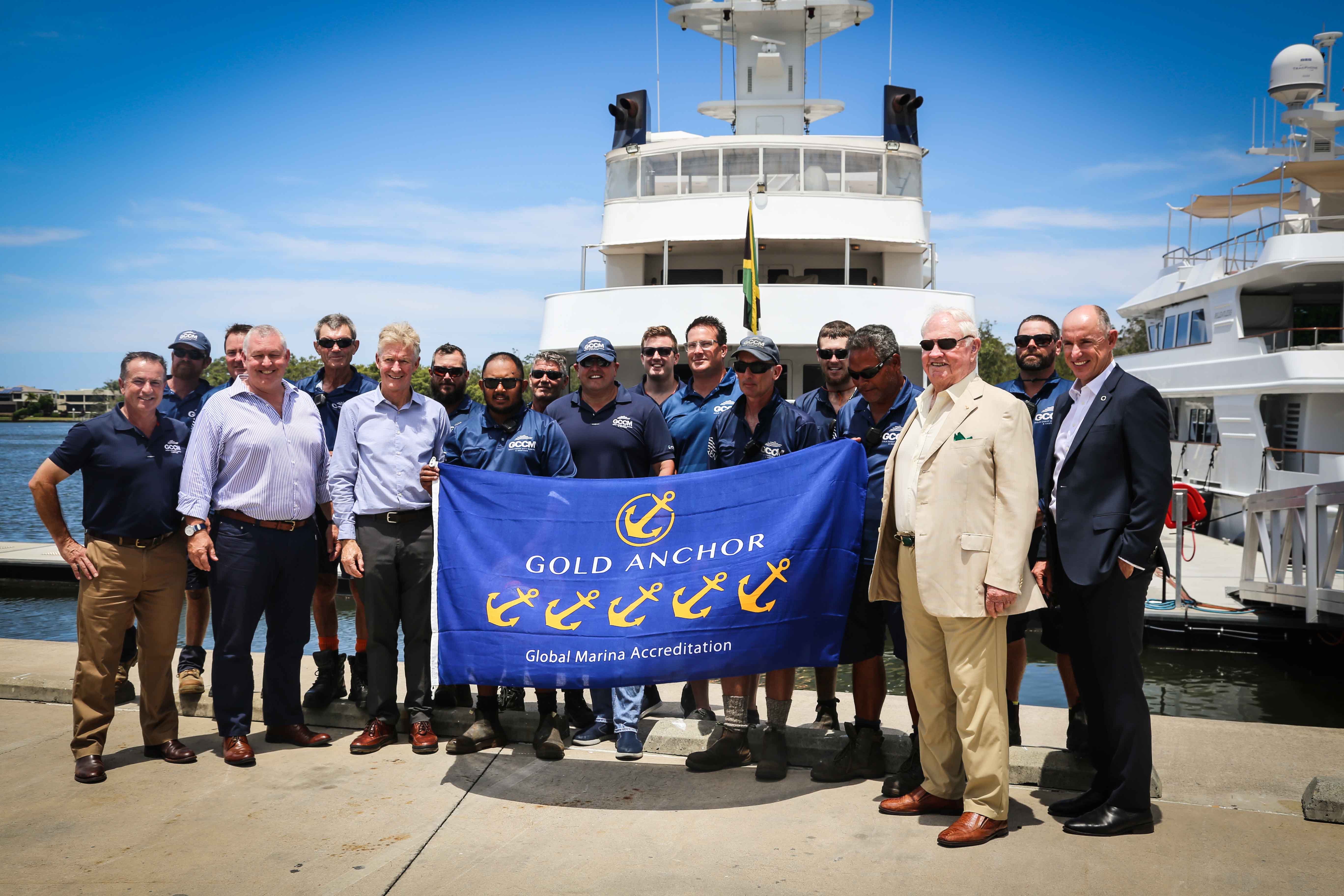 MRA Joins with MIA to Roll Out Gold Anchor Rating Program in U.S.
Published on November 12, 2019
At the Marine Recreation Association (MRA) conference in October, Colin Bransgrove, CEO of the Marina Industries Association (MIA) of Australia announced a new partnership with MRA to bring the Gold Anchor program to North America. The program was originally established more than 30 years ago and now certifies marinas in 29 countries.
Mark Sanders, past president and board member of MRA, traveled to Australia in May 2019 to attend the MIA conference and learned about the Gold Anchor program. With the help of Kate Pearson, MRA regional vice president, who was already very familiar with the program, they helped coordinate the introduction of the Gold Anchor program to the U.S., through a partnership with MRA.
Jeff d'Albora, an Australian marina owner, also attended the MRA conference to help promote the Gold Anchor program and learn about facilities on the U.S. West Coast.
The Gold Anchor program began in 1988, when U.K.-based The Yacht Harbours Association (TYHA) created the accreditation and ratings based on an analysis of marina services, facilities and infrastructure. In 2009, MIA launched its own Gold Anchor program with an increased focus on the customer experience at marinas. In 2013, MIA and TYHA joined to create a single accreditation program called Global Gold Anchor. The program is also endorsed by the Global Marina Institute.
Sign up for the Marina Dock Age newsletter.
Our newsletter delivers the latest news straight to your inbox including breaking news, our exclusive content covering the marina and boatyard industry, new products, and much more.
"It was trying to unify accreditation on a global scale, so that we're not judging by different standards," d'Albora said.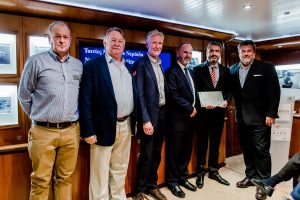 Customer Service
While the program is similar to the Clean Marina programs across the country, in terms of industry recognition, it focuses on different aspects of the operation, not regulations and permitting. Rather, it focuses on evaluating the marina from a potential boater's perspective.
Though the program focuses on unifying global service standards, it also recognizes cultural differences. Customers in different regions expect different services.
"It needs to change to accommodate different locations," Bransgrove said, which is what makes the program's local partners so important. "A laundry room is usually expected at marinas in Western countries and specified in the Gold Anchor assessment. At many Asian marinas, however, a physical laundry is not needed, as a laundry collection service is provided. Assessors take account of such differences in their analysis so that, in this instance, an Asian marina with a pick-up service is not penalized."
Gold Anchor marinas can be found in Europe, the Caribbean, Africa, the Middle East, Australia, New Zealand and other Asia-Pacific countries. With the participation of MRA and the anticipated support in the Americas, the program will become truly global.
Certification Process
Marinas sign up for a three-year accreditation period, and initially, each completes a detailed self-assessment. The overall assessment is divided into six sections: marina ambiance (20%); policies, plans and procedures (10%); customer service (20%); environment (10%); and on and off-water facilities and infrastructure (20%).
Within the six sections, marinas are rated on 87 different items, such as first impressions, access, maintenance, staff training, staff availability, member events, oil spill containment, marina basin depth, design and condition of docks, food and beverage and boating services. Participants receive a 100-page book that defines the highest level of each assessment item.
After the self-assessment, an independent third-party does an on-site assessment of the marina. A sample of marina slipholders are also surveyed by phone. The maximum score possible is 542 points. Gold Anchor marinas are rated on a two- to five-anchor scale. A score within 55 to 64% is two Gold Anchors; 64 to 74% receives three Gold Anchors; a score of 75 to 84% receives four Gold Anchors; and a score between 85 and 94% receives five gold anchors. The program includes only a few five-anchor platinum marinas in the world, which have achieved a score of 95 to 100% on the assessment.
D'Albora compares the program to the Michelin guide for restaurants or rating systems for hotels. "It's very much aimed at the service and expectations of a boater," he said. "If you go to a five-star hotel, you have an expectation about the level of service you're going to get; whereas if you went to a one with two stars, it's won't have the same range of amenities." The process in part is done to help the boater better understand facilities and what to expect. "It's the experience that you as a boater would expect to get," d'Albora said.
Marinas pay a fee to participate in the program, based on the number of slips. Fees range between 1,700 to 6,500 AU$. U.S. facilities will pay an equivalent cost in US$. Marinas must also pay an assessor cost that varies depending on the marina location. On average, that cost should be between $700 to $1,400 US. The rating includes a detailed final report with photos.
Through the partnership with MRA, the Golden Anchor program will be established in the U.S. first on the West Coast over the next two years, then beyond. Two California marinas have already begun the process and have been through the assessment, and six more are in line for the program. The program will also train assessors to do the site visits.
Platform for Ideas
In addition to being another badge of honor for marinas to display, the program has evolved into a platform for the sharing of ideas. "We pick up ideas all over the place," Bransgrove said.
He said the benefits of Golden Anchor vary depending on the marina, but generally are as follows:
• Gold Anchor branding is displayed on staff uniforms and the company's communications– it adds to a marina's qualifications, and can help with Clean Marina accreditation;
• A Gold Anchor rating provides a point of difference from competitors;
• The Gold Anchor program can be used to motivate staff and to strengthen staff pride in the business;
• Gold Anchor provides a practical pathway for continual business improvement. The self-assessment and self-reflection, followed by the independent site assessment and the detailed written and pictorial report with recommendations is often used to guide future capital expenditure; or as a 'road map' to improve various parts of the business;
• As the programs grows globally it provides an effective platform for sharing best practices and ideas across regions, countries and continents.