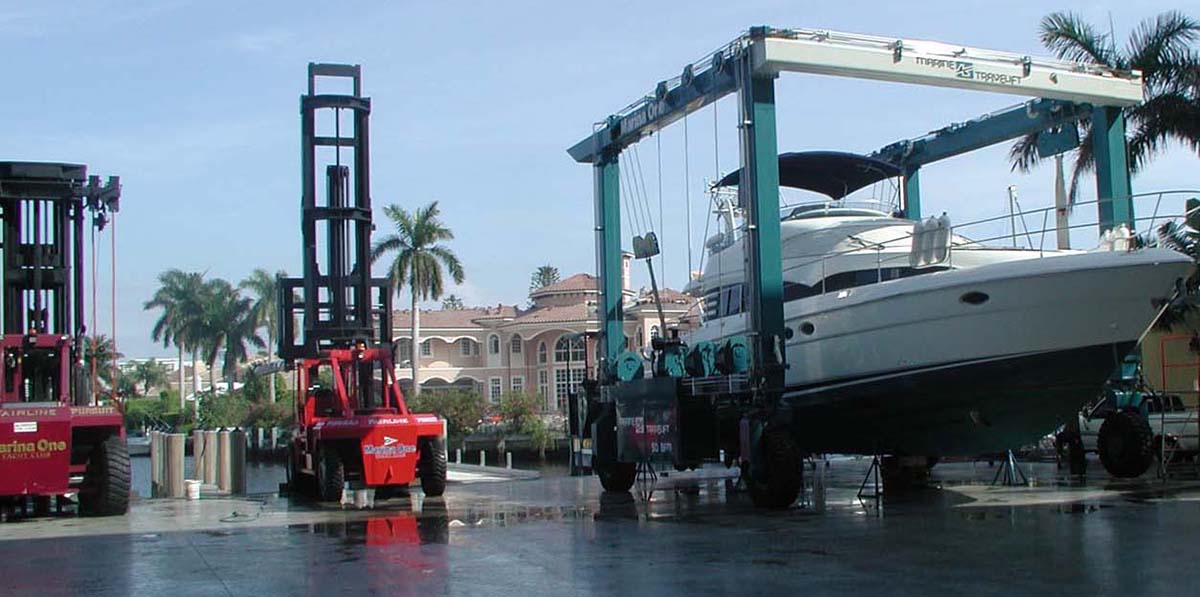 Need a Lift?
Published on August 23, 2022
No, I am not talking about hitchhiking or offering a ride … I am talking about the launching and hauling of boats. While many may think of this as a relatively straightforward subject, with the types of boats and the equipment available to haul them continuing to grow, it quickly becomes clear that it may not be so simple, and one size definitely will not fit all.
Boats have changed over the years through technological advances and demands for various uses. Part of this has been due to technological developments in other fields – such as aviation, automobiles, other heavy industries, and the military – which have been applied to the type, shape, and manufacturing of recreational boats.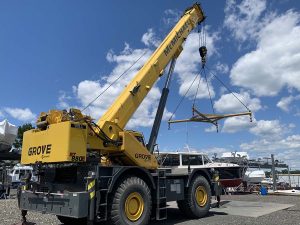 And, particularly in recent years, such technological advances are increasingly being applied to how we go about the hauling and launching of boats, providing all sorts of options to facilities. All have their benefits, limitations, and associated costs.
The prudent approach is to better understand your present and, importantly, future market for the types of boats accommodated and the types of service to be offered, which can then be translated to the best cost-benefit approach for equipment for your particular site.
Sign up for the Marina Dock Age newsletter.
Our newsletter delivers the latest news straight to your inbox including breaking news, our exclusive content covering the marina and boatyard industry, new products, and much more.
Sounds simple and easy, but it gets more complex as the types of boats in the mix change, and as more choices of equipment become available.
The Launching Ramp
The use of the launching ramp has been with the industry since the beginning of time. Over time, the launching ramp designs have become more refined, with specific slopes and construction materials required for safety, traction, and functionality.
But, more importantly, the use of the launching ramp was revolutionized with the birth of the hydraulic trailer. Brownell Boat Stands & Equipment was among the leaders in this move, which allowed a trailer to use hydraulic arms to brace boats being loaded onto the trailer in the water as well as on land. Such trailers and variations on the theme allow transport not only to the close by hardstand, but also transporting distances to other locations. It allowed faster, safer, and more efficient movement of the boats, including placing and lifting the boat from the hardstand location near or far.
Launching ramps vary from the shorter and steeper to the very gradual sloped ramp. Each has its own preferred equipment and can handle boats with differing sized lengths, widths and weights. The steeper and shorter ramps take up less upland and in-water real estate and was historically used for the shorter boats. The more gradual ramp was used where shallower water depths existed and allowed use of longer boats. But trailer technology has and continues to evolve to have more versatile equipment with hydraulic legs/arms that can adjust for the steepness of the ramp, allowing more versatility of the size boat to be hauled on the steeper ramp and well as keeping the boat relatively level as the boat is going up or down the ramp. Years ago a catamaran sailing or motor yacht of over 30 feet was a rarity. Today, large catamarans particularly in Europe, are gaining popularity, with boats ranging up to and well beyond 70 feet, and with a sweet charter fleet in the 45 – 60 foot range. These yachts can command retail prices well into and over the seven-figure mark. Deciding to service them as part of one's boating mix requires real thought. One of the more popular methods for hauling them is the use of a launching ramp with a specialized trailer mechanism. Different manufacturers of these vessels have varying recommendations of how to best haul the boat, with one of the main issues being bracing the boat below the bridge between the two hulls, bracing the two hulls, or a combination of both.
Trailers, Cranes, and Mobile/Travel Lifts
Today there are numerous types of trailers, including those that have accordion outriggers for the multiple pontoon hulls, and/or hydraulic beams for supporting the catamaran's bridge. There are other technological innovations, including self-propelled amphibious trailers – occupying a smaller footprint and potentially eliminating the need for a separate tractor if hauling the trailer was its only use.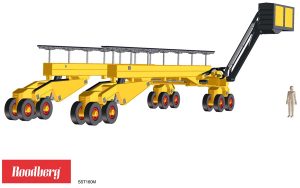 One of the leaders in the technology in advancement and versatility of hydraulic trailers (and other lifts) is Roodberg (headquartered in the Netherlands), a trademark of Frisian Industries B.V. A key point to keep in mind with these and most all hauling options are the slopes of the ramps/ground that they can operate on. Some have much greater tolerances than others.
Technical advances have also been emerging for the crane and mobile/travel lifts. While many marinas years ago basically started with a 15-ton mobile lift, and it remains a mainstay for the recreational industry's smaller boat market, many have grown to large units as the boats have become longer, wider and heavier, as well as today's need for the mega and super yachts lifts into the hundreds of thousands of tons.
But it is not just the tonnage that now can be lifted, the widths of recreational boats have also been expanding. Changes in the recreational boating markets require marinas to focus on which market is best for their site. There are challenges to picking the lifts to be able to safely haul and launch boats in a manner so that the boats stay upright and don't sway during the lifting and lowering operation. Many facilities have gone to more than one size mobile lift to accommodate their market. There is also the issue of placing the boats on the upland, where an overly wide mobile lift will not be able to get the boats as tightly spaced unless rehandled by a separate trailer – which is not uncommon but means more people and more equipment. Today there are also accordion mobile lifts, such as Eden Technology's Trollift (based in Italy), that have the ability to be narrowed while the boat is in the sling. It is then able to navigate tighter spaces when carrying narrower boats, though of course, that flexibility comes at a cost.
As the lifts become wider and are lifting heavier boats, the physical structure for the lifts to operate also requires more area and has to be structurally sturdier. Multiple liftwells take up more room in both the in-water, shoreline interface, and upland areas.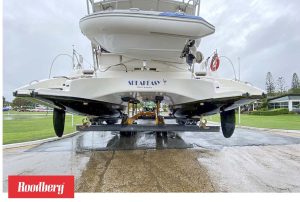 An alternative, particularly for boats up to the 60-foot range, is the use of mobile cranes. The use of adjustable spreaders and stronger slings has helped accommodate hauling and launching a wide array of lengths, widths, and weights. For many facilities, the mobile crane has been the workhorse for a large variety of the recreational boating market and allows the boats to be placed closer together on the hardstand, as well as at times lifting one boat over another boat. They do not need a lift well, just a relatively vertical bulkhead or seawall (and most often an adjacent upland concrete pad). The lifting capacities have increased with better turning radiuses as well as the length and strength of telescoping booms and counterbalance weights. They also have often tolerated somewhat steeper slopes in transit than many other pieces of equipment, particularly with a highly skilled operator.
Forklifts
In addition to the mobile lifts and cranes, there have been significant technological advances in the use of forklifts. Historically, forklifts with a negative lifting capability were used for smaller and relatively light boats up to 25 to 30 feet, and they could be placed in racks as high as two to three rows. Today there are lifts that can easily handle boats up to 50 feet in length and they can go up several stories.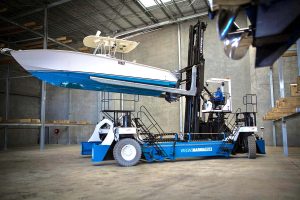 One of the leaders in the forklift industry is the Wiggins Lift Company, which made inroads in many aspects of the apparatus, from the wheels to the lifting capacities to the heights and depths of the telescoping lift to the use of cameras and much more. One of their newer approaches that has caught our eye is the Marina FLX. In addition to its four-wheel steering that allows for greatly improved maneuverability and much tighter turning radiuses, it also has a cab that can both telescope up roughly 10 feet above its normal position, and that can also rotate 180 degrees. All of these features are highly desirable, but that rotating cab can really come in handy where you don't have the waterfront real estate to turn the forklift around for the drive to/from your boat storage or work area. A case in point is a very mixed-use development where all of the boat storage and work areas were located landward of the waterfront hotel, shopping, and residential uses, with just a straight road through them all to the launch area. That rotating cab has the ability to solve a lot of problems.
Technological Innovations
Technology is also changing how operators physically operate the lift, with many lifts that can be run from hand-held devices while walking along on the hardstand. And for facilities looking to up their "green" credentials, there are new generations of most types of hauling equipment coming to market that are all-electric units.
Indeed, the options that are open to marinas today are numerous – and like a smorgasbord – some may be more appetizing than others. There are many companies making this equipment. While this can help in pricing, the prices are not for the weak of heart. Marina managers need to take a hard look at their needs and what fits best for their facility. There are differences in quality and performance between various companies, and checking them out, particularly with others that have their machines, is highly recommended. It is also important to look at the potential extras not included in the pricing being offered, and what type of training as well as service is offered.
As some marinas are trending to becoming larger, with the ability to accommodate a great mix of boat sizes, having more than one hauling and launching approach and equipment is becoming more the norm than the exception. We have seen numerous combinations of mobile lifts, trailers, and cranes with liftwells, bulkheads, and ramps.
The trick then is to look at the options and the cost-benefit and payback ratios. And it is not just the cost of the apparatus that needs to be considered but also what type of operator is needed and potential regulatory requirements. Look at market trends and what the facility market is today and what it is capable of servicing tomorrow. As I've said, none of the options are inexpensive, and there is no one size that fits all.
But when all is said and done, by making the best choices, one can not only get a lift for the boats, but a lift for your bottom line as well.
Happy hauling/launching.
Dan Natchez is president of DANIEL S. NATCHEZ and ASSOCIATES Inc. He can be reached at 914/698-5678, by WhatsApp at 914/381-1234 and by email at dan.n@dsnainc.com.