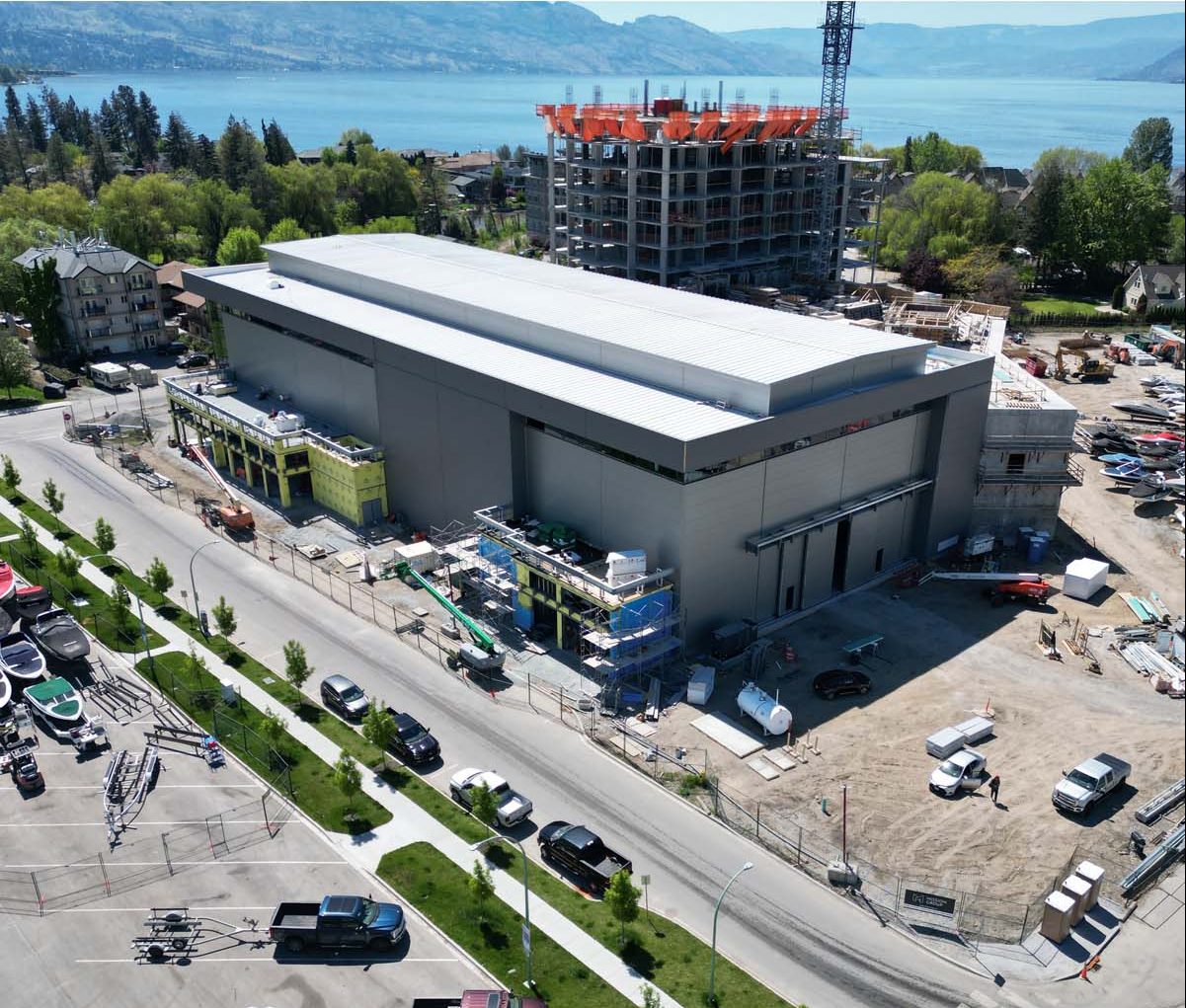 New Amenities at Marina on Lake Okanagan
Published on November 9, 2023
On Lake Okanagan in Kelowna, B.C., the Aqua Boat Club now moves client vessels more efficiently thanks to a new 8-ton Top-Runner Stacking Crane from CAPRIA S.A. Owned and operated by the Mission Group, this unique dry stack marina accommodates 160 vessels up to 29.5 feet in length. Aqua Boat Club offers valet style service to members, storing vessels off the shoreline at their 30,160-square-foot dry stack building. Through the Boat Cloud mobile app, members request a departure time for their vessel, which the crane operator pulls and unloads onto a transport truck. The truck takes the vessel to a ground loading slip where it is topped with fuel, potable water, and loaded with a complimentary bag of ice by Aqua staff.
The solution to install the electric 8-ton crane by CAPRIA S.A. came after extensive research and development by the Mission Group team. With 64' ceilings, the Aqua facility required careful consideration before a lift solution was chosen. "We looked at our options and traveled to Canadian and U.S. marinas for references," said Austin Friesen, VP of Aqua Boat Club. "They voiced many annoyances regarding working with forklifts at heights. We wanted our operators to be able to move with the crane forks to mitigate accidents from a loss of depth perception."
The crane operator works from an anti-fall cabin at eye-level with the boat as opposed to the limited ground-level view of fork-lifts. The design affords greater accuracy to the operator simply through their physical proximity to the vessel at all times. While staff members and clients all benefit from the high level of safety afforded by the crane, the all-electric solution has additional benefits. "Our crew has never been happier," Friesen said. "The crane is simple to use and there's no exhaust noise or dust kicked up from tires."
The valet style service saves members the hassle and time of transporting and launching their vessel on their own. Currently, the club operates from May to September, moving 86 vessels per day. That number is expected to increase to 193 upon upgrading the ground loading slip count from 9 to 16. The Aqua Boat Club also offers a boat sharing program with a fleet of new premium sport boats.
Sign up for the Marina Dock Age newsletter.
Our newsletter delivers the latest news straight to your inbox including breaking news, our exclusive content covering the marina and boatyard industry, new products, and much more.