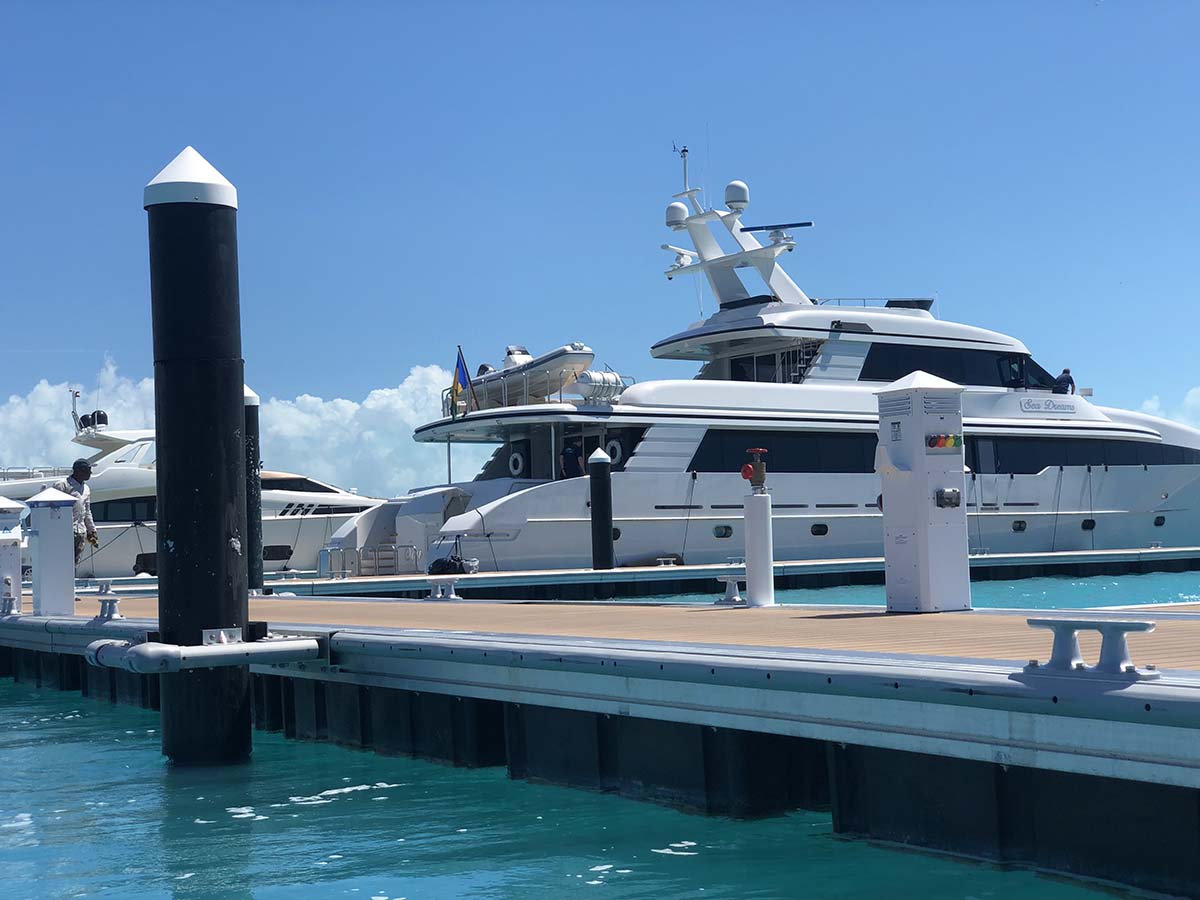 New Dock at Turks & Caicos Marina
Published on November 13, 2022
While sunny skies and turquoise water summon many to the Caribbean to bask in unparalleled beauty, the other side of life in paradise is a season of beastly storms. Hurricane Irma ravaged many facilities throughout Florida and the Caribbean in late 2017, and Blue Haven Marina in Turks & Caicos was no exception. Just four years after construction of its concrete floating dock system, the marina sustained irreparable damage from Irma with the steel piling being the only usable element in the aftermath. "Normally, the marina gets about 4 knots' worth of current but we estimate that with the hurricane, it got about 15 to 20 knots' worth of current," said Adam Foster, marina manager at Blue Haven Marina. "The water ran in with so much power that it snapped the wood that holds the marina together. It snapped concrete floats and sections of the dock. The movement from the sheer volume of water and wind cracked nearly every float on the dock. Whatever didn't blow away was damaged by wind and water."
Marina Technologies (MTI) developed a new docking system consisting of 71 slips able to accommodate local and transient mega-yachts of 220 feet in length with a draft of 8.5 feet. MTI used their System D-260 with adjustable pile guides to utilize the marina's existing 16" diameter steel piles with 18" HDPE sleeves. "This was a huge cost-saver compared to pulling and re-driving all the piles," said Bob Berry, MTI project development manager.
The System D-260 features a heavy-duty aluminum system with dual-track aluminum extrusions and thick-walled aluminum rectangular tubing for all beams and stringers. The system uses polyethylene floats, 2"x4" PVC fendering with full-length internal aluminum backing plates, adjustable cleats up to 22" (10-ton capacity) with MTI's unique mounting system, dual flexible/silent rubber dock connections, side and central top-access utility troughs, and heavy-duty aluminum pile guides. "Our heavy aluminum system is much stronger than the previous timber-waler concrete system and coupled with the shallow-draft polyethylene floats – will be better able to withstand the next hurricane and raging tides," Berry said. The 37-foot-long docks were manufactured at MTI's facility in Montreal, Canada, and shipped in containers to the island.
The new state-of-the-art marina offers in-slip hi-speed diesel fueling (100 GPM), in-slip pump-out service, 100-amp single and 3-phase power, 480-volt/100A – 3-phase power, potable water, laundry services, waste collection, on-site provisioning, crew lounge, private showers, swimming pool, and complimentary resort shuttle service.
Sign up for the Marina Dock Age newsletter.
Our newsletter delivers the latest news straight to your inbox including breaking news, our exclusive content covering the marina and boatyard industry, new products, and much more.