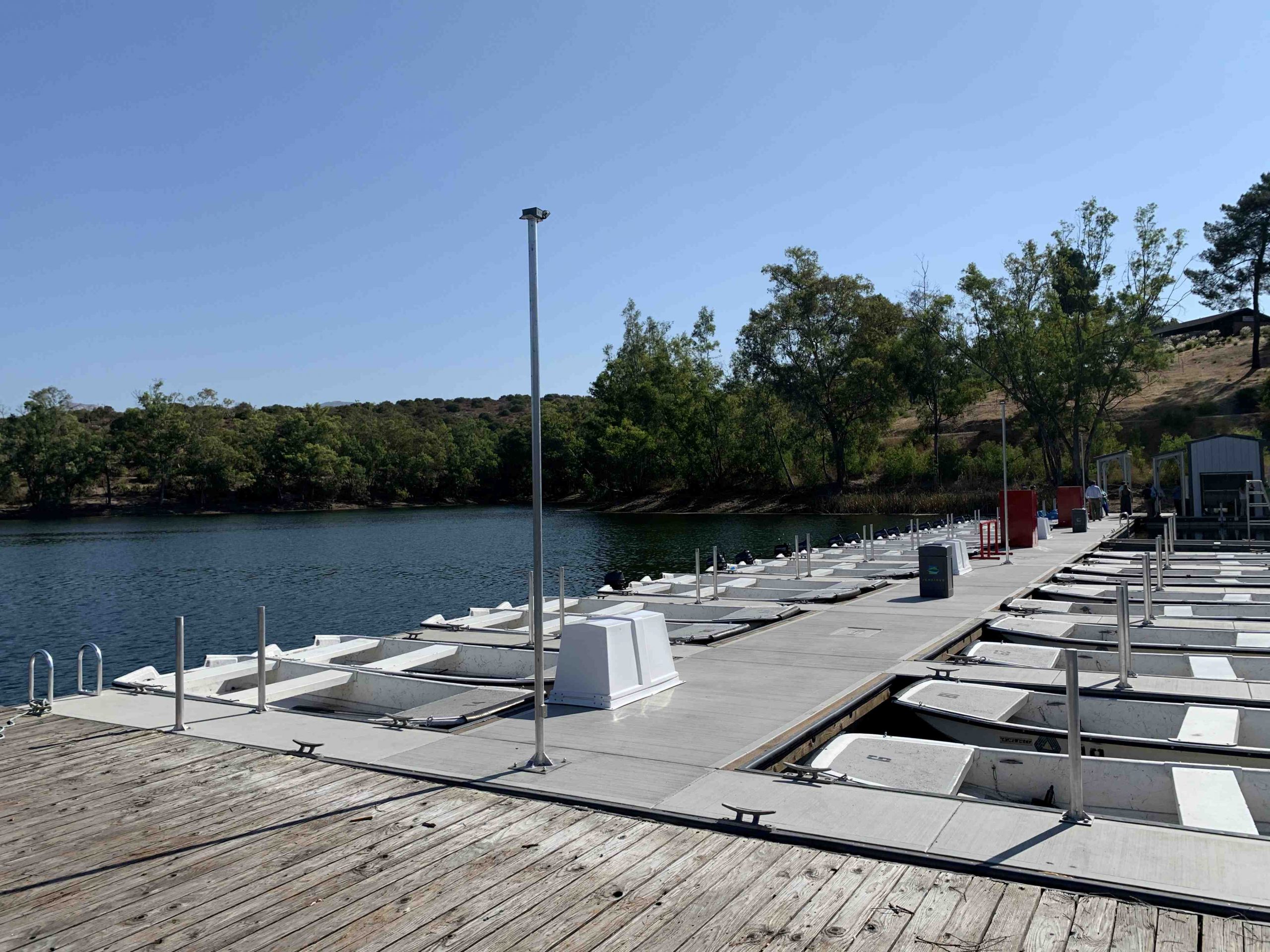 New Dock for Lake Jennings Marina
Published on November 12, 2020
Bellingham Marine has replaced a 25-year old wooden boat dock at Lake Jennings reservoir in San Diego County, California, with a match-cast concrete system. The project included the main dock (184×8 feet), 20 fingers (14×3 feet) and a platform (23 feet square) for a 12×10-foot building.
"It was important for Lake Jennings to have a durable product in there, since this is a drinking water reservoir. They wanted something that would last and not leach into the environment," said Brian Hylland, project development manager for Bellingham Marine's Southwest division.
The modules for the concrete dock were manufactured at Bellingham's plant in Dixon, California, and shipped to the site. Bellingham Marine built the new docks in the water alongside the existing dock, then floated the old dock out in one piece and replaced it with the new one.
"Once its put together, the dock is post-tensioned, so that it acts just like it was a single unit of precast," Hylland said. "When we were building the concrete system, people were able to walk from the existing wood dock to the concrete dock and their reaction was that it was extremely stable and felt no different from walking on land." The match cast post-tensioned system also provided a more stable foundation for the building, acting as a single unit.
Sign up for the Marina Dock Age newsletter.
Our newsletter delivers the latest news straight to your inbox including breaking news, our exclusive content covering the marina and boatyard industry, new products, and much more.
A cable/winch anchoring system enables the Lake Jennings staff to move the dock out as water levels subside.
Bellingham self-performed all the work, including the construction of the small building with a solar-panel electric system, which powers the dock's LED lights. The company also installed a kayak rack, handrails that will serve as grab rails, and a new aluminum gangway and entrance gate.