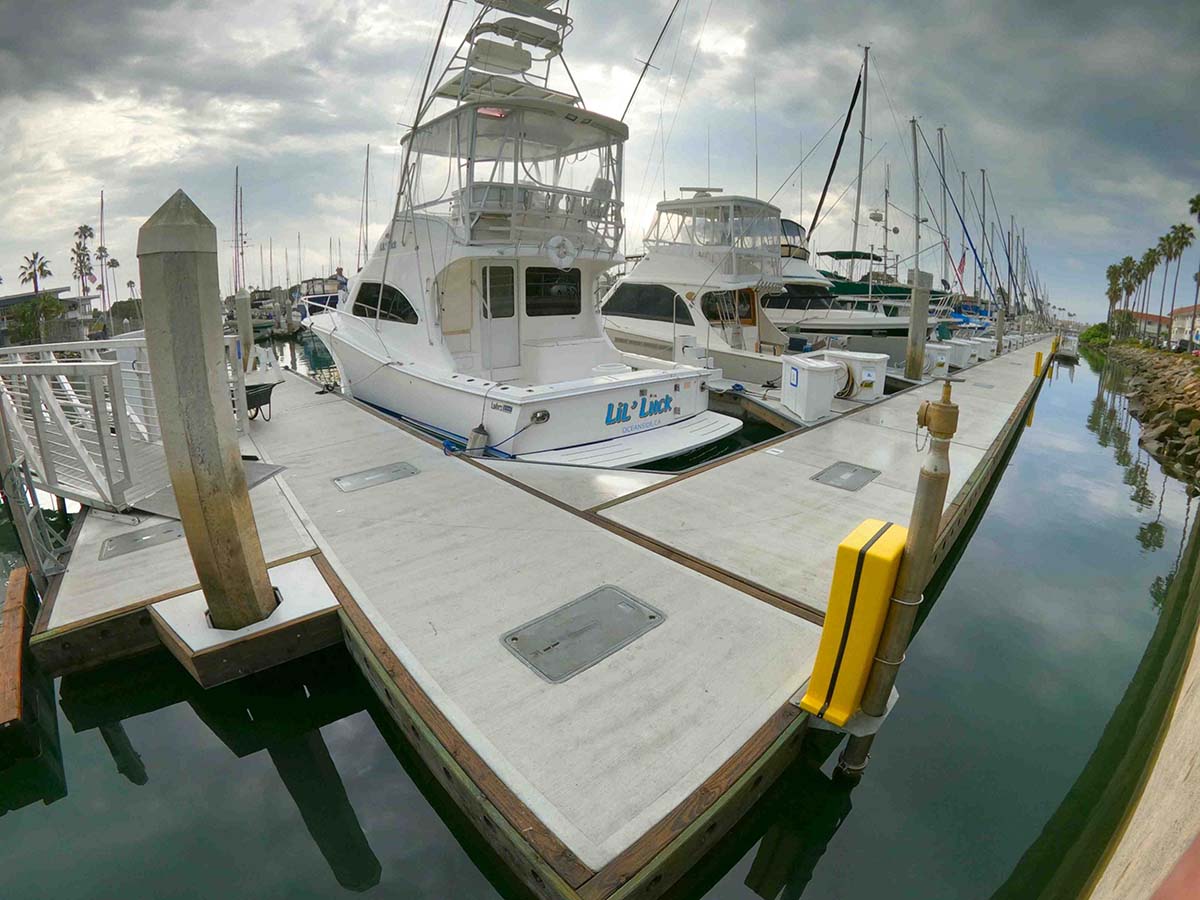 New Dock for Oceanside Harbor Marina
Published on August 31, 2021
The marina at Oceanside Harbor in San Diego County was constructed in the 1960s and partially renovated in the 1980s. It remained relatively unchanged until 2021, when the marina replaced J Dock, one of its largest and oldest docks with a new floating concrete system from Bellingham Marine.
Three decades of exposure to ocean saltwater and heat had taken their toll on J Dock, and it had reached the end of its useful life. Bellingham demolished and removed the old dock, which had 52 slips, and installed a new one without substantially altering the slip sizing, layout, or configuration. "We replaced the dock in the same footprint and reused the existing piles," said Bryce Fisher, manager of project development at Bellingham. That approach streamlined the permitting process and made the project easier for the marina.
The 30-year-old existing J Dock had also been designed and built by Bellingham Marine. The new docks reflect the product advances that the company has made over the years, giving the marina a much more robust system, Fisher added.
Construction began in February 2021. As a condition of the awarded contract, Bellingham was required to maintain 50% occupancy for slip holders during both phases of the project. The company achieved this by implementing a comprehensive slip transition plan that provided temporary water and power to boaters during the construction.
Sign up for the Marina Dock Age newsletter.
Our newsletter delivers the latest news straight to your inbox including breaking news, our exclusive content covering the marina and boatyard industry, new products, and much more.
Bellingham Marine also demolished and rebuilt two gangways. One was an 80-foot gangway that is fully ADA-compliant and meets or exceeds all federal guidelines for marina accessibility.
The company completed the construction of the new J Dock by May 2021 and the marina was open at full capacity for all of its slip holders in time for the busy Memorial Day weekend.