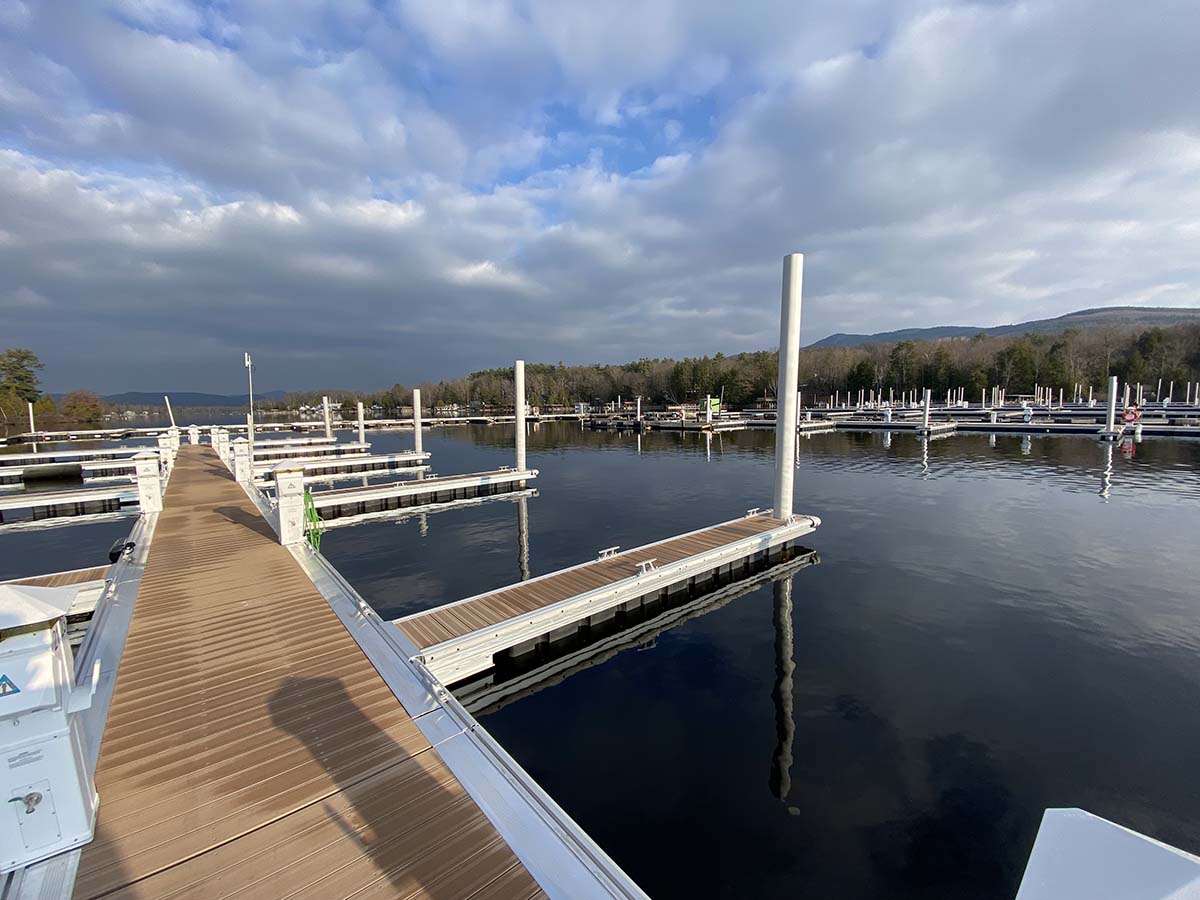 New Docking System for Lake George Marina
Published on March 5, 2023
The Harris Bay Yacht Club on Lake George in Cleverdale, New York, has finished construction of a new docking system. Ticonderoga-based AP Reale Marine & Civil Contracting and Marina Technologies (MTI) were contracted to replace the antiquated wood docks with a state-of-the-art aluminum-framed docking system.
With 271 slips, the Harris Bay Yacht Club is the largest marina on Lake George in upstate New York. The club's wood docks, built in 1983, were replaced with MTI's S-190 aluminum docking system complete with 30A & 50A power, lighting, fuel pumps, potable water, pump-out, and Wi-Fi. The fuel dock will also have a floating fuel office and ice machine.
"After a long and detailed analysis of the different dock systems, they decided on Marina Technologies aluminum dock systems because it had the most features and advantages for the price, which made it the best investment for the yacht club," said Bob Berry, MTI project development manager.
"Our dock system includes proprietary composite decking, polyethylene floats, aluminum reinforced PVC fenders and inflatable (pressure adjustable) corner bumpers, dual top-access utility troughs, flexible and silent reinforced rubber dock connections, and adjustable 12" powder-coated aluminum cleats with stainless steel backing plates," said Richard Murray, president of MTI.
Sign up for the Marina Dock Age newsletter.
Our newsletter delivers the latest news straight to your inbox including breaking news, our exclusive content covering the marina and boatyard industry, new products, and much more.
"The new docks have dual top-access troughs with 7-foot long aluminum cover panels, which makes installing, accessing, and maintaining utilities simpler and faster compared to removing deck boards. We also have a large, separate central utility trough on the fuel dock for fuel lines."
AP Reale Marine & Civil Contracting also handled the demolition of the old docking system. The contractor installed new 10-inch PVC piles to anchor the new system in place. Berry said the PVC piles will provide superior performance with minimal maintenance for decades. The new system will be a permanent fixture through all seasons, freezing-in-place through the winter months without issue.
The Harris Bay Yacht Club offers its members an Adirondack style club house with restrooms, showers, laundry, kitchenette, and picnic area with gas grills.