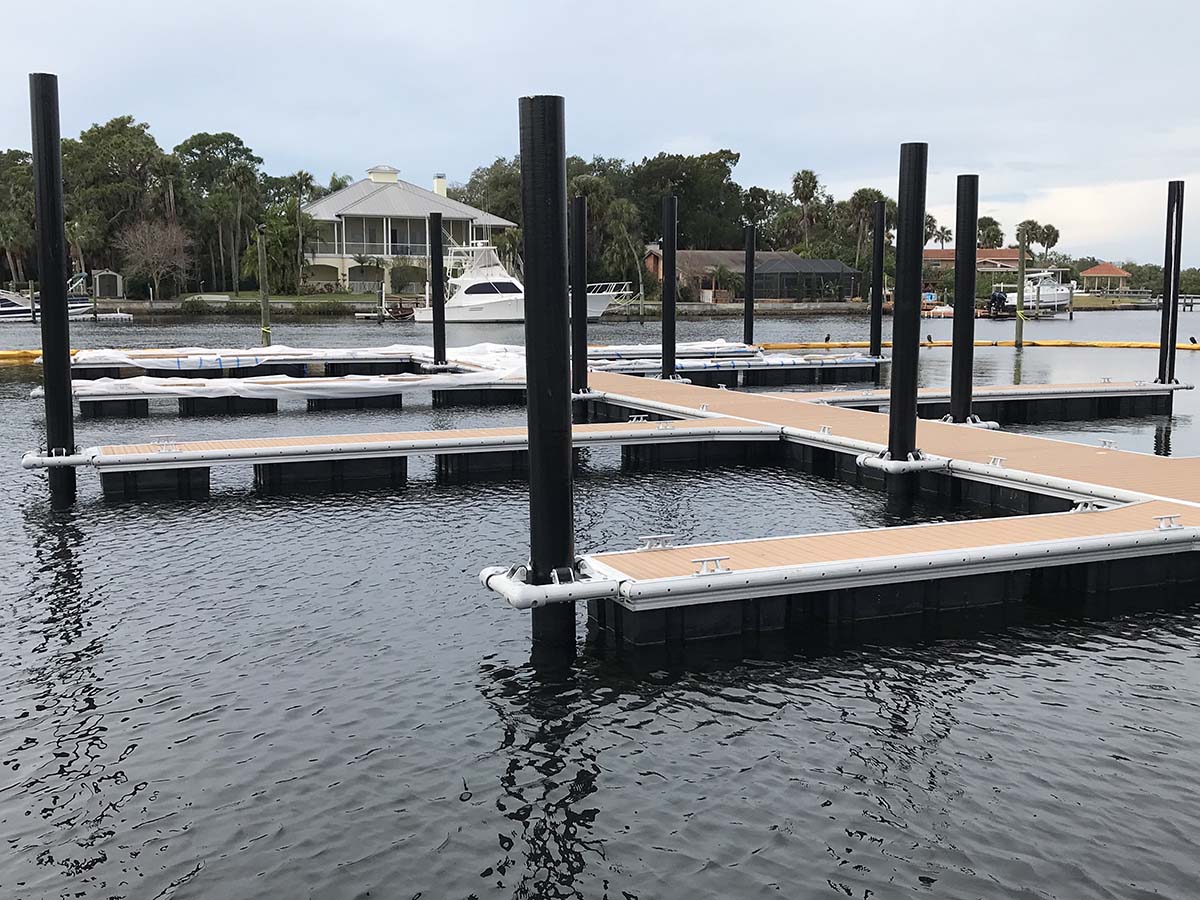 New Docking System for Port Richey Marina
Published on March 28, 2023
Florida's Port Richey Marina celebrated its grand opening in early April after undergoing several upgrades this past winter. The marina now offers a new state-of-the-art docking system from Marina Technologies Inc. (MTI).
"The old fixed-timber docks were in poor condition and needed to be replaced," said Tim Lowe, owner and manager of Port Richey Marina. "The original layout was inefficient for the property, so we re-designed the slips and permitted the new configuration". The marina had done their share of research and we're focused on a docking system with versatility and longevity.
Lowe said they wanted to move away from high-maintenance timber and find a better dock system that provides a long life span and minimal maintenance.
They also wanted a mix of fixed docks with boat lifts and floating docks. "After considerable research into dock materials, designs, and manufacturers, we decided on Marina Technologies (MTI) aluminum-framed dock systems with composite decking," says Lowe. "The fixed docks, floating docks, and gangways all match and look beautiful – and have features & benefits that make them a fantastic system. We are already getting a lot of compliments."
The marina's timber piles were also replaced with 12" fiberglass piles with epoxy coating that will endure a longer service life and allow a perfect fit for MTI's aluminum floating docks with internal pile guides and fixed docks. In total, the marina has 30 permanent wet slips, eight temporary wet slips, and 11 slips with fixed docks and boat lifts.
Sign up for the Marina Dock Age newsletter.
Our newsletter delivers the latest news straight to your inbox including breaking news, our exclusive content covering the marina and boatyard industry, new products, and much more.
The second phase of the project includes the installation of a dry storage barn and the marina also hopes to obtain permitting for an additional 55 slips. "We own Catches Waterfront Grille, an upscale seafood restaurant right next door," Lowe said. "The new docks will allow dockage for visitors by boat."