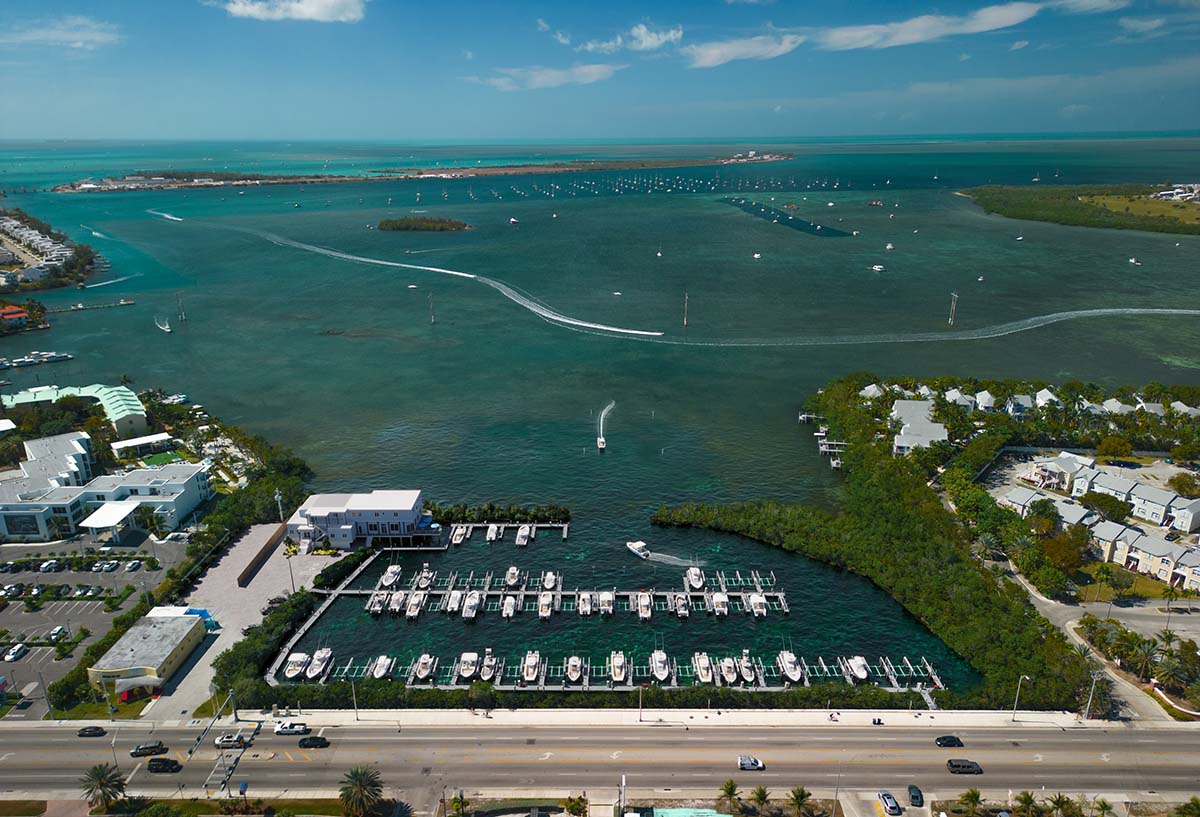 New Key West Marina Pre-leasing Slips
Published on October 2, 2023
A new marina in Key West is now pre-leasing slips ahead of a grand opening scheduled for this fall. Located off North Roosevelt Boulevard, Happy Landings Marina, prepares to offer sportsmen and sportswomen a unique home in Florida's most famous island destination.
"During the design process of this marina, our top priority was catering to the needs of sportsmen and sportswomen," said partners Sam Napp and Daniel Robles of American Marina Properties. "We are deeply committed to executing on product quality, particularly with our docks and boat lifts, and providing 24/7 accessibility, privacy, and a high level of security and customer service."
Initially, 30 of the long-term slips will be equipped with boat lifts rated to 10,000, 16,000 and 20,000 lbs, and the marina can support up to 38 more if customers request them. Dockside utilities include 30-amp power and a freshwater spigot, with a single pump-out station near the dock entrance available to all clientele. Fish cleaning station(s) and speakers are also available dockside. The marina is currently focused on serving long-term renters, but plans are in the works to accommodate up to seven charter boats given their prime location for accessing the Gulf's back country and the Atlantic Ocean.
Phase II of the project is focused on upland development, including restrooms with showers, a lounge, grilling area and climate-controlled lockers for fishing and diving gear.
Sign up for the Marina Dock Age newsletter.
Our newsletter delivers the latest news straight to your inbox including breaking news, our exclusive content covering the marina and boatyard industry, new products, and much more.
"Key West is facing a significant shortage of boat storage space," noted Napp and Robles. "Our marina aims to alleviate the supply issue for a large segment of the market and provide a spectacular boating experience for the community. While our 75 slips may not solve the entire problem, they are designed to cater to boaters in the 25 to 40-foot segment who have seen the most pressure over the last several years. It is worth noting that many of the newer marinas are in Stock Island and primarily cater to larger vessels and transient boaters."
The marina is exploring options to install an official weighing station certified by the International Game Fish Association. "We plan to host tournaments for our tenants," said Robles, "as well as other social events to help cultivate a strong sense of community."
While they are currently in pre-leasing for their 75 slips and expect to open in the fall of this year, the marina plans to complete the construction of its marina building and other upland improvements by summer of 2024.