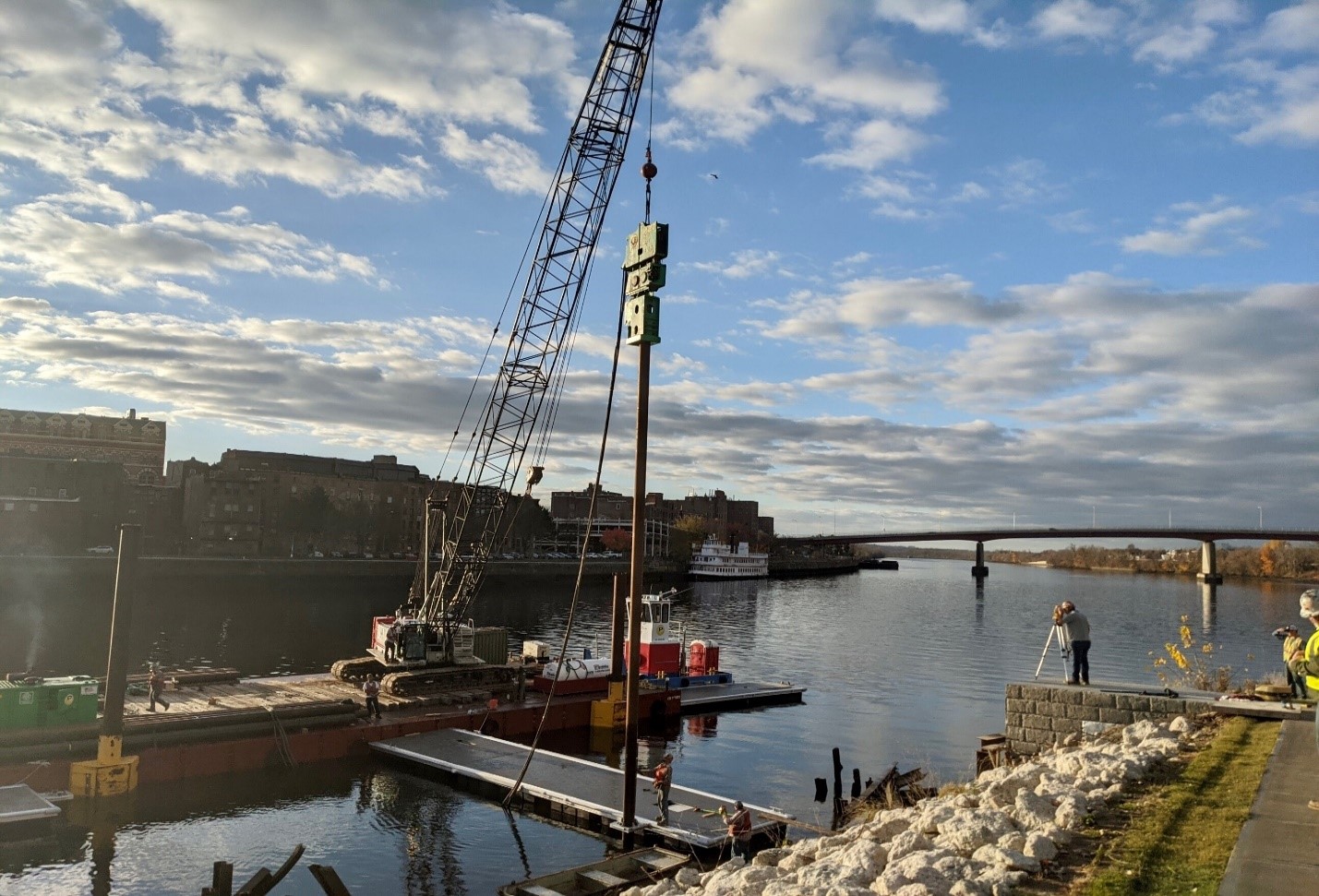 New Marina on Reclaimed Site
Published on March 22, 2021
Starbuck Island, located on the Hudson River in Troy, New York, had been vacant and abandoned for years. It was an old industrial site with contaminated soils, which kept most developers away. But Peter Luizzi Brothers Contracting has cleaned up the site and is now developing it as Starbuck Island Luxury Waterfront Apartments and Marina.
Marina Technologies (MTI) will be building the marina, which will ultimately include 94 wet slips, in three phases. "They were looking for a heavy-duty aluminum floating dock system that would resist strong currents and boat wakes and would also provide a luxurious look for the waterfront owners," explained Bob Berry, MTI project development manager.
MTI built the 24 slips for phase 1 of the project in its factory in Quebec, and delivered them to the site in November. The anchor piles were driven last fall and the docks and marina will be installed in the spring.
The floating docks are an aluminum-framed system with composite decking, dual top-access utility troughs, adjustable/removable cleats with unique reinforced connections and high stability floats.
Sign up for the Marina Dock Age newsletter.
Our newsletter delivers the latest news straight to your inbox including breaking news, our exclusive content covering the marina and boatyard industry, new products, and much more.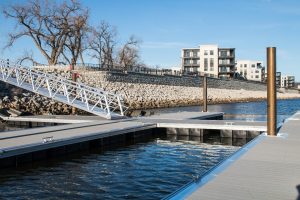 The marina will be anchored with 12-inch steel pipe piles. "We designed special internal pile guides with removeable sides to facilitate fast and easy dock removal for the winter season," said Richard Murray, MTI president. "The 40-foot-long dock sections are designed to easily and quickly be assembled in the spring and dis-assembled in the fall for winter storage upland. The current is strong and significant moving ice can be a problem in the winter months. Our customer wanted unique removable pile guides, that would still be aesthetically appealing," he said.
The docks will be equipped with potable water and 30-amp power pedestals. Blue solar lights will be installed along the entire marina.
The marina will be open to the public as well as Starbuck Island Apartment tenants. Freedom Boat Club has expressed interest in setting up boat rentals here.
The apartment community will include 268 residential units, a 10-suite commercial building, an amphitheater, and river-walks for public access to the waterfront and marina.