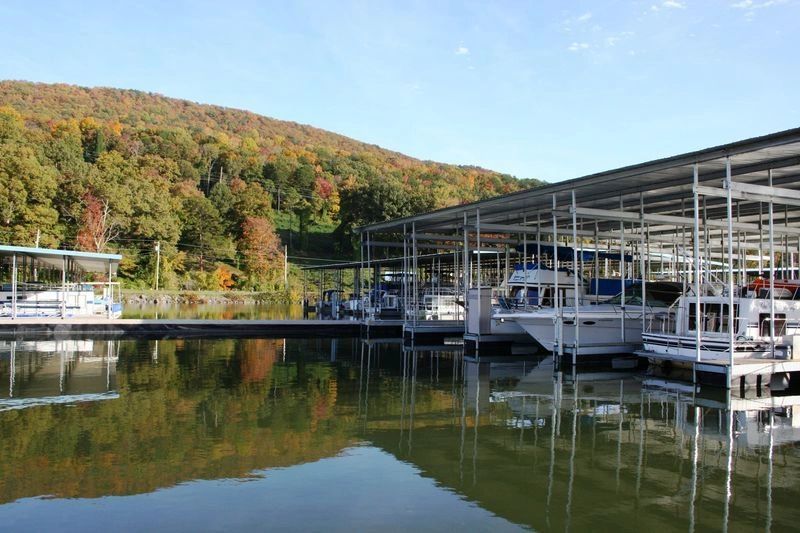 New Owner Sees Growth Potential at Hales Bar Marina & Resort
Published on May 17, 2019
Floating cabins and an historic building on-site help make Darrell Jones's new marina a destination for boaters on Nickajack Lake in East Tennessee.
Hales Bar Marina & Resort is located in Guild, just 15 miles from downtown Chattanooga and about 100 miles from Nashville. "It's a super amazing location with amazing opportunity," said Jones, who bought the marina in April. "We are a short getaway for people in those big-city hubs who want to get away but not drive all the way to the beach."
The 68-acre property includes Hales Bar Dam Powerhouse, which is listed on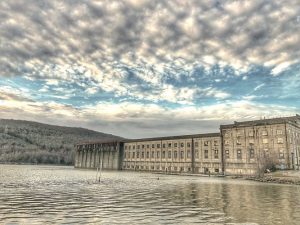 the National Register of Historic Places. "That's what makes it so unique," Jones said. "There's a lot of history there, and it's a big attraction."
Sign up for the Marina Dock Age newsletter.
Our newsletter delivers the latest news straight to your inbox including breaking news, our exclusive content covering the marina and boatyard industry, new products, and much more.
The Hales Bar Dam was the first main-river, multi-purpose dam ever built on the Tennessee River, according to the Tennessee Valley Authority website. Construction of the dam began in 1905 and was completed in 1913; the purpose of the dam was to provide electricity to the city of Chattanooga. However, because of the soft bedrock foundation, the dam was plagued with leaks throughout the years. In 1964, construction began on the new Nickajack Dam. The Hales Bar spillway was demolished, but the powerhouse remains standing.
Jones said the powerhouse is popular with paranormal investigators who believe the structure is haunted, but he wants to focus on bringing boaters and tourists to the site.
Floating Bungalows
The marina also features 15 floating bungalows with one to three bedrooms.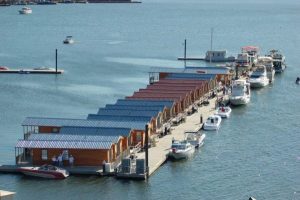 "They are definitely our most popular cabins," Jones said. "It's a unique experience." Cabin guests can tie their boats off at the back of the cabins and fish from the boat or from the walkway.
In addition to the floating bungalows, there are 15 cabins on land, a 54-pad RV park with full hook-ups, a ship store with fuel, mini-golf and a swimming pool. A floating barge restaurant on site is operated by a third party.
The marina has 220 slips that can accommodate boats up to 80 feet, a rental fleet of seven boats, and a 50-ton travel lift. "That (the lift) gives us enormous potential," Jones said. "That's unique in this area; the only other one is about 75 to 80 miles out."
Future plans include developing a service department on site. He'll also be able to better use the service department staff at his other marinas, which are only 30 to 40 minutes away. That close proximity benefits the staff and the bottom line. "It's a lot easier to keep people employed year around and to be profitable," Jones said.
Future Development Potential
The Hales Bar property includes developable land with unrestricted zoning. Jones said he doesn't have any concrete plans for the land yet, but it has a lot of potential. The former owners built a sewer treatment facility on the property, and the marina is approved for up to 700 slips.
"This was an acquisition with tremendous upside due to the size of the land across two miles of shoreline," said George Ash of Simply Marinas, which represented the buyer and seller. "Development opportunities are considerable, whether by increasing the number of slips, adding dry storage, RV pads, residential or mixed-use development." Nearby Chattanooga is one of Tennessee's fastest growing urban areas.
Jones said he considers Hales Bar to have the greatest potential of his properties. "The things I'm good at are the things that will take this property where it should be," he said. "I'm attracted to properties that are underutilized with a lot of potential."
Hales Bar was a great fit for Jones since he owns multiple marinas in the region. "In an industry that is somewhat fragmented by nature, companies that are able to expand their holdings across a specific region are afforded great benefits by exploiting economies of scale and streamlining management systems," Ash said.
Jones has three other marinas and an RV park in his portfolio, which has allowed him to combine some of the operational aspects of the business. About a month ago he hired a professional to oversee the financials, payroll and taxes. He said that frees up a lot of his time to concentrate on other responsibilities.
Jones said having a good support team, both at home and at work, are important when expanding a business. When he feels like he has a good team in place and the day-to-day operations are going well, then it's time for him to look for a new property. He's already got his eyes set on locations in Kentucky.