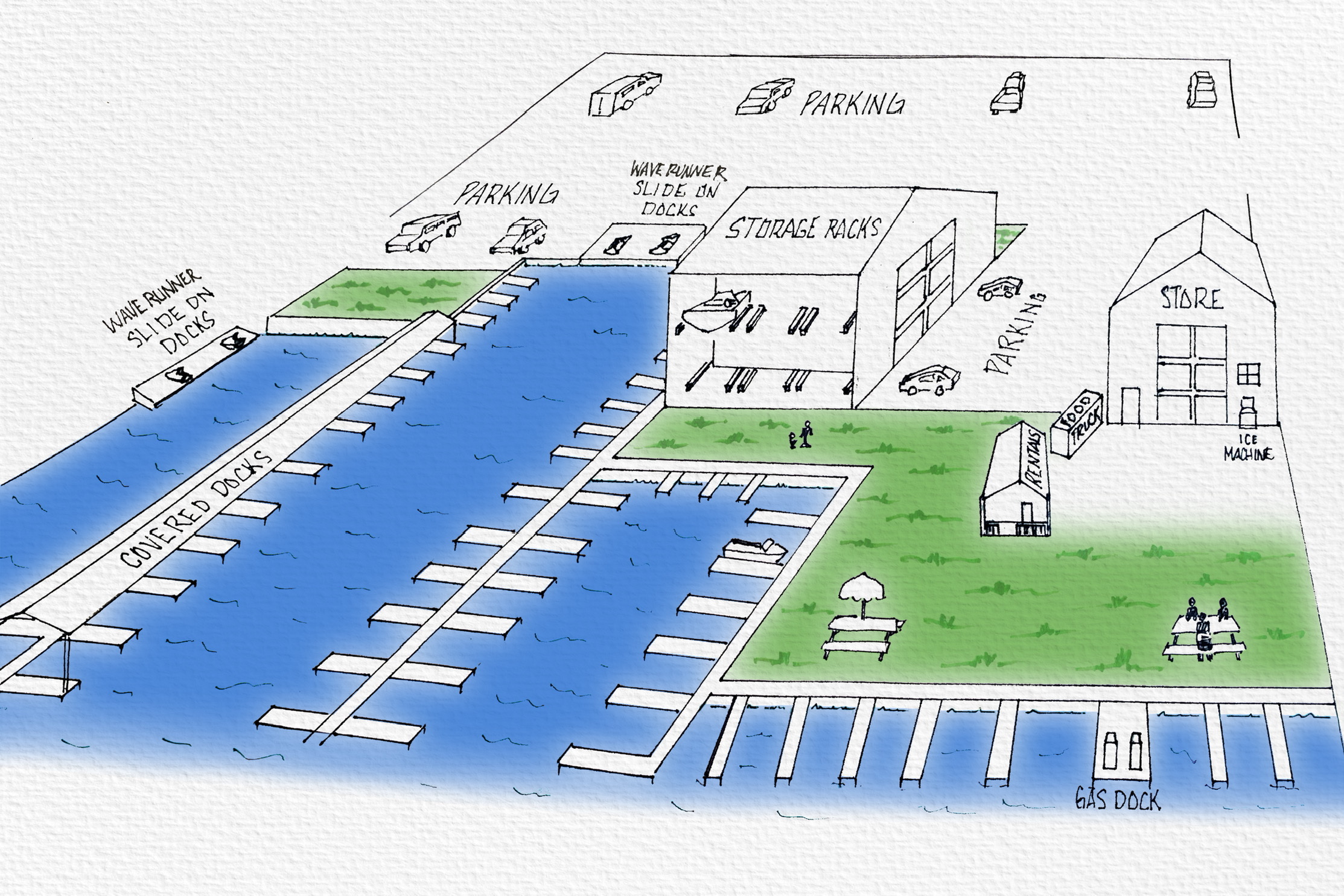 New Owners Making Improvements to Elk Rapids Marina
Published on April 29, 2021
Susie and Lewis Cooper have been enjoying the area around the village of Elk Rapids, Michigan, for more than two decades. So when the Elk River Marina came up for sale, "We realized that it was a jewel in the rough," said Susie Cooper. "It had been owned by the same person for 35 years, and really had no updates. There's so much potential."
The Coopers bought the marina, which they renamed Elk Rapids Marina on Elk Lake, on Friday, January 29th. By the following Monday, they had started renovations with the demolition of two old storage buildings.
Replacement of the 933-foot breakwall is now underway, according to Cooper. They're also removing an old, cracked concrete walkway that abuts the breakwall and putting in brick pavers and a grassy area. As sections of the seawall are completed, the Coopers will replace the old wooden docks with vinyl and wood docks and possibly some ShoreStation aluminum docks with boatlifts as well. Half of the new docks should be complete by the beginning of the 2021 boating season. The other half will be ready in 2022.
The reconstructed marina will have about 120 slips that can accommodate boats up to 30 feet long. The 100-plus boats that are wrapped in blue plastic for winter storage that are now on the property will be moved to another storage facility owned by the Coopers by 2023.
Sign up for the Marina Dock Age newsletter.
Our newsletter delivers the latest news straight to your inbox including breaking news, our exclusive content covering the marina and boatyard industry, new products, and much more.
The Coopers are already dealers for Manitou boats, and will be adding Malibu and Axis boats at this location as well. They're also updating their rental fleet.
An existing building on site will be renovated for the marina office and to sell ice and food, which was not previously available. To run their new food service, the owners have hired a former executive chef who is well-known in northern Michigan.
The menu will offer a variety of foods. "Our vision is that if you want to watch the sunrise you can come and have a cup of coffee and a breakfast burrito or French toast, or we'll also have a full breakfast menu," said Cooper. Boaters can grab a quick meal for lunch then come back for a full dinner later in the day. Area residents will be warmly welcomed; Cooper hopes the new grassy areas at Elk Rapids Marina will serve as a community space that the whole village can enjoy.
The Coopers expect most of the work (except for half the docks) will be completed in time for a May opening. Because of the compressed schedule, they have three contractors on the job. Lakeshore Marine is doing the breakwall, Rahm and Kien Building are constructing the docks and Grand Traverse Construction is working on the buildings.
The next few years at Elk Rapids Marina will be busy ones as the Coopers implement all the renovations and upgrades they've planned. "Everyone is excited for the changes, and that's been great. Hopefully we can deliver a great experience with great memories for all these families who are going to come visit," Cooper said.