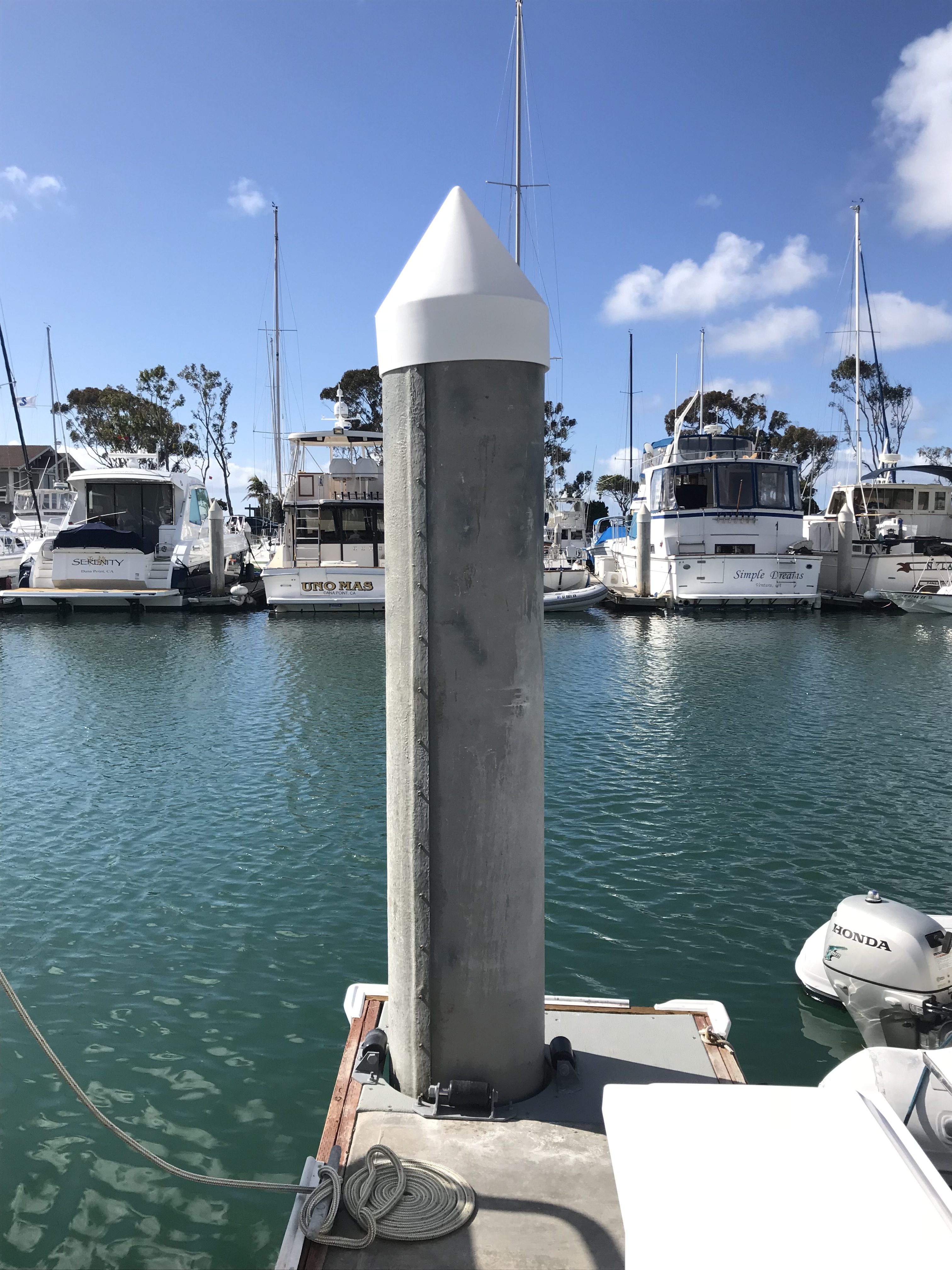 Newer Options for Piling Give Marinas Alternatives to Traditional Materials
Published on November 12, 2019
Where wood, concrete and steel used to dominate for piling material choices, other newer alternatives are providing marinas with long lasting options for new infrastructure and the protection of traditional piles.
FRP Piles
A newer pile on the block, offered as an ideal substitute for Southern treated yellow pine, Douglas fir and greenheart wood piles, is composite pipe piles made from fiberglass reinforced polymer (FRP). Creative Pultrusions Inc. (CPI) offers a line of composite piles that have been used for commercial applications and are just entering the recreational marine market.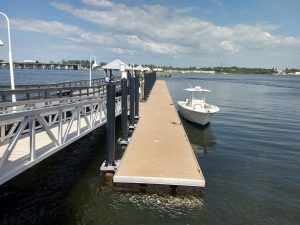 "When you install our product, it might cost more initially, but it lasts 50 to 70 years, costing less over the life of the pile compared to traditional material. We're one-sixth as stiff as steel; our piles are more forgiving than concrete or steel because they absorb energy so vessels don't get banged up," Corey Sechler, marine infrastructure technical sales manager at Creative Pultrusions, said.
The piles are hollow relying solely on the strength of the material and not the weight of it to provide stability and energy absorption. According to Creative Pultrusions, FRP products are 80 percent lighter than steel. The material is UV resistant, fire retardant and corrosion resistant. Because it is hollow it can be driven with a vibratory hammer allowing for a quicker, simpler and quieter installation process.
Sign up for the Marina Dock Age newsletter.
Our newsletter delivers the latest news straight to your inbox including breaking news, our exclusive content covering the marina and boatyard industry, new products, and much more.
For added strength and stability in applications where larger vessels will be tied to the piles, they can be filled with concrete.
"This is a green product, environmentally inert. The manufacturing process uses less energy than steel, and there are lower emissions during production. Also, the product can be ground up and reused back into the process," Sechler said. In addition, the piles are safe for shellfish areas where some treated piles have been banned for environmental reasons.
The FRP piles drill and cut twice as fast as thermoplastic polymer piles and can be driven with standard pile driving equipment. The piles can be created with an 8- to 78-inch diameter.
According to Sechler, the company has been doing lunch and learns to educate designers and engineers about its products and encouraging wider use within the recreational boating industry.
Repair Not Replace
Those with existing piles might not want to turn to replacement and instead look to to wrapping or installing sleeves or jackets to existing piles for added protection. The sleeves also can help prevent any chemicals from leaching into the water.
Simpson Strong-Tie provides a piling repair and protection system, as another alternative to extending the longevity of wood, concrete and steel piles. This system can be used right at installation or can be added later as a repair method for damaged piles or as additional protection.
A custom-made, lightweight, tongue and groove fiberglass jacket is placed around the pile leaving about an inch of space between the pile and jacket. "That space is filled with an epoxy grout that is what repairs and strengthens the pile. The jacket is left in place for further protection and the system together significantly extends the life of the pile," Ian Murphy, concrete construction products specialist with Simpson Strong-Tie, said.
Murphy further explained that the repair can even be done underwater since the density of the epoxy is higher than water so it finds its way to the bottom of the jacket. At the same time the epoxy is filling in, it is displacing the water so dewatering isn't necessary.
The entire process takes about a day per pile, and there is a 24-hour curing time before the pile can be used.
"Simpson has been doing this for about eight years. Our biggest customers are ocean ports and municipal piers. It has been used in the marina market but that hadn't been our focus until the past three or four years when we've started targeting marinas," Murphy said.
The jackets are corrosion-free and low-maintenance. The advantages are that damages to piles can be repaired in place and the jackets can accommodate piles of various shapes, sizes and materials. In addition. Murphy points out that using the repair system is significantly less expensive than replacing them.
Shrink Wrap
Pile sleeves made of PVC that are bolted to piles have been used regularly for years as an added protection from wear and tear. However, PVC sleeves can allow water intrusion depending on how tightly the sleeve is attached.
For full water proofing of the sleeve, Golden Marine Systems offers a shrink wrap system that goes over the traditional PVC sleeve creating a water barrier ensuring no water seeps behind the PVC, which is what causes rot or rust.
Mark Summers, project manager for RCI Group, which is undertaking a major renovation at Bridgeport Harbor Marina at Steel Point Harbor in Connecticut, chose to use the shrink wrap system.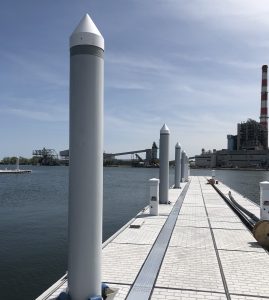 "I was introduced to shrink wrap in about 2007 on a project in Florida and found it worked really well on wood piling. For the Connecticut project, we're using steel piling, but I wanted to do the shrink wrap. I believe this is the first time this product will be used on steel piles to take the place of sandblasting and painting, which is the usual protection offered for steel. We did the first phase of our project with 115 piles and so far the wrap has worked really well," Summers said.
The installation did experience a few problems in ten degree temperatures, which made the PVC fragile and led to some cracks and rips. "Once we figured out how to install in cold weather it all went smoothly. We're now doing phase two and have coated another 60 piles," Summers said.
The shrink wrap sheets are more than 40 feet long and slide over the pile. A steambox or steam generator creates low pressure steam that is applied to the wrap via a hose, which slides over the PVC sleeve, shrinking the wrap in place as it goes.
The shrink wrap is easily repairable if it rips from excessive boat rubbing or other problems. "A couple of areas were nicked during installation so instead of pulling the pile out and doing a new one, we just cut a bandaid, about a 3-foot sleeve that we slid over the PVC and used a heat gun to shrink it."
The shrink wrapping process is completed before the piles are driven into the ground, which differs from traditional pile sleeves which, in many cases, are installed by divers after the piles are set in place. The diver has to wrap and drive nails in the water. Summers said that because using divers increases the overall cost of the piles, the processes of shrink wrapping, which is a bit more upfront, is comparable to pile sleeve costs. He said that the longevity of shrink wrap is more dependent on how much boats damage it than on how long it lasts in the environment. It is warrantied for about 20 years. But while a stray screw on a boat can scratch a hole in the shrink wrap it can be easily patched giving the pile a few more years of life.