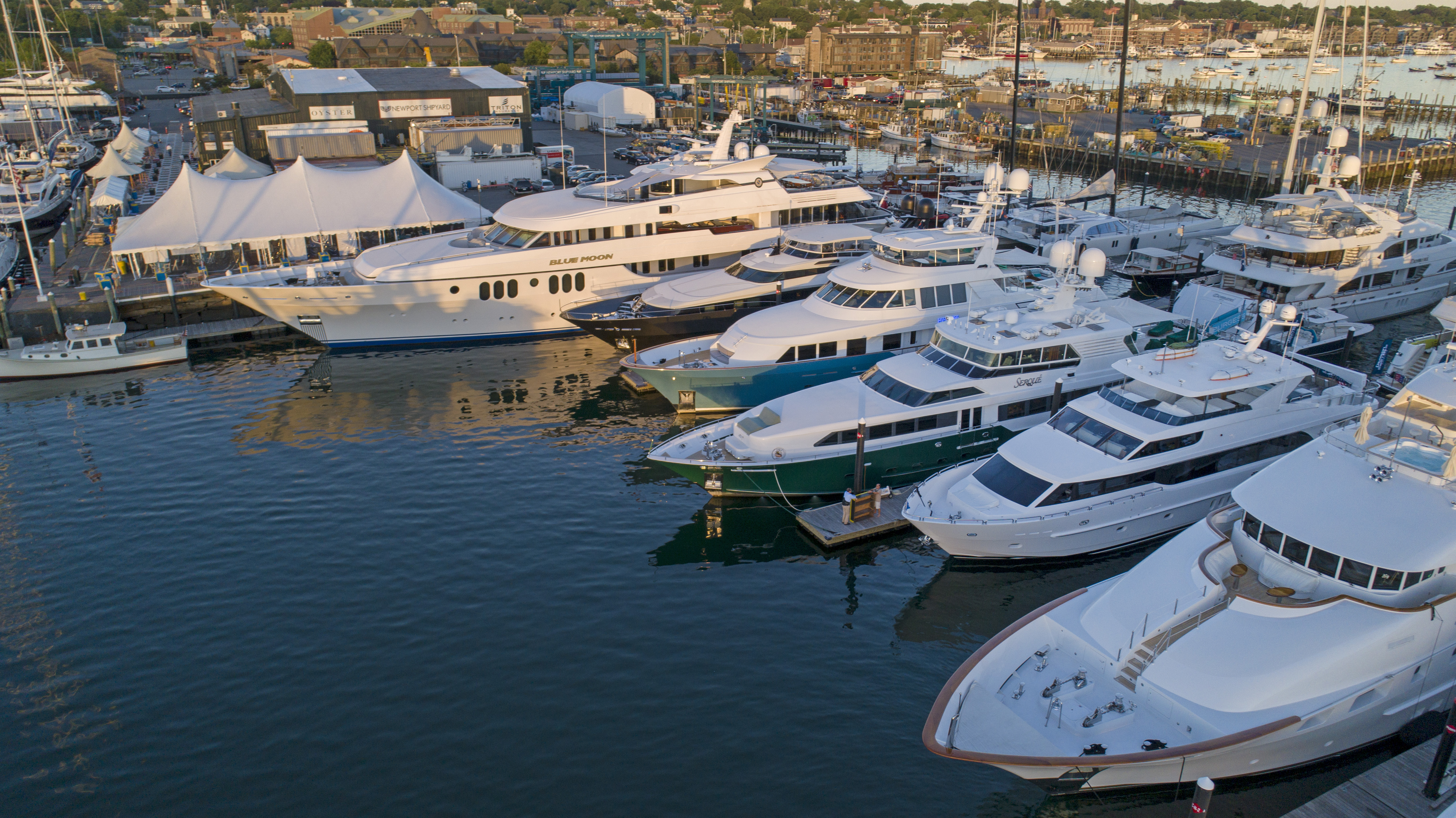 Newport Shipyard Provides Award Winning Hospitality to Captains and Crews
Published on March 18, 2020
Marina Dock Age presented Marina of the Year awards to category winners during last year's awards ceremony at the Docks Expo in December. Standing out among the many applicants for its customer service was Newport Shipyard in Newport, Rhode Island, which was awarded the 2019 Hospitality Award.
Newport Shipyard is a small marina with 3,500 linear feet of dock space. The Dana family and other investors purchased it out of bankruptcy in 1998 and turned it from a struggling, mostly commercial shipyard, to a superyacht facility. The change in function brought a change in clientele that the new owners were quick to recognize and embrace. Customers were no longer just stopping by to drop off a boat, now, as captains and crews, they were here to stay for days or weeks at a time. Customer service had to take on a new meaning and all staff had to be onboard with the shift in focus.
After a few years of renovation to reestablish the yard from commercial to superyacht facility, it was time to look at training the staff to help them transition to a higher level of customer service.
Employee Training
In 2005, Newport Shipyard hired new marketing director, Veronica Brown, who came from a background where customer service training for staff was the norm. She, along with general manager, Eli Dana, who started in 2003, began a training program that they credit for not only improving how the staff interacts with customers, but also for employee retention.
The training program, called "Newport Shipyard REACH" is an acronym for Realize personal versus material service; Exercise & build internal bridges; Ask & understand customer requirements; Capture & identify moments of truth; and Help target win-win outcomes. The essential goal for the program is to ensure employees are putting their best foot forward as members of the front line and that they always put customers first.
Training covers how to handle upset customers. It emphasizes the importance of finding answers if you don't know them, and even brings in team building exercises.
"The training covers team building exercises, which are important for employees and managers to get to know each other. These exercises especially help in the busy season when we're all at the yard for many hours," Brown said.
While REACH is an annual program for full-time employees, there is an abbreviated version for summer staff. "Our summer staff is often young college age kids who have never worked in this environment, so we give them an idea of what to expect and what we expect," Brown said.
The summer training program is called REACH for the SKY (an acronym for: Show you care; Know customer concerns; and You make the difference.)
With 40 full-time staff and double that in the summer season, making sure everyone is working from the same page is crucial to the success of the shipyard.
"It's easier and less expensive to retain customers than to go out and find new ones. That's what's so important to teach our employees. The previous owner (of Newport Shipyard) was here everyday and liked to say to staff 'the answer is yes, now what's the question'," Brown said.
Amenities and Attractions
Outside of a well-trained staff, Newport Shipyard goes out of its way to build relationships with the captains and crews who visit. With up to 70 boats at the facility at one time, this is no easy feat. But with many repeat customers, the yard has found a secret to success.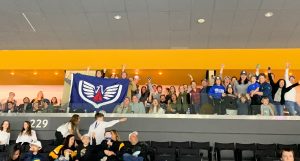 First and foremost was putting in amenities that would be appreciated by crews that make the shipyard a home away from home while they wait for a repair or for an owner to arrive. A fitness center was added, and five courtesy vehicles provide easy transportation for picking up supplies. There's a ships' store and chandlery that will order any part that isn't on the shelf. Brown said one of the most appealing amenities is an on-site machine shop.
"Bigger yachts have pieces and parts that are very custom. So if they need a custom part, chances are it's not a 'stock' item. The machine shop is a huge asset for custom parts and projects," Brown said.
The area and amenity known as the "heart and soul" of Newport Shipyard is Belle's Café. It's where captains, crew, other customers and staff can sit and socialize over food and drinks, and where long-term relationships are built.
Newport Shipyard also schedules events around Rhode Island for its visiting captains and crews. An annual event has become a Providence Bruins hockey game each October. "The captains mostly haven't ever been to hockey so they love it. We had 74 people this past year. We buy the tickets and host food and beverage and put everyone in four private suites. We show them we care that they do their business here. They look forward to it and tell others," Brown said.
In addition, the yard has held many concerts from Dave Matthews to Kid Rock, and at the end of September they hold an annual pumpkin regatta. The yard provides the fiberglass pumpkins, and anyone who pays an entry fee can captain a pumpkin. "They dress up in costumes for relays around the basin. The money raised is donated to a charity. This year it went to hurricane relief in the Bahamas," Brown said.
If creating events and providing service to customers at the shipyard isn't enough, Newport Shipyard also takes its hospitality international.
Island Hospitality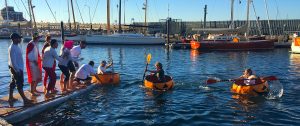 Knowing the customer base at the shipyard generally travels between the northern U.S., the Caribbean and Europe, Dana thought he should travel to Antigua in the winter season, rent a house and use it to stay in touch, host a dinner and continue to build relationships. Eventually, he started taking his family and some team members to spend a few weeks in February on the island.
"We started holding Super Bowl parties. Even with a lot of foreign captains, they all know what the Super Bowl is and love to watch it. We use local caterers and bands and the captains got used to this being an annual event," Brown said.
Outside of the party, Newport Shipyard now supports the Antigua and Barbuda Search and Rescue through the Wobbly Club, which is a build-your-own-boat activity followed by a race around Antigua's Catamaran Club. All the proceeds go to the search and rescue operations.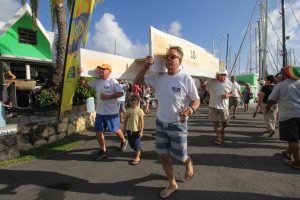 "We also sponsor the St. Barth's Bucket in late March and send representatives to touch base with our customers to get an idea of where they will be heading in the upcoming spring/summer season," Brown said.
Overall, Brown said that the marine industry is very small, especially for those who work and play among the 90-foot and longer yachts. Getting to know and create relationships with captains and crews ensures repeat customers, even as captains move to a new yacht, they will likely come back to where they feel comfortable and where they enjoy themselves.
The success of Newport Shipyard's hospitality is not only seen by new customers but by new management. In October of last year, the yard management was taken over by Safe Harbor Marinas (SHM). SHM was impressed by the customer service training program and the wealth of special events that Newport Shipyard offered, and the management company wanted to take that member experience to other locations. SHM marinas in Charleston and San Diego are set to test run the concept in the coming year. Belle's Café has also been so well received by Safe Harbor that a new Belle's location was opened at Safe Harbor Old Port Cove in North Palm Beach, Florida.