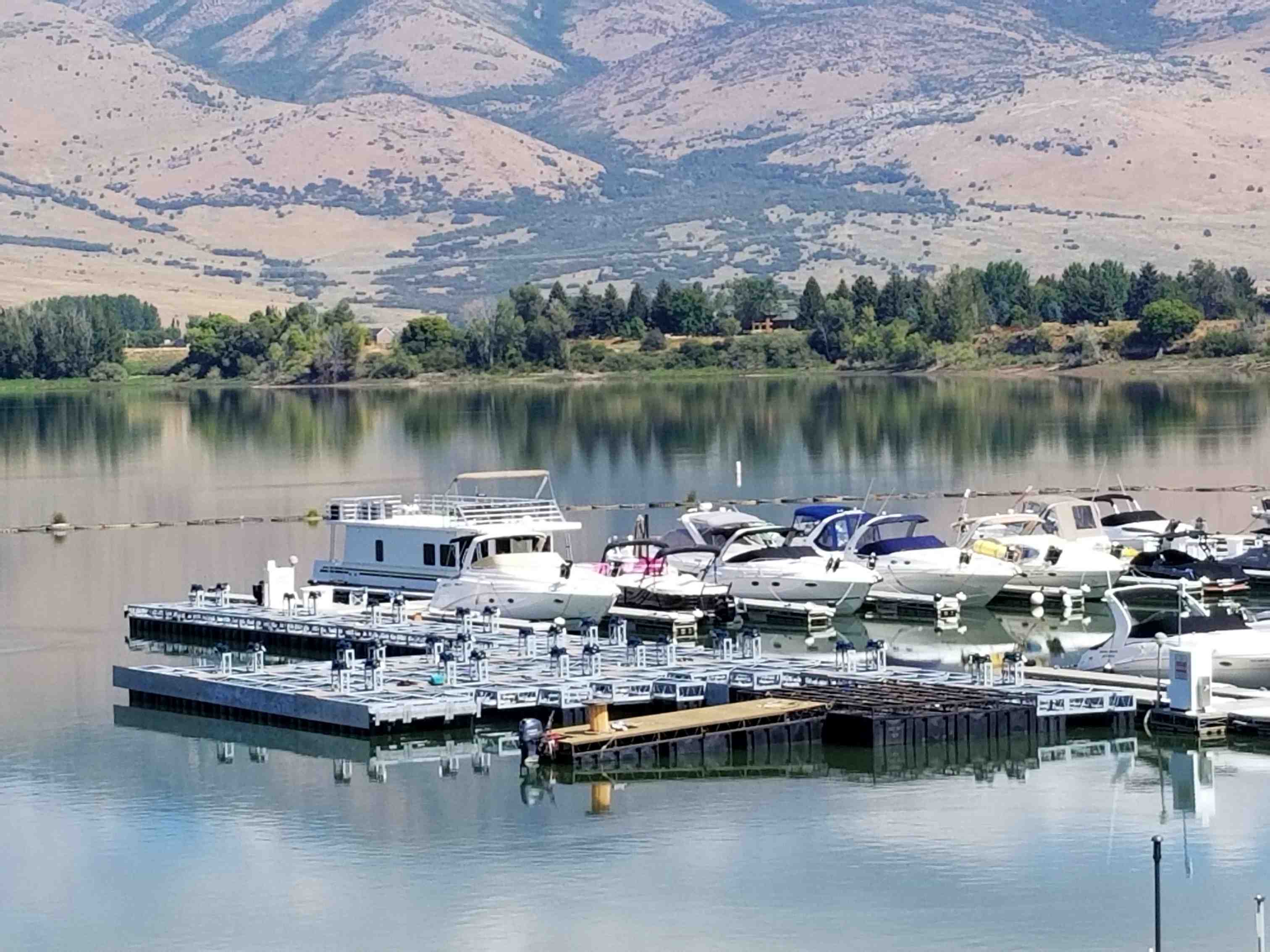 Ogden Pineview Yacht Club Installs Wave Attenuator
Published on January 15, 2020
Ogden-Pineview Yacht Club in Eden, Utah, added an 802-foot-long floating wave attenuator to its marina. The club chose Meeco Sullivan, which previously installed the docks for the current 120-slip marina, to build and install the wave attenuator.
"Wave attenuator systems are more in demand today partly because of the impact that new wakeboard and wake surfing boats are having on the nearby water. Also, marina operators are becoming more aware of the protection that a wave attenuator will provide to their existing investment in marina docks and customer vessels," said J. Mills, Meeco Sullivan Western region sales manager.
The project was complicated by a number of factors. "First, Pineview Reservoir is located at nearly 5,000 feet elevation in the Utah mountains and freezes over in winter. Second, the Army Corp of Engineers and other agencies wanted to limit the number of anchors for the attenuator. Our Meeco engineers really needed to sharpen their pencils to cut the number of anchors almost in half, while still maintaining the attenuator's ability to mitigate a 4-foot wave," Mills said. Cross-utilizing the anchor blocks enabled the company to achieve the necessary reduction in anchors.
The 10-foot-wide, heavy-duty, galvanized steel frame dock sections were engineered and manufactured at the Meeco factory in McAlester, Oklahoma. They were delivered to the marina site preassembled with floatation, steel front panel attenuator and partial composite decking attached to 44-foot frame sections. Meeco's crew assembled the sections in the water adjacent to the marina, installing the concrete slab attenuator panels and winch cable anchoring system before moving larger assembled sections into place outside the marina and dropping 27 concrete anchor blocks to secure the massive attenuator dock.
Meeco Sullivan crews also worked with the marina staff to relocate the old floating-tire attenuator, moving it to the exposed outside ends of the marina basin and doubling it up with an existing tire attenuator to provide added protection there.
Despite some challenging rain and early snow, the project went smoothly, and Meeco Sullivan finished the installation a week ahead of schedule.