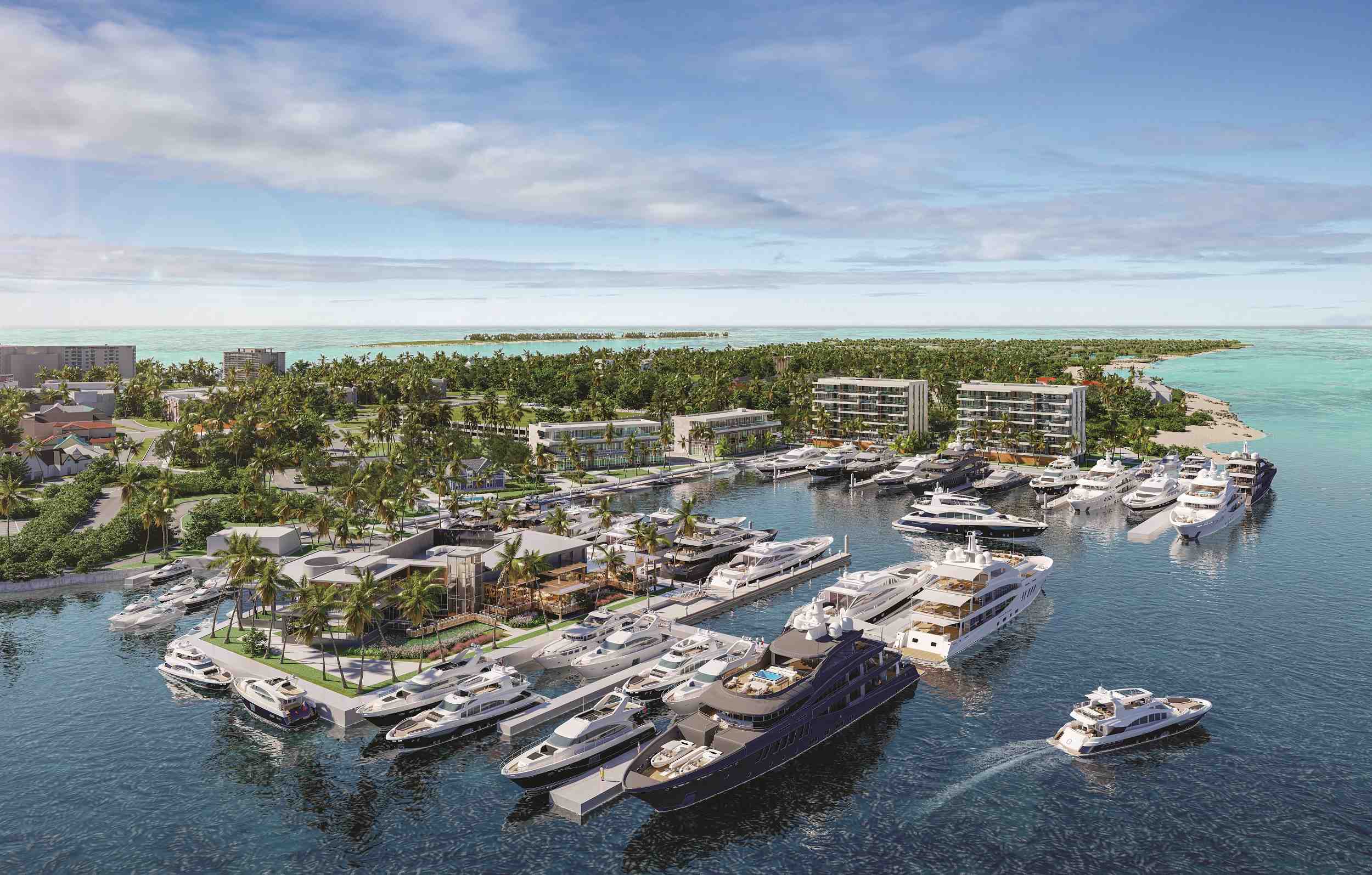 Paradise Island Marina Upgrading for Superyachts
Published on June 24, 2021
Sterling Global Financial has begun the transformation of the existing Hurricane Hole Marina off Paradise Island in the Bahamas to Hurricane Hole Superyacht Marina at Paradise Landing. The company has chosen Bellingham Marine to manufacture and install the floating concrete dock system for the new facility.
The original Hurricane Hole marina was located within a scalloped-out basin in the harbor, providing a fairly protected spot for vessels. "What they're doing now is an expansion of the basin and protecting it with breakwaters at the entrance. The interior basin is going to be even more protected now," said Steve Ryder, senior project development manager at Bellingham Marine. The developer has also dredged out the marina to a 13.5-foot depth.
Bellingham is building 6,100 feet of docks that will sit inside the new breakwaters. The concrete floating docks will include four 130-foot fingers on the west side of the basin and four 180-foot fingers on its east side. The Unifloat® concrete docks will be able to accommodate vessels up to 420-feet long.
The docks will feature a broom finish concrete outlined with WearDeck™ synthetic decking material. They will be anchored with 20-inch steel pipe pilings sleeved with high density polyethylene (HDPW). The use of the sleeved steel pipes avoids the introduction of any heavy metals into the water and protects the pilings from corrosion and rusting.
Sign up for the Marina Dock Age newsletter.
Our newsletter delivers the latest news straight to your inbox including breaking news, our exclusive content covering the marina and boatyard industry, new products, and much more.
The concrete floating dock system provides an excellent environment for filter feeders, sponges and other types of sea life to attach and grow, helping to keep the water in the area clear.
Bellingham Marine began manufacturing the dock sections in late May at its facility in Jacksonville. When it's time for installation this fall, the company will transport them by barge to Hurricane Hole Superyacht Marina. "With the component system, we're able to manufacture everything off site. Bringing them right into the basin and assembling the docks without having to take up a lot of land space allows the developer to build the other infrastructure that will be going on the site, such as restaurants and condos," said Ryder.
Bellingham Marine should complete the installation of the docks sometime this fall.
The new marina will offer 400-amp, 480-volt power, in-dock cable for high-speed internet, 24-hour security, long-term parking, a fuel dock, dockside mobile pumpout services, boat detailing, interior cleaning, golf cart rentals, car rentals, and laundry facilities. Yacht owners will be able to enjoy state-of-the-art fitness facilities, swimming pools, and charter services. The marina will also provide separate pool, lounge, and gym facilities dedicated for yacht captains and crew.
Paradise Landing, on the landside of Hurricane Hole Superyacht Marina, will include luxury dockside residences, retail and fine dining.