Personal Air Conditioners
Published on April 9, 2018
Cininnati based Vortec, introduces Dual Action Personal Air Conditioners (PAC) to minimize heat stress and fatigue for those working in extreme environments like below decks. The PAC generates cold or hot air to provide air flow to the worker, while a cooling/heating vest diffuses the air flow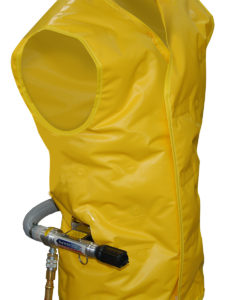 around the worker's torso. The plastic vest provides continuous cool or warm air through its perforated lining and does not restrict movement or absorb sweat or other contaminants. It can be worn under protective clothing and has an adjustment knob so workers can set their desired temperature. The system works as a compressed air stream enters vortex tubes that rapidly spin to convert compressed air to a low-pressure cold or warm air source. For additional information visit them online at www.vortec.com.
-Vortec
Sign up for the Marina Dock Age newsletter.
Our newsletter delivers the latest news straight to your inbox including breaking news, our exclusive content covering the marina and boatyard industry, new products, and much more.