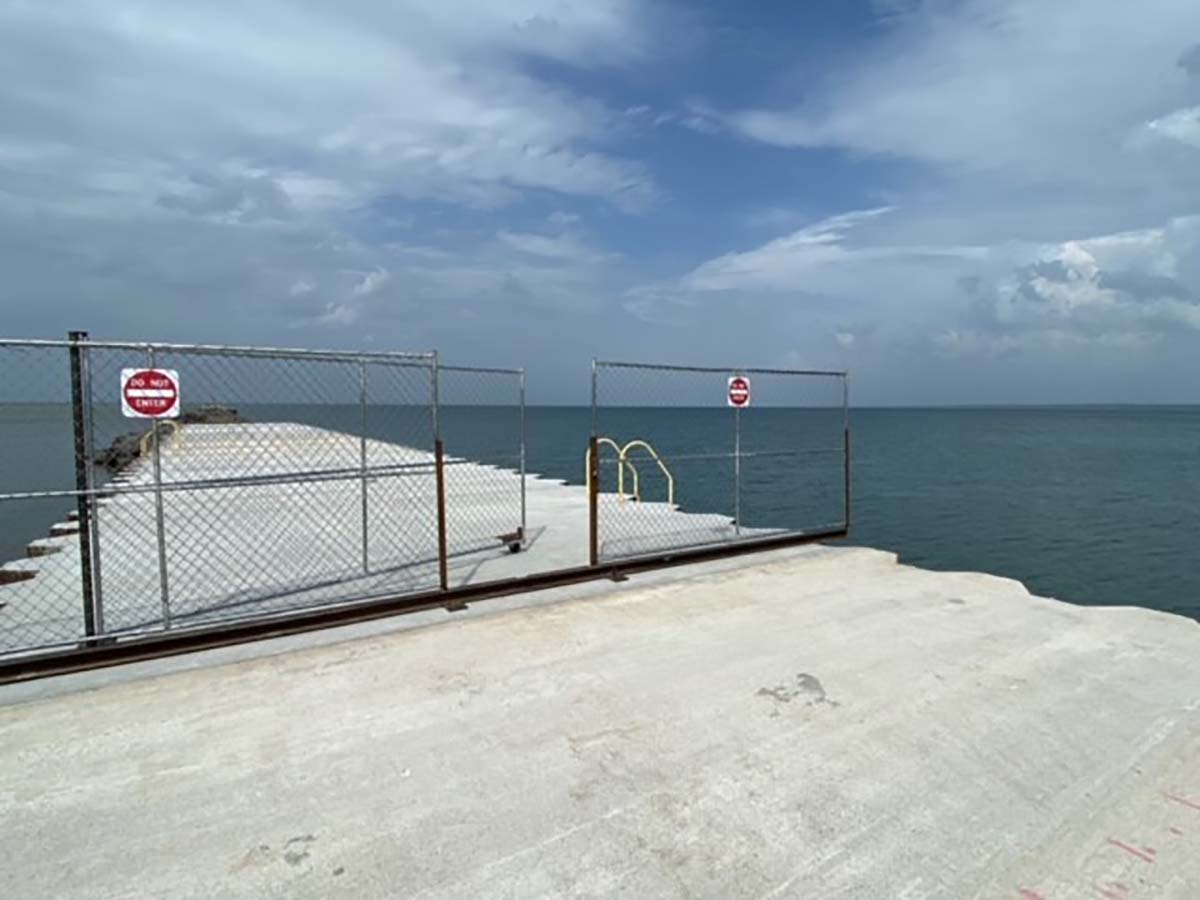 Pier Repair at Port of Rochester
Published on January 18, 2023
Where the Genesee River enters Lake Ontario, the Port of Rochester Marina offers waterway access and crucial amenities to recreational boaters of New York and the Great Lakes. A recent renovation project focused on repairing the 114-year-old East Pier, which has a concrete cap that has become structurally degraded.
In June of 2021, about 600 feet of the pier was repaired in a $3.4 million project performed under the U.S. Army Corps of Engineers (USACE) Buffalo Division with the help of Dean Marine & Excavating, Inc. The recent work, performed again under the Buffalo Division with the help of Great Lakes Dock and Materials, LLC, repaired the remaining 400 feet of the 1,025-foot pier. Solar powered marine lights were also installed as part of the project, to improve navigation and safety within Rochester Harbor.
A ribbon cutting ceremony was held on October 14, 2022 to commemorate the completion of the East Pier renovations which have been an ongoing endeavor. Lt. Col. Colby Krug (USACE Commander of the Buffalo District), John Pellito representing Congressman Joe Morelle, and Chief Matthew Riesberg (Officer in Charge U.S. Coast Guard Station Rochester) were in attendance. "Maintaining harbors like Rochester ensures the Great Lakes Navigation System continues to bolster the nation's economic strength and quality of life," Krug said. "The Buffalo District is also excited to add to the pier work we completed in 2021 making sure the full length of the structure remains an asset for the people of Rochester and the state of New York."
Owned by the City of Rochester and managed by F3 Marina, the marina has over 1,000 boat slips and is home to over a dozen charter boat operations.
Sign up for the Marina Dock Age newsletter.
Our newsletter delivers the latest news straight to your inbox including breaking news, our exclusive content covering the marina and boatyard industry, new products, and much more.