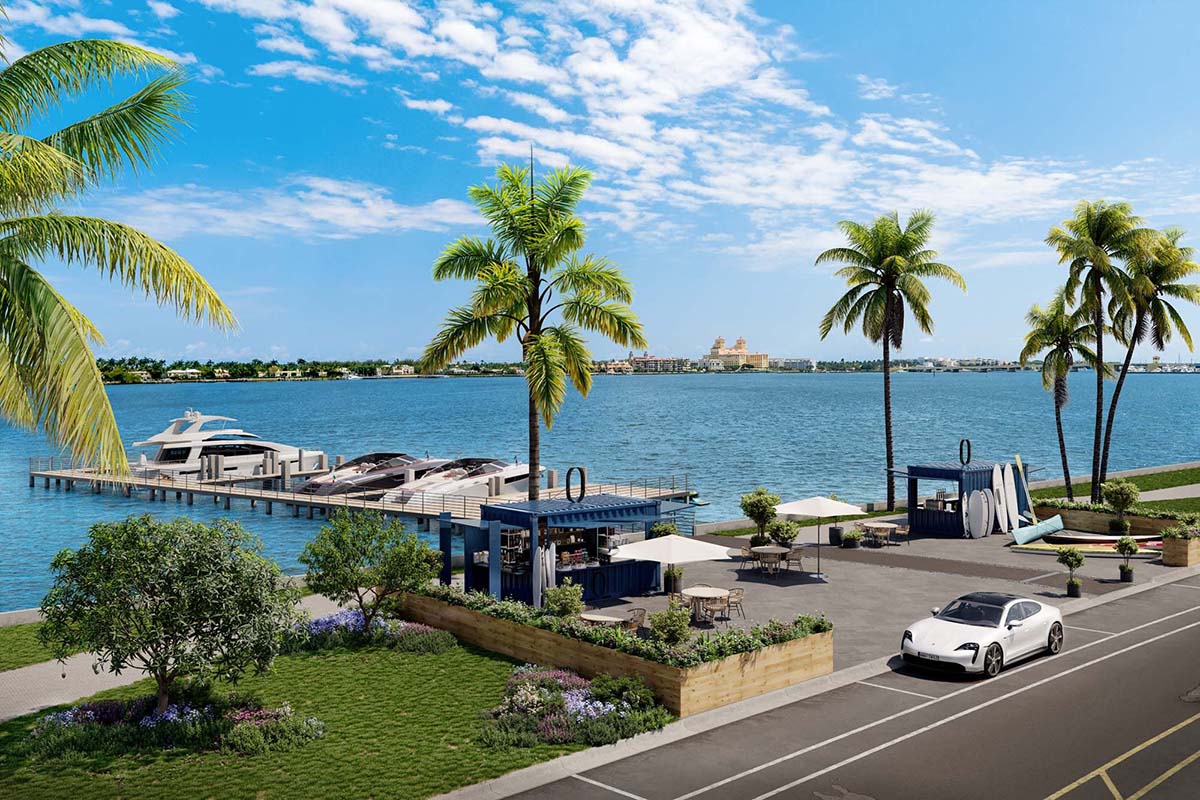 Private Docks Fill the Gap When Marinas are Full
Published on November 9, 2023
Private docks, whether they sit behind homes, townhomes, or condominiums are nothing new. Having a space for homeowners to keep their boats right out the door is a beneficial amenity. And while those docks have always existed, the value of them is increasing as marinas reach 100% occupancy with lengthy waiting lists. Sparked by the pandemic, the popularity of boating spiked, leaving marinas in an envious position of full occupancy, but forcing boaters to store their boats further from home or turn to land storage.
Creating an Alternative
West Palm Beach is one of several major yachting cities reporting a dock shortage. One company has set out to address the shortage by constructing private docks that encompass many of the amenities and benefits found in surrounding marinas.
Olara is a new luxury condominium located on the Intracoastal Waterway that is showcasing a limited number of slips designed to appeal to today's boaters. With just six slips, the facility encompasses houseboats and water sport rentals, a dedicated five-star concierge service, and three slips that are for sale exclusively to owners of the adjacent condominiums. In short, many of the same amenities that can be found at today's modern marinas will be available to the owners of the new condominiums, and three fortunate slip owners.
Peter Rosenthal, chief development officer for Savanna, a vertically integrated real estate investment and development firm, has been instrumental in getting this project off the ground. "As we were putting the plans together for the project, we discovered we had riparian rights, which is often not the case. We decided to take advantage of it and seeing that most condos in West Palm didn't have docks it was an easy decision to add them," he said.
Savanna is no stranger to West Palm Beach. Rosenthal said the company is bullish on the area after seeing a tremendous amount of growth in both businesses and multi-family homes. This location, however, has been the only one that offered water rights.
The overall Olara concept was designed by Bernardo Fort-Brescia, founder of the award-winning architecture firm Arquitectonica. The property will feature 275 condominiums in a 26-story building which Rosenthal said will be "the most amenitized building in West Palm. People won't have to leave." Tucked into 80,000 square feet of amenity space will be amenities such as a world-class gym and spa, kids' room, game room, lounge and bar, restaurants, office space, and even a high-end grocery store. "The docks just add to the full live/work experience," Rosenthal commented.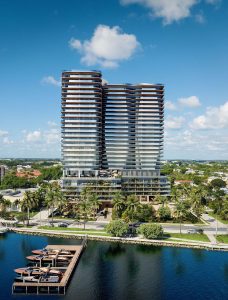 Matt Butler, PE with Isiminger, Stubbs & Engineering, was part of the team that designed the new luxury dock. The company, which has completed many dock projects throughout North Palm Beach, manages every aspect from permitting to construction oversight. Butler said the goal was to create a structure that fit into a tight area but still gave water access and use of the docks to the entire community.
Creating the Dock Design
Butler said the dock design is meant to be aesthetically pleasing while also able to withstand the sometimes stormy environment in Florida. Nearshore the docks will be grated to allow sunlight through to the underlying seagrass. The outer docks, which can accommodate boats up to 42' will have Ipe decking with pressure-treated, 3' x 2 ½' wide framing for stability. Wood piles will be wrapped to give them a more residential than industrial appearance.
"No-profile boat lifts will be used for the kayaking and paddleboard areas, and any of the other slips can accommodate boat lifts if the owners choose to have them installed," Butler said. He further commented that the docks will have water, power, and Wi-Fi through installed pedestals, and that, with full-service marinas within a mile, boaters will have easy access to fuel and pumpouts.
While the access to rental boats is somewhat unique to a private facility, the standout feature for Olara's new dock is its dedicated concierge. Just as marinas have taken on more resort-like amenities and offerings, Olara is following the same concept to cater to today's customers who embrace full service. The concierge will not just reserve the two houseboats, but will book private yacht charters, catamaran scuba and snorkel tours, fishing excursions, and other unique seafaring experiences for all residents. The intent is to provide boating access to all residents whether on paddleboards, jet skis, or chartered yachts.
Olara, slated to be completed in 2026, is located on Flagler Drive on the Intracoastal Waterway across from Palm Beach Island.