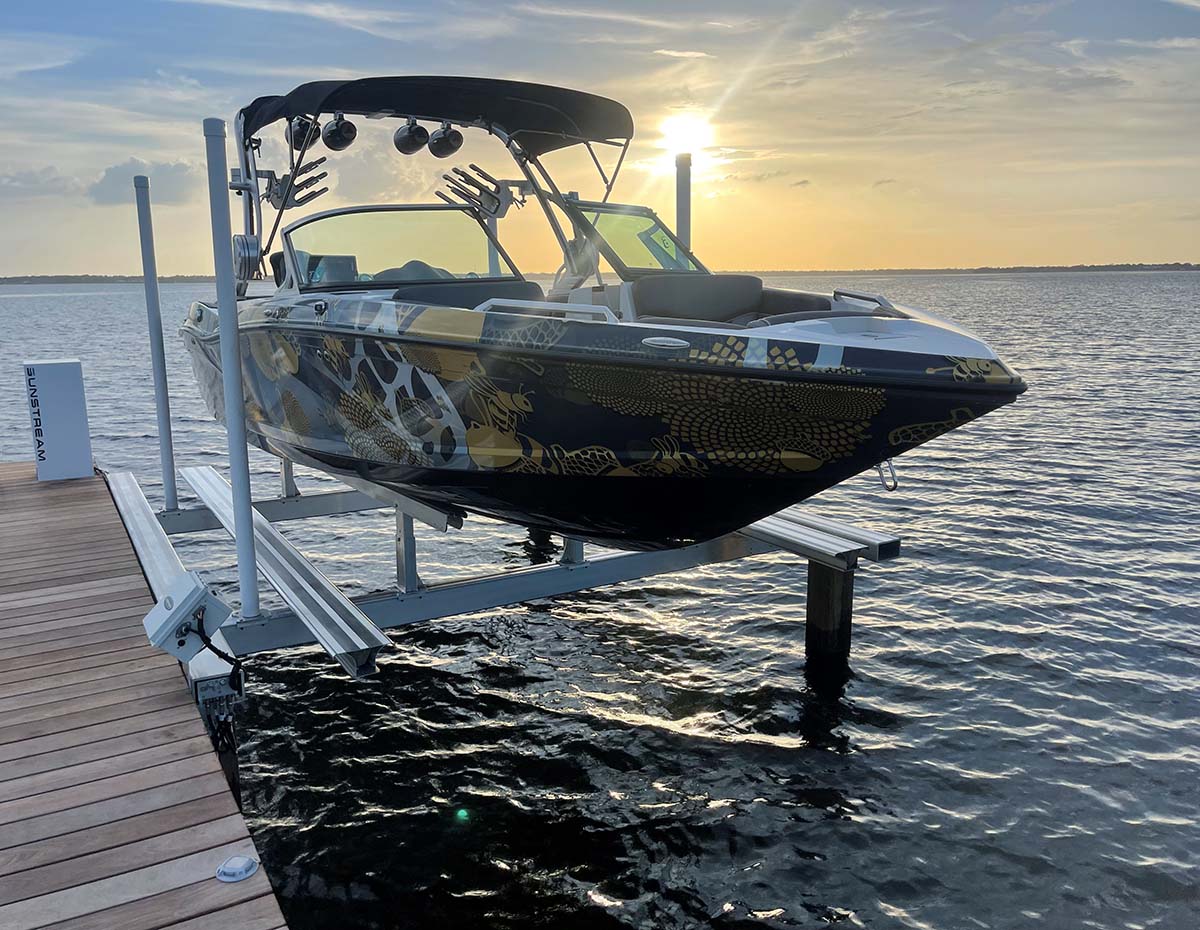 Products that Meet the Needs of Modern Marinas
Published on November 9, 2023
At one time, in-slip boat lifts and cement docks were new products to the marine industry. Both promised to offer better care for boats—one by lifting boats away from the damaging effects of water and the other by providing a more stable place to tie up. These innovations were good news to marinas, but today these products are commonplace. However, Sunstream and Marinetek are making sure their lifts and docks continue to improve and have introduced the next generation of both with improvements that may have seemed impossible just a few years ago.
Boat Lift Reimagined
After four years in development, Sunstream launched its Helix-P Boat Lift in late summer, promising a lift like no other on the market and they may have met that lofty goal. Focusing on speed, ease of access, and invisible lines, the new lift is catching the eye of boaters. But this lift goes beyond, offering benefits to contractors and marina operators as well.
The idea for the Helix-P, and many of Sunstream's other products, came from Ken Hey, CEO and founder of Sunstream. "We're good at creating products that everybody loves but nobody asked for. So many companies look at competitors and make a product that's just slightly better. We only look to our customers. We listen to what they want and what will make their boating experience better," Hey said.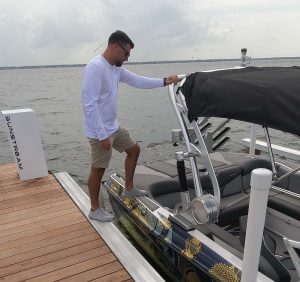 The Helix-P moves at the speed of a garage door or 12 times faster than a standard lift enabling a launch in as little as 15 seconds. The Sunstream Power System (SPS™) allows for up to two different hydraulic DC power packs of 6 or 12 hp, enabling power to increase up to 24 hp.
For aesthetics and safety, there are no visible motors, electrical work, or gearboxes and the pilings are low with no side beams. There is no obstructed view and less equipment that can be damaged or pose a threat to curious kids.
To further appeal to boaters, the lift can be run through a smartphone app that has no limit to how many people can use it. The app gives the operator the ability to accelerate, decelerate, and bring the lift to predetermined stops making it customized to the dock. For operators who don't want yet another phone app, the lifts can also be operated through a fob or the control box.
The boxes are checked for what appeals to boaters– fast, accessible, and invisible, with the added convenience of operating the lift away from the dock.
Contractors have shown interest in what the lift does not have. Helix-P can be plugged into an extension cord, with 6A of 110V power, and does not require 220V power mounted on the lift or routed underwater. That means there is no need to hire an electrician, saving significant time and cost on any lift project. A Helix-P can be installed in one day. Hey pointed out, "Some jobs need 40 amps per lift. You could have thousands of amps with millions of dollars of wiring for the lifts at a marina."
Another bonus is that Helix-P lifts have a smaller footprint. The lift can be installed with as little as a 5-inch gap between the dock and the boat meaning more slips can be added in less space—an average of 12% more. A single hydraulic motor that drives a single spindle is attached to the pier while the rest of the power system sits on land in a "pod." Each pod has 4 batteries, a hydraulic reservoir, 2 pumps, and a charger. Two high-pressure hoses run up to 125 feet under the dock and can service up to 10 boats.
More lifts in less space mean marinas can boost revenue, and lowered installation costs mean using Helix-P lifts can be cost-effective. That's a plus from a marina perspective. Another benefit to marinas is that the motors on the lift are submersible. Where motors previously had to be removed before the threat of a storm and high water, that job is eliminated. Less work also comes for dredging projects as there are no wires to remove from the seabed before a dredge gets to work.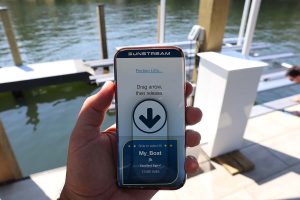 Keeping in mind those locations where power is limited, or like in Hey's back yard, non-existent, the Helix has a DC battery that requires no maintenance and only needs to be charged every 25 cycles. There's also an option to charge those batteries with solar power bringing a green aspect to the system that is topped off by the use of environmentally friendly hydraulic fluid.
If the product's recent unveiling at IBEX is any indication, the Sunstream Helix-P will be appearing soon in marinas across the country. "IBEX was a feeding frenzy. We knew we had something that appealed to boaters, but we didn't realize the many benefits the lift could provide to contractors and marinas. That's a bonus. We're doing this to make boating better and get and keep people in the sport. We'll always be innovating," Hey said.
Eco-friendly Concrete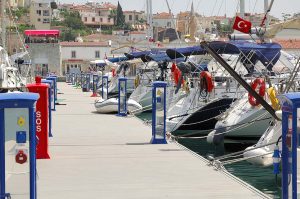 Innovation for Marinetek has meant going back and focusing on the basics—the cement that the concrete is made from. The Finnish investment company, Capman, which bought Marinetek a few years ago, began searching through Europe for a more environmentally sustainable cement product to better meet the growing ESG movement abroad. At the same time John Dunham, who was named president of Marinetek North America in 2020, searched in the United States. Dunham was prompted in part by a change in New York rules that for every concrete project of 35 yards or greater, a lower carbon concrete is required. "It's happening in New York and I'm guessing similar rules will soon be in all states," he commented.
The cement that the Marinetek team found takes sustainability to new levels with a manufacturing process that uses 65% less carbon dioxide. Since concrete emits carbon dioxide throughout its lifespan, the reduction is significant. There are other environmental benefits as well. The mixing requires less water, from a third to half as much, which not only saves on water consumption but also reduces drying time from 2 to 6 hours instead of the typical 4 to 8 hours. It reaches full strength in 14 days instead of the average of 28 for other concrete products. These benefits combined mean projects can be completed more quickly.
The geopolymer provides a dense matrix that decreases the permeability helping to give the concrete greater strength, up to 25,000 PSI, which also reduces the impacts on the concrete from freezing and thawing. Dunham also pointed out that "The way it is mixed allows for easy repairs. A small batch of concrete can be made and it chemically bonds to the original dock making repairs much less visible." The new concrete can be used to replace Ordinary Portland Cement (OPC), High Performance Concrete (HPC and UPHC) and can substitute for Glass Fiber Reinforced Concrete (GFRC). Dunham said that Marinetek stands behind the product and its claims as it has been thoroughly tested by independent labs.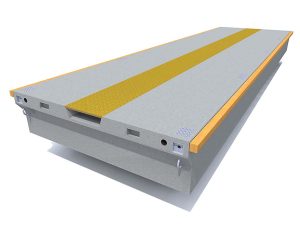 To provide further verification of the ability of the cement to reduce the carbon footprint of concrete, Marinetek is also putting it through the rigorous testing of the Water Revolution Foundation. Like so many maritime industries today, Marinetek is focusing on reducing its environmental footprint because clean water is what the industry survives on and because it makes good business sense. "We want to be an ecologically responsible company, building the highest quality dock but in an ecologically correct way," Dunham said. This is why Marinetek is the only dock manufacturer that has partnered with the Netherlands-based, Water Revolution Foundation. The mission of the non-profit organization is to drive sustainability within the superyacht industry by providing tools, knowledge, and best practices to reduce the industry's ecological footprint. While Marinetek caters to a much wider audience than just superyacht docks, the strength, and durability of its new concrete make it a natural fit for larger projects.
The Water Revolution Foundation accepts entries from suppliers of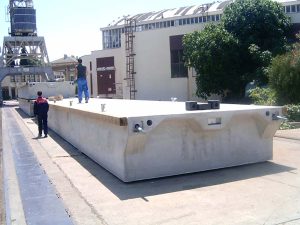 sustainable solutions to be included in the organization's sustainable solutions database (scheduled to be released later this year). Each product is put through a science-based verification process which entails a rigorous appraisal of 10 different environmental indicators from raw material extraction to end of life. Marinetek's new cement is currently being put through the testing process to be included in the database.
This latest initiative from Marinetek is something Dunham hopes can put the company back on the map after it went through some growing pains in recent years. "Marinetek is forward thinking. We want the industry to know we're back, we're funded, and we're ready to do business with the world," Dunham commented. With its embrace of environmental stewardship and green products, Marinetek is positioning itself as an innovator in sustainable products with its new concrete as its launch pad.