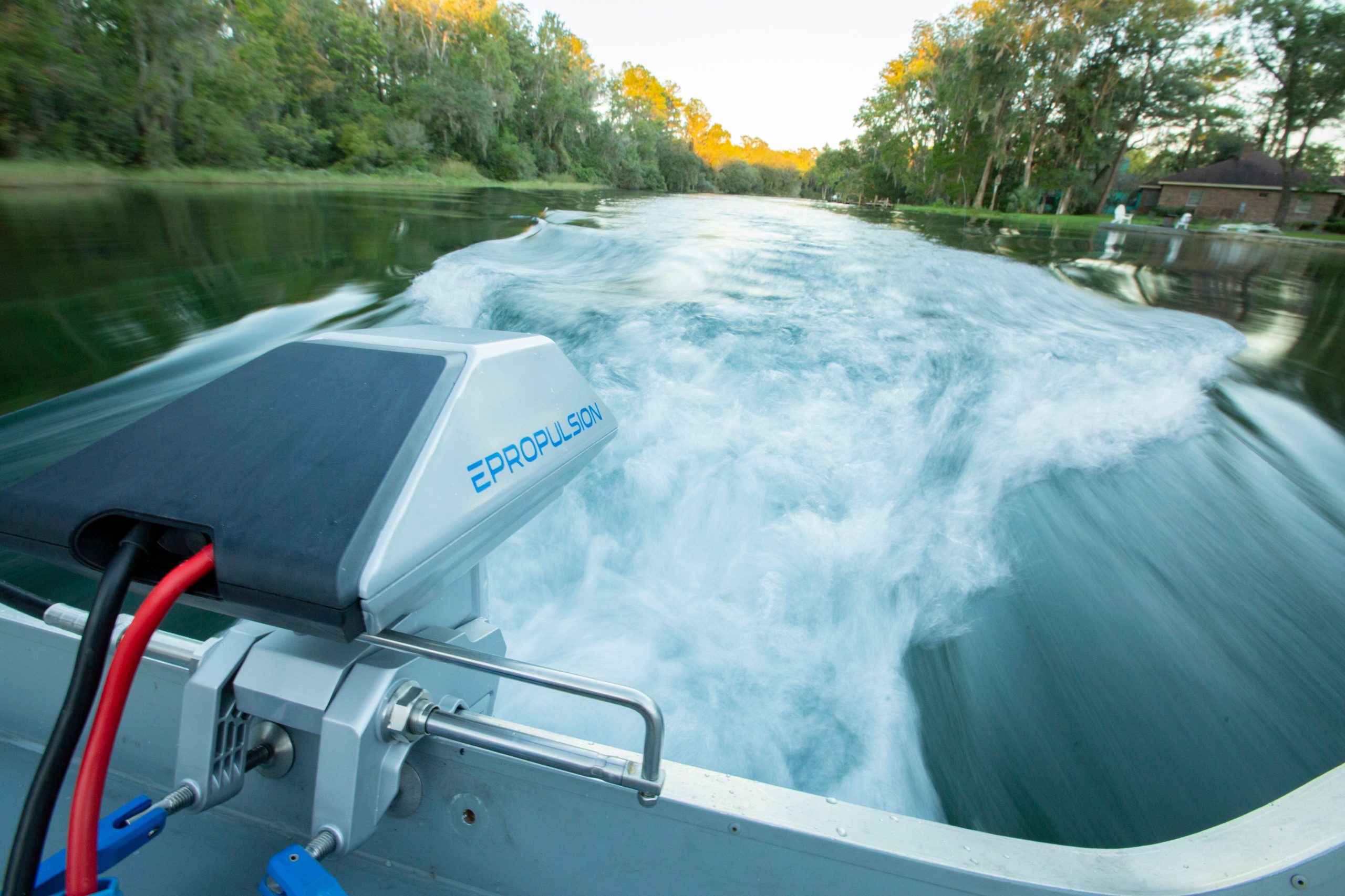 Queen Boat Company is Lighting the Spark on Electric Boats
Published on February 18, 2022
Queen Boat Company has been working to establish itself as an electric boating destination. Tucked onto the shores of Lake George, its location for supporting this goal is ideal as the lake is annually named one of the nation's cleanest and clearest. With the future of their three young children in mind and a desire to do whatever they can to keep the lake and surrounding area pristine, owners Rebecca and Matt O'Hara have introduced electric boats to their Freedom Boat Club fleet and completed the installation of solar panels to power 100% of the marina's needs. Electric is no longer a future part of the marine industry, it's here.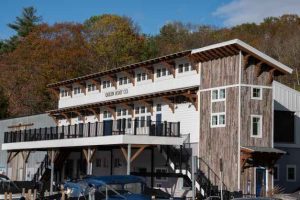 Queen Boat Company offers dockage as well as winter storage, along with fuel, a ship's store, and a service department. In addition, electric outboard engines from Torqeedo, and ePropulsion are offered for sale. They are heading into the fourth season of offering electric-powered boats in their Freedom Boat Club fleet and hope to continue to expand that offering. While Matt O'Hara admits the interest by boaters has been slow to take hold, the boaters that have used electric like that the boats are quieter, there are no fumes, and they feel they are doing their part to go green. "Conceptually people are interested in the idea of electric and the environmental aspect, but we have to educate them on proper use," O'Hara said.
Interest In Electric Engines Grows
Chris Ponnwitz, electric market manager for Mack Boring & Parts, sees interest in electric engines growing as well and has the figures to back that up. Mack Boring and Parts has been the North and Central America distributor of ePropulsion electric engines for the past year. They sell only through dealers and have 45 so far but are looking to grow 100 percent. He sees all his dealers expanding their teams because ePropulsion has taken hold as a large part of their business. "A few years back we saw the market change to outboard gas engines for bigger boats and we jumped into that with Suzuki. The experience showed us that when things change in the marine industry they change quickly so we started to keep an eye on electric and test products. We saw 500% growth of our ePropulsion line in 2021. It was a culture shock. Globally, ePropulsion grew 150%," he said.
ePropulsion's models include the Spirit 1.0 Evo, Navy 3.0 Evo and Navy 6.0 Evo. They now also have a new 9.9 hp pod drive. All the engines have hydrogeneration capabilities that are geared towards sailing. Under wind power, when the prop is spinning and the engine is in neutral, it will regenerate the electric and charge the battery. "This is not a huge thing for powerboats, but it's big for sailors and right now that's the bulk of our customers," Ponnwitz said. The company's pod drives are hard mounted to the hull underwater with the wiring coming up through the hull into the driver and connecting to the battery and throttle. It's made for boats with rudders and essentially keeps the engine hidden from view.
Sign up for the Marina Dock Age newsletter.
Our newsletter delivers the latest news straight to your inbox including breaking news, our exclusive content covering the marina and boatyard industry, new products, and much more.
Both Ponnwitz and O'Hara agree that ePropulsions Spirit 1.0 is their best seller. The battery clicks to the top of the motor, it has a 1.5 hour run time and the combined engine and battery weight is just 43 lbs. making it lighter than most fuel-based engines. "There is still concern for the range of time and distance that an electric engine can handle. Ours run two to ten hours depending on the speed of operation. We have to educate users that running full throttle uses more battery," O'Hara said.
For those looking for more power, like for wake boats, electric is not yet favored. It just can't crank out the desired hp although that's likely to change. Ponnwitz said ePropulsion's R&D team makes up the bulk of the company and they are constantly working on new and better capacity, getting the weight down and the power up. They are not alone as GM recently announced a large influx of money for electric engine development and Yamaha just announced a 9.9hp electric sterndrive.
Change Isn't Simple
While introducing greater horsepower is a key to success, Ponnwitz and O'Hara said there is a problem now with the formula for converting kW to hp that is a bit misleading and there is no standard so what one company touts as a 4hp equivalent electric engine, another might see as a 2 or 3 hp. "It's difficult to compare the thrust of an electric engine to the hp of a combustion engine. The Spirit is our best seller as a 3hp engine. To me, it feels closer to a 4hp but the thrust seems lower so it's listed at 3hp. As more big names, like Yamaha get involved, there will need to be a standard to keep the playing field fair," Ponnwitz said.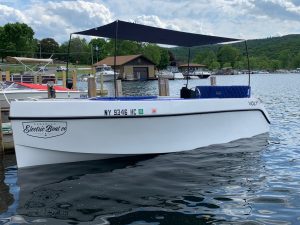 Another area that O'Hara said is challenging with electric is getting repairs completed. With his Torqeedo line, he has to send warranty work and repairs to Connecticut which has the closest certified repair facility. But O'Hara has employees who are attending a virtual repair class for the Torqeedo line, and he sees more of the engine companies offering similar options. "The training courses online don't get you to an official warranter place, but it does increase our capabilities," he said.
For ePropulsion, Ponnwitz said they are in the process of building their repair training network through train the trainer programs. They will be offering online training through the first half of the year and revisit in-person depending on COVID-19 protocols. The company has a full-service repair center and a fully stocked parts department in a 100,000 square foot facility in New Jersey so those who just need parts have them readily accessible.
Electric Infrastructure
Creating electric engines is just part of the puzzle of turning boating into an electric-powered activity. As electric engine sizes increase, marinas will need to provide power to charge the engines. With this in mind, part of the renovation of Queen Boat Company was to upgrade the electric power on the docks. O'Hara said electric engines don't need more than what most marinas already offer, that having two 20amps is efficient for overnight charging. For some boats, the battery can be taken off and charged at home and there are solar-charged boats that can also charge the battery. However, O'Hara is exploring fast-charging so rental boats can charge in-between trips out when multiple users come in one day. He's hoping to find grant funding options.
The O'Haras took the change to electric a step further with the installation of solar panels. "If you charge with dirty electricity, how much are you really doing to save the planet? We wanted to be fully sustainable and emission-free by pulling power from the sun," O'Hara said. Despite the long winters in New York, solar still provides 100% of the marina's power needs. He said the solar company pulls a shade report that identifies the direction the sun hits the roof during each season and accommodates for things like tree coverage, to come up with a system where even during the lowest sun level, the electricity still runs. The marina has a 32kW system that uses LG NeON2 445W panels that were installed by Kasselman Solar.
The O'Haras remain a bit of an anomaly on the East Coast for their embrace of solar and electric engines as the majority of interest and sales have been coming from the West Coast, but those looking into the future for the marine industry can likely predict a shift in power will soon take hold across the country.