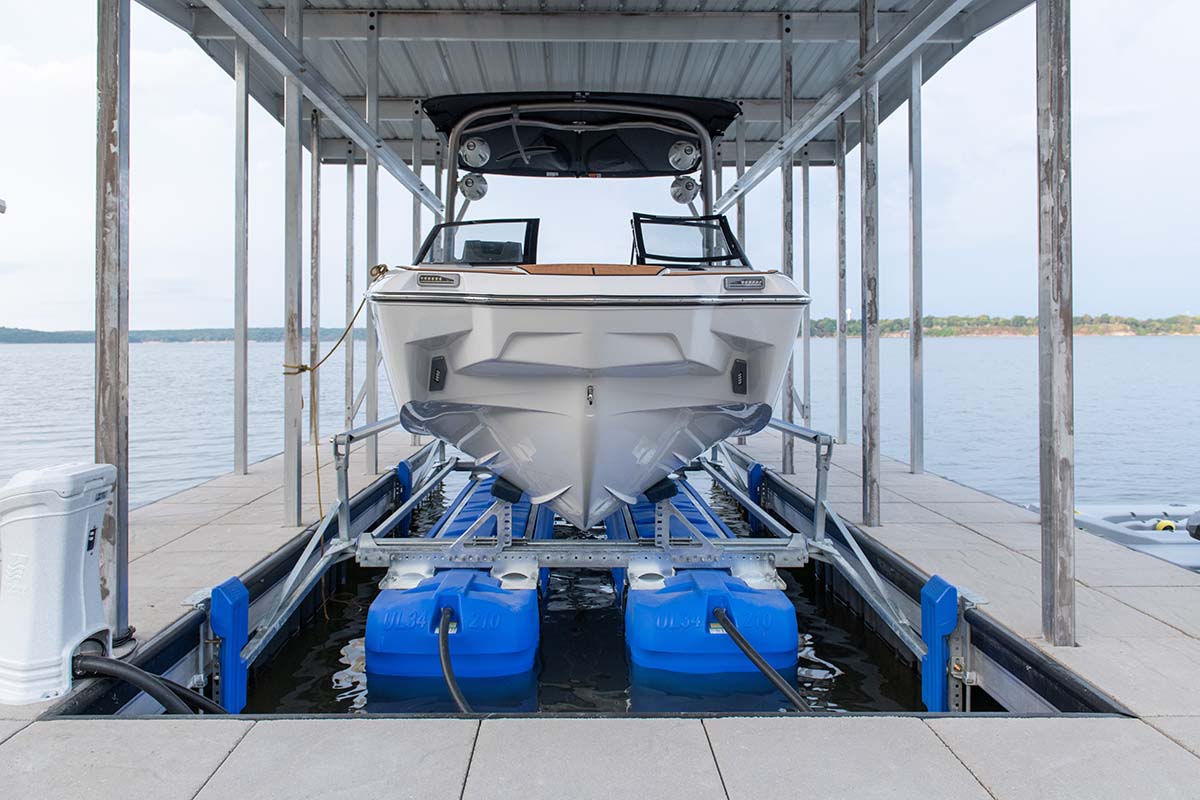 Raising the Bar in Boat Storage
Published on July 1, 2022
A wave of changes hit the boat lift industry these last couple of years as new boaters took to the water and existing boat owners upgraded their vessels since they were spending more time on them. Boat manufacturers responded to a growing client base with a more diverse range of watercraft featuring new innovations in hull shapes and propulsion options, forcing the boat lift industry to get creative. Historically, a boat lift's foremost function has been to prolong the life of a boat by reducing the accumulation of power-robbing marine growth and eliminating stress caused by wave action and continuous fender contact. The industry has come a long way and now offers products that go well beyond simply getting a watercraft up and out of the waves.
Versatility and Customization
The variety of propulsion options and hull shapes available today have required lifts to be versatile and customizable. The HydroHoist UltraLift from Waterfront Brands has drive-in or back-in options which offer a custom solution "no matter the configuration of the dock or marina layout," said Robert Rein, director of sales for Waterfront Brands.
Waterfront also has a multitude of bunk and hull pad options to satisfy the wide range of hull shapes on the market today. "We have added many features for height and width adjustment, along with independent front and rear adjustment," said Rein.
Suitable for reservoirs, deep water, or fluctuating water locations, the lift is set to provide solutions for various shorelines as development grows in new, challenging waterfront locations. "In the last couple of years, we've seen a much more affluent customer," added Rein. "Price is no longer the main issue.
Sign up for the Marina Dock Age newsletter.
Our newsletter delivers the latest news straight to your inbox including breaking news, our exclusive content covering the marina and boatyard industry, new products, and much more.
They do their research, so before they even get to a dealer they are pretty educated on the product and what is available out there. They want functionality, reliability, and the ability to upgrade in the future."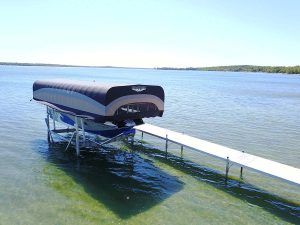 With a new and larger client base, the industry has seen an influx of diverse watercraft, including wake boats which often incorporate wake towers with gel coats, speakers, and other expensive accessories demanding reliable UV protection. The height of the towers has created a demand for suitable boat covers. "In recent years, we have added deeper canopies and canopies with hydraulically lifted entrance points to accommodate the higher requirements, yet still give maximum protection," said Rein.
With the push of a button, the back end of the canopy swings up allowing the boat to enter with the tower or Bimini top remaining up. The TowerMaxx Canopy System from ShoreMaster offers 48 inches of frame coverage and 60 inches of side canopy coverage to protect a watercraft and ensure it is stored safely out of the harmful sun and weather.
Design and Aesthetics
With the advent of remote working, many boat owners cut ties with the city and made their second waterfront home their primary residence and brought their boats along. This has proven true at marinas across the U.S., where facilities are at 100% capacity with very little signs of slowing down.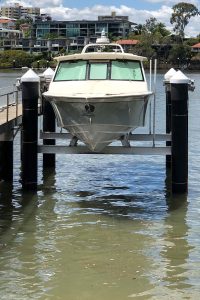 Particularly in the Western and Midwestern states, the top performer for Golden Boat Lifts has been their Tornado Lift. A hydraulic boat lift that rests on the lake bottom without piles or posts, the Tornado Lift can be installed as a permanent or seasonal solution. "It has opened up the freshwater markets for us," said Bill Golden, CEO of Golden Boat Lifts. "That's our fastest growing product out now."
Their Gatorvator™ post lift is unique with its absence of a top cross beam, which allows for a minimalist profile and slim aesthetic. Clients receive the reliable functionality they're looking for in a lift, while having the least possible impact on the dock's design or their waterfront view. In northern states dealing with heavy ice, the lifts can be easily removed during the winter months.
Golden is also witnessing an increased demand for deck lifts as marina operators reconfigure their docks to accommodate larger decks and boat owners continue to upgrade their waterfront homes. "Some customers choose to increase their dock size with a large deck," said Golden. "That's a big trend that we're seeing all around."
Expanding the deck area is a great way to upgrade a marina and maximize usability. The deck lifts can be customized to match a variety of dockside aesthetics and can greatly increase the ease-of-use for other waterfront activities demanding access points such as kayaking.
Going High Tech
These days almost anything can be done on a smartphone. Marina owners are able to control all facets of operations, from slip reservations to billing from a smartphone or mobile device. Sunstream has entered the high tech arena with its Bluetooth® 5.0 powered Mobile App, which provides remote control of their hydraulic products. A task typically performed by a Radio Frequency (RF) transmitter, can now be performed with the app for multiple products, including a Sunstream boat lift or automatic boat cover. The use of two-way Bluetooth technology is what makes the app fundamentally superior to legacy RF transmitters. With a range rated up to 300 feet, the Mobile App surpasses RF transmitters, which often max out around 30-50 feet, depending on local conditions.
Aside from range, the logistical advantage of cataloging all transmitters on a smartphone can't be understated. Rather than keeping track of multiple transmitters and constantly monitoring when batteries need to be replaced, all transmitters are stored in the same app on a smartphone. "If you have multiple devices like an automatic boat cover and a few lifts, then you might have four or five transmitters. In the app, you flip through the transmitters like pictures in your phone," said Ken Hey, CEO of Sunstream. Since multiple users can possess the same transmitters, every marina staff member can have control. Sunstream lifts also come with ergonomically designed handheld Bluetooth key fob transmitters.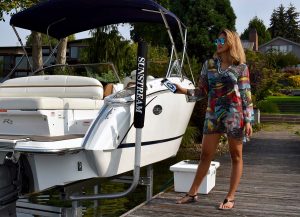 Perhaps the most powerful aspect of the app is its diagnostic component, which catches about 80% of potential issues early enough before they impact the operation of the boat lift, which can save a boater's day on the water. The diagnostic data can be shared with a dealer for maintenance communication and proactive diagnostics. If the lift owner desires, the dealer can access the customer's lift data via their own Bluetooth App as far as 300 feet away from the Sunstream product. "The dealer can proactively see an issue," said Hey. "They can fix something before you even know about it. You get the peace of mind that the boat is ready for the water."
Boat manufacturers have seen tremendous growth recently and it doesn't seem to be slowing down soon. In their wake, the boat lift industry continues to enjoy the ride, while improving on existing technology and finding new ways to help marina owners and operators keep their boaters where they want to be—out on the water.