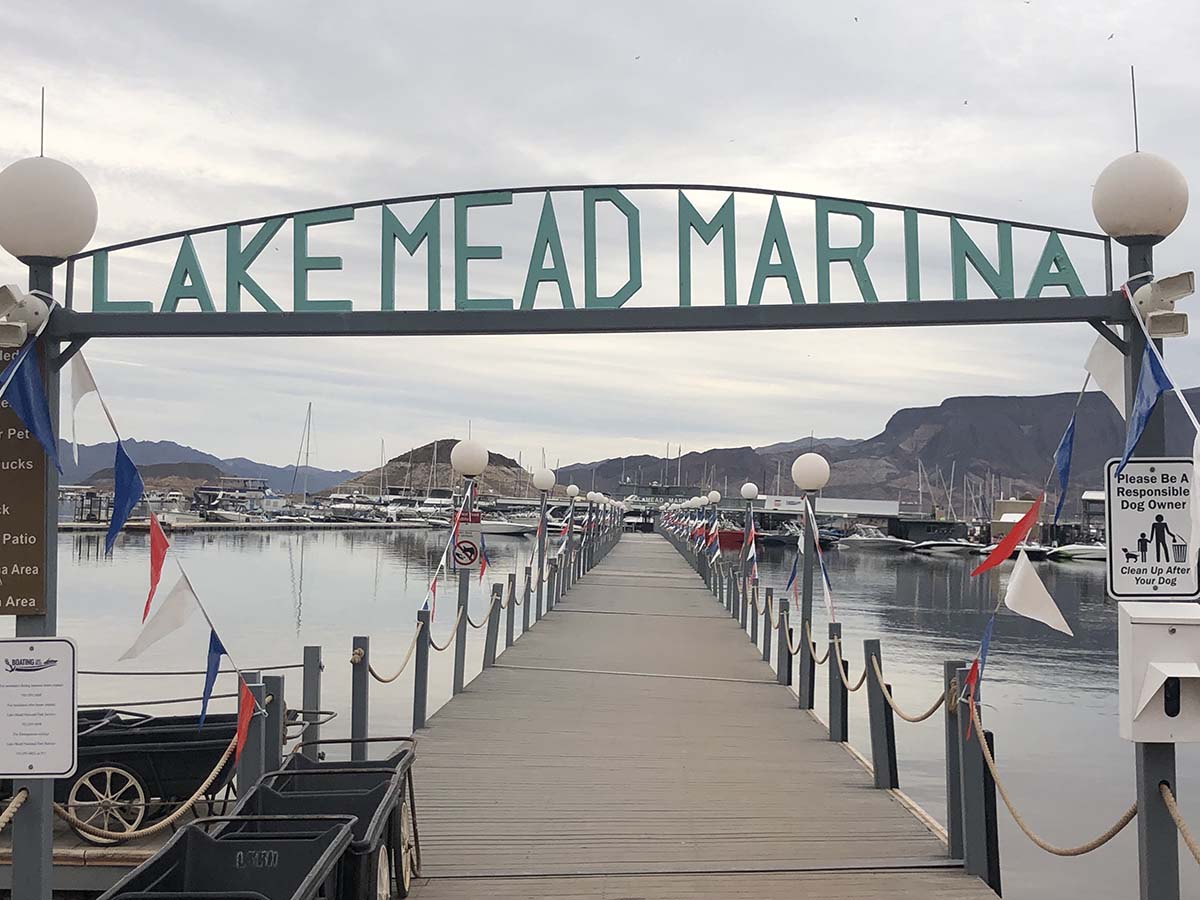 Recreational Boating on Lake Mead Faces New Challenges as Water Levels Reach Record Lows
Published on August 31, 2021
Lake Mead has been making national headlines this summer, as water levels have dropped to the lowest on record since the reservoir was created in the 1930s following the construction of the Hoover Dam on the Colorado River.
The National Park Service reported that water levels have dropped by approximately 145 vertical feet in the last 20 years due to extreme drought and increasing water requirements for millions of people and agriculture in the western United States. In mid-August, the U.S. Bureau of Reclamation declared a water shortage, announcing that the Colorado River will go into the first tier of water cuts beginning January 1, 2022. Arizona and Nevada will see water reductions under the first tier, with additional cuts expected if Lake Mead continues to fall. While the major concern is the diminishing supply and water shortages, these levels are also taking a toll on the lake's recreational boating industry.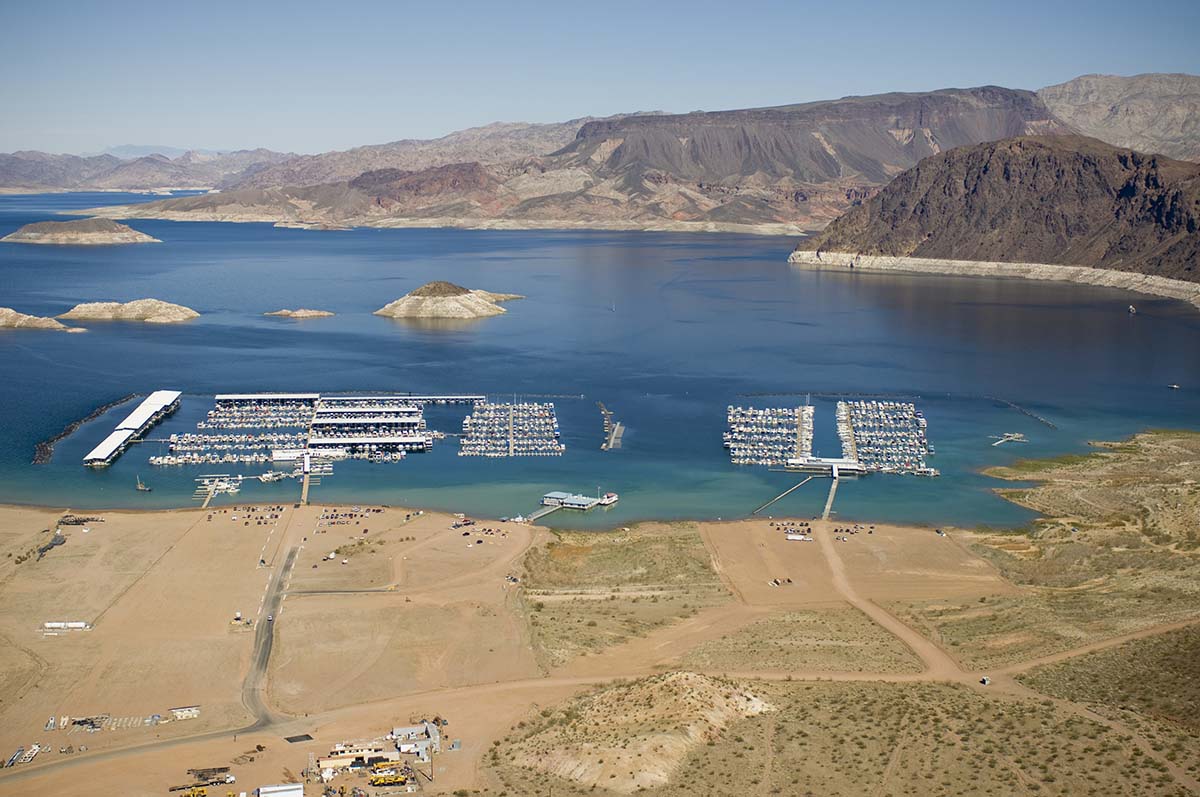 An Important Resource
Considered to be the largest reservoir in the U.S., Lake Mead is in Nevada and Arizona, just 24 miles east of Las Vegas. The reservoir provides water for 25 million people and millions of acres of farmland in California, Arizona, and Nevada, as well as some of Mexico. At maximum capacity, Lake Mead has a surface elevation of 1,221.4 feet above sea level. The lake has remained below full capacity since 1983, and in June of this year, reached a record low of 1,070.6 feet above sea level, according to data provided by the U.S. Bureau of Reclamation. Water levels are expected to drop another 20 feet by 2022.
As federal and state officials work to develop plans and prepare for the future, marina owners and operators on Lake Mead are currently dealing with how the low water levels are affecting business and boating on the water.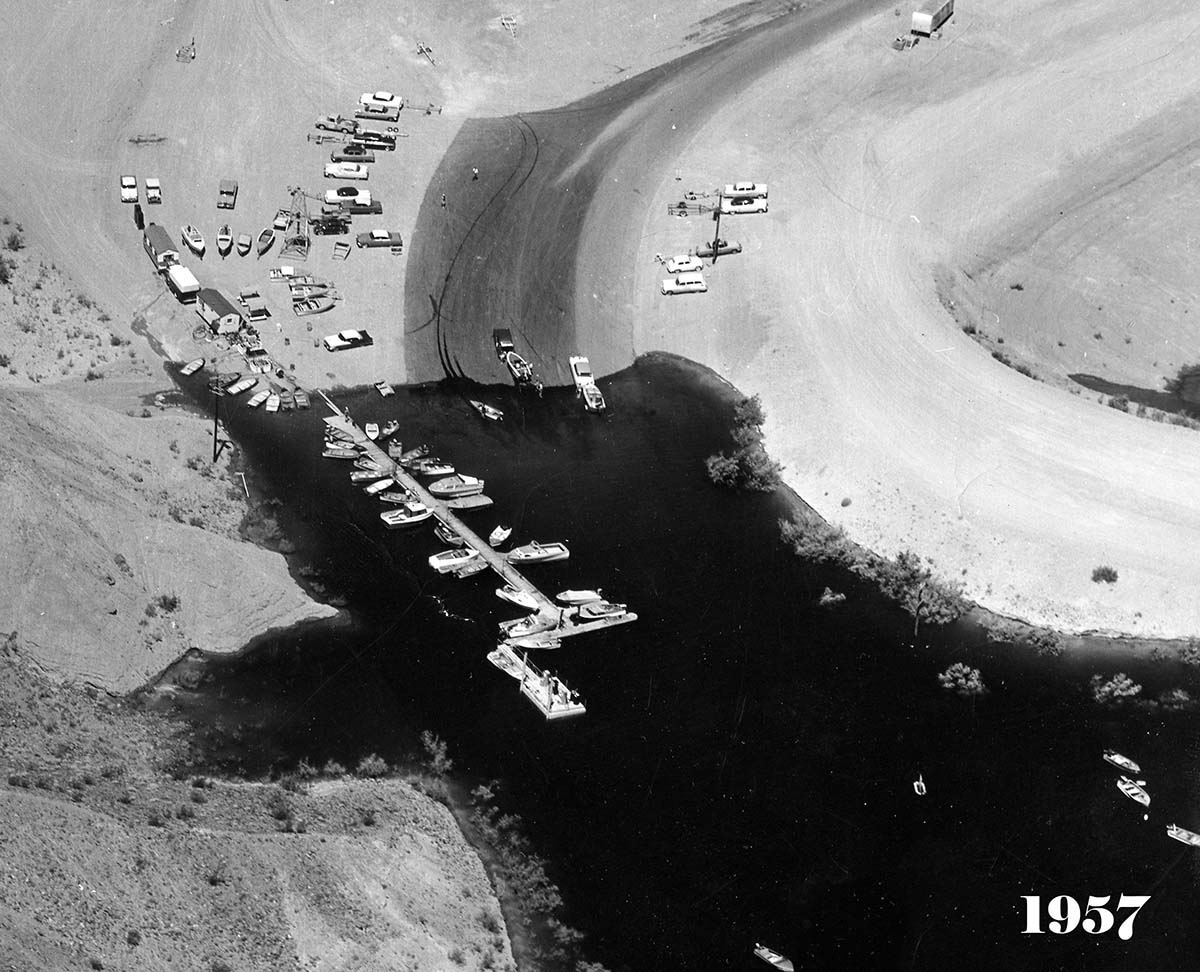 Bruce Nelson, director of operations at Las Vegas Boat Harbor and Lake Mead Marina, has plenty of experience adjusting to the fluctuating water levels on Lake Mead. His grandparents, Bob Sr. and Betty Jean Gripentog, purchased Las Vegas Boat Harbor in 1957. At the time, the marina consisted of a small dock, about 40 moorings, and five cottage-style trailers. Today, with the additional acquisition of Lake Mead Marina in 2008, the family operates 1,500 slips, 400 dry storage stalls, boat rentals, boat service and sales, two ship's stores, and two floating restaurants.
Nelson said the fluctuating water levels have forced the marinas to move many times over the years. Since relocating to a permanent home at Horsepower Cove in Hemenway Harbor in 2002, Las Vegas Boat Harbor and Lake Mead Marina have moved in and out with the changing water levels over the years. "Lake Mead is an amazing lake and low water is a problem we have to deal with," Nelson said. "We are at levels we haven't seen before. Is this a new normal? We will have to see. It is all dependent on what kind of snow we see on the western side of the Rockies."
Nelson added that the last time the lake was down to this level was in 2016. After a few wet winters water levels in the reservoir increased. "This is not something that happens overnight. The National Park Service (NPS) and U.S. Bureau of Reclamation are particularly good at predicting future water levels, so we prepare accordingly," Nelson said.
Earlier this year, the NPS notified visitors, boaters, and marina owners and operators about the agency's plan to combat the receding waters at access points and boat launch areas. The NPS anticipated that declining water levels would impact boat launch ramps in May at Temple Bar and Hemenway Harbor, where Las Vegas Boat Harbor and Lake Mead Marina are located. In July, water levels affected launches by Echo Bay, Callville Bay, and South Cove. The NPS immediately began installing pipe mats at all five locations as the water receded. Pipe mats are repurposed steel cooling pipes recycled from decommissioned coal fired power plants. The pipe mats extend the concrete launch ramps, allowing boaters to safely launch into the water.
Nelson credits the NPS and Lake Mead National Recreation Area for the work they have done this year to keep recreational boating up and running. "We learn to adjust and work with boaters to make sure they are able to enjoy their time on the water," he said. "Usually, boaters have access to 10 lanes here at Hemenway Harbor. This year, there is one lane. The lines were long on Fourth of July weekend, but the NPS does an excellent job of notifying everyone, so they know what to expect when they arrive."
Boating is Booming
While the outlook for future water levels at Lake Mead appears grim, Nelson is quick to point out that boating is better and busier than ever. The pandemic and subsequent record-breaking new boat sales have led to an increase in boaters visiting Lake Mead. Nelson wants to make sure these new boaters do not become frustrated by long lines at ramps. "Our marinas are full, and we have a waiting list of over 300 people. A few years ago, the industry was having a tough time getting new boaters. Now we need to do everything we can to hold on to this new generation," he added.
The NPS agrees and recognizes the importance of recreational boating on Lake Mead. Nelson said the park service has plans in place to invest money to extend the concrete ramps. "I think when people hear about the low water levels, they think the lake is turning into a huge mudhole, but it isn't," he said. "There is still plenty of water, and I believe Mother Nature comes around when she is ready. In my career, I have seen many peaks and valleys. Right now, we are at a low cycle, but I do believe things will get better."