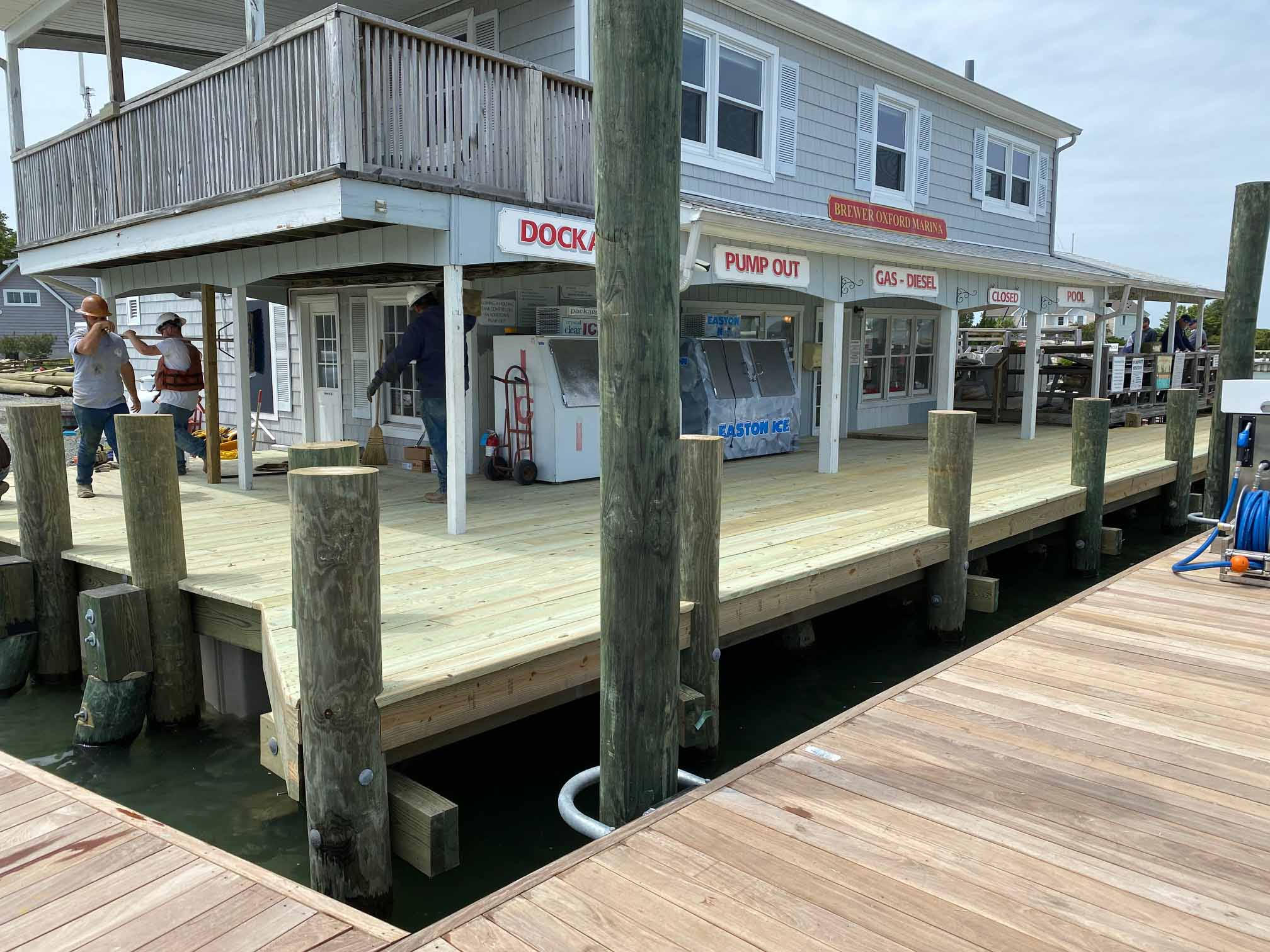 Renovated Oxford, Maryland Marina Now Open
Published on March 15, 2022
On the picturesque Tred Avon River, the village of Oxford, Maryland supports a lively boating community with its many marinas and endearing businesses. Among the many, one of the largest marinas is the newly renovated Safe Harbor Oxford. Formerly known as the Brewer Oxford Boatyard & Marina, Safe Harbor Oxford was purchased in 2017 by Safe Harbor Marinas that had big plans for renovation and expansion.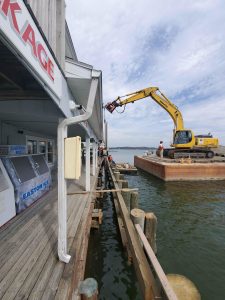 Safe Harbor hired Dissen & Juhn Company out of Stevensville, Maryland to complete the $2.4 million in renovations over the course of two off-seasons. The first phase of the project began in January 2020 and replaced the existing 962-foot timber bulkhead with one of heavy-duty vinyl. The land use adjoining the bulkhead location created several challenges for the engineers at Dissen & Juhn and ultimately, three different approaches were employed to achieve the final design. Where it adjoined the town road there wasn't sufficient room to drive dead-man piles to anchor the bulkhead. A cantilever sheet pile design was used in these areas and the bulkhead piles driven closer together and at greater depth to achieve the required stability. Alternately, where the bulkhead adjoined the office building, fuel pier, and swimming pool, batter piles were used to increase stability. Working in concert with the vertical piles, the batter piles were angled toward the bulkhead in order to achieve the required strength.
Along with the new vinyl bulkhead, three new fixed timber docks of 20', 40', and 60' lengths were built at the north end of the marina. The fixed docks will remain stable through the heavier wave patterns common to the north side of the marina. At the marina's west basin the existing fixed timber docks were replaced with a 380-foot long floating main dock with ten 24-foot long finger docks, equipped with water and 30-amp power. A new larger floating fuel dock was also installed.
In the second phase of the project, all remaining fixed timber docks were replaced with new floating docks and equipped with power and water supply. The marina's east basin was also dredged to a depth of -7 mean low water (MLW), removing 3,750 cubic yards of sand, silt, and clay. In some areas, the dredging provided more than 2 feet of additional water depth to accommodate deeper draft boats.
Sign up for the Marina Dock Age newsletter.
Our newsletter delivers the latest news straight to your inbox including breaking news, our exclusive content covering the marina and boatyard industry, new products, and much more.
At the project's completion in June of 2021, the marina boasted 70 new state-of-the-art slips ranging in size from 25 feet to 50 feet in length. The project also added room on the 83-foot and 103-foot length "T" heads for larger yachts. The floating docks were steel reinforced, wood-framed floating docks manufactured by Meeco Sullivan, Warwick, NY. Timber piles were used to secure them.