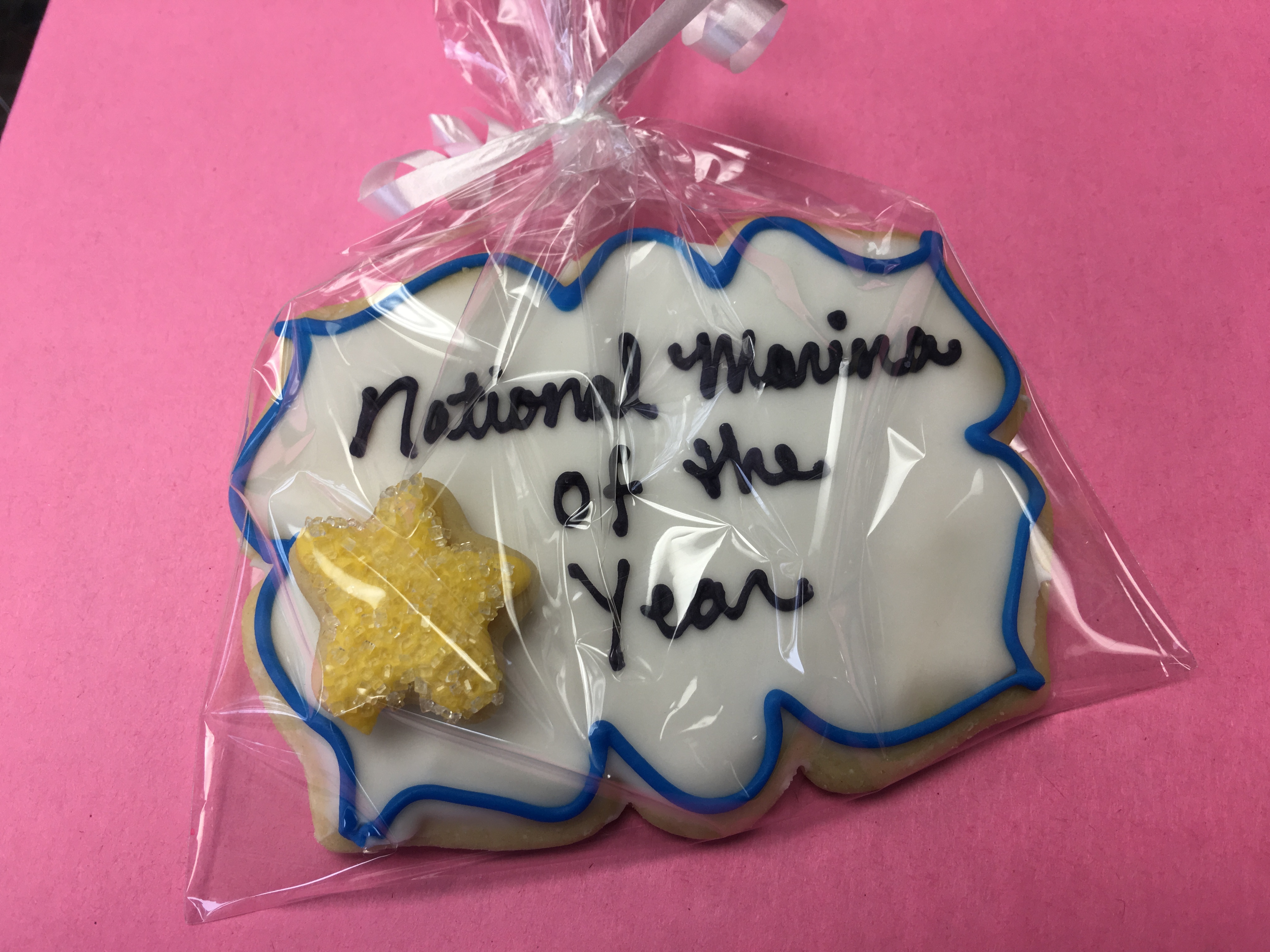 Rockvam Boat Yards Sees Revenue Results from Award Marketing
Published on August 26, 2019
What's the best way to show credibility when someone has no idea who you are? It's via a third-party endorsement. How many times have you looked for a dentist or someone to build a patio and instead of responding to an ad, you've asked a friend who they used? You've probably done this often.
This endorsement helps build credibility because your friend will tell you the truth.
But what if no friends exist? How does someone understand your marina is trustworthy? One amazing way is through the use of award marketing.
Now, I'm going to be honest, I stumbled into this type of marketing, but I'll also tell you, it's really cool.
Sign up for the Marina Dock Age newsletter.
Our newsletter delivers the latest news straight to your inbox including breaking news, our exclusive content covering the marina and boatyard industry, new products, and much more.
Third-Party Endorsement
When you receive an honor or award from an independent third party, it makes you feel amazing because you're recognized among your peers. But it also does something spectacular; it gives you a boost of credibility that's easy for your customers and prospective customers to understand.
Our journey to Marina of the Year started with my dad, Jerry, showing me the ad in Marina Dock Age magazine with a call for entries. I read the requirements which are intense… and said, "Alrightie" and then, I took a deep breath, and I tackled the application.
My parents started our marina, Rockvam Boat Yards Inc. in Spring Park, Minnesota, with a repair shop. It was a dirt floor building with no plumbing, no heat and no electricity. So, to build the marina into what it is today is a great business success story. Applying for this award was one way to affirm their hard work, careful planning and entrepreneurial spirit.
When I found out we won the Marina of the Year award from Marina Dock Age magazine, I was thrilled! It was very exciting for my parents to receive this award and recognize their nearly 60 years of work.
And I was pleased, and I exhaled (finally).
Then my husband said, "Now your work begins."
I didn't understand the impact of that statement; in fact, I said, "what are you talking about?" The application process was intense (totally worth it) but it was a lot of work. We had a lot of pages in our application, so I was ready to just enjoy the award. We won, yet I had some silly thinking going on because I thought I was "done." But he was right, I thought the win was the end, but it was actually the beginning.
No one at that point had developed an "after the award" type of marketing plan, so I developed it as I went. I spent the first three hours after his "now your work begins" statement, researching all I could about awards and how to market them.
Local Promotion
It's easy to do the simple things like adding the award to your email signature or a full celebration party for your customers. The ideas are endless. The goal is to create an environment that your marina visitors celebrate your success, with you.
Marinas are a gathering business. This is a place where people spend their free time. It's that "vacation every day of the week" feeling. Therefore, your customers have a common bond and as such, exhibit a personal pride and investment in the honor.
What we did was utilize the message that "Minnesota Boating is #1" since it was the first time a Minnesota marina won the Marina of the Year award. It allowed us to focus on boating and create more magic moments.
This included being invited to the local high school for a celebration during the halftime of the basketball game. We created celebration packs that included can coolers. The boat show became a gathering spot to celebrate.
All of these events helped us market the award.
Remember, you don't have to do anything. You can accept your award and celebrate or you can use it as a marketing tool and build good-will among your customers, current and new.
What's the bottom line? Our sales 2017 vs. 2018 realized a 6% increase. We even doubled our sales in our boat club. Is it because of winning our award? It absolutely helped! The increase in sales came about from the publicity, both free and paid.
When we hit the front page "above the fold" story on our area newspaper (in the winter) that was powerful. You couldn't miss that story at the grocery store!
Social Proof
But there's also something that happens when you implement award marketing, and that's validation from an independent third-party source. Why? Social Proof!
Social proof is a neat little buzz term that refers to the words or actions of others supporting you or your business. The most common form of social proof is when someone gives you a review. This is a third party that says good (or bad) words about your products or services. Others read the review, and it may impact their buying decisions.
Award marketing is an under-utilized but extremely valuable form of social proof.
When you win or your business wins an award, it validates you with an independent third-party source. This is critical to building credibility, and credibility is essential to transforming your customers from "one and done" to "infinity." (See the story, "Rockvam Boatyards and the Infinity Marketing Machine," July/August 2018 issue.) You want infinity customers because it's expensive to attract customers. But when you attract people that stick around year after and build trust, they will become a powerful tribe with a strong loyalty.
You want loyalty. A loyal group is one that waits for your next offer or product; this is a radically different approach to marketing from random ads thrown at a group of strangers in the hope they will buy whatever you're selling.
But it all starts with credibility!
The first time I realized the power of awards was when I needed help on Yelp. Yelp is one of those outside sources where angry people share their feelings. Well, it's hard to get people to share positive reviews, but what you can do, is buy ads.
Here's the magic of award marketing. On our ad, I wrote, "voted best marina 7 years in a row." This was the headline ad on our page, right before the angry review.
How did we get to be best marina? Our local newspaper, and most likely your local newspaper, has a Reader's Choice type of vote. Sure, it's probably designed to sell ads in their paper, but the award on the wall does build your social proof.
And then, you can use it in your advertising.
It's like the simplicity of changing your verbiage from "Our Marina" to "Our Award-Winning Marina." This small change comes from when you compete and are honored with awards.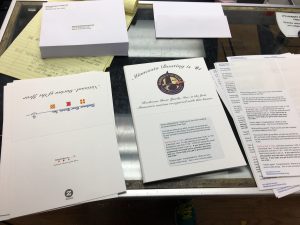 So what do you do when you win?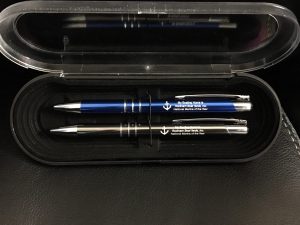 Take a moment to celebrate (congratulations on your hard work!), but now it's time to get to work!
After I was "pushed" into this award marketing concept, and I mean pushed, what I did was researched online how to make the most of an award. I compiled a free list of my best ideas, just visit AwardMarketing.com and download a copy.
Celebrate
I implemented big things like a celebration dinner for our customers and small things like creating stickers for our brochures that announced our award. We created engraved gift pen sets that display the title and use these when new customers sign a dockage contract. We even received proclamations from both our State House and State Senate recognizing the impact of this award on Minnesota boating.
But before any of these happened, we celebrated with our crew. There were sweatshirts, pizza parties, cards, photos with the trophy, and a whole lot of excitement!
Getting the word out quickly to our local press gave us front page coverage. We also were able to get mentions in our regional boating magazines and local boat show magazine.
We had a wonderful time as the Marina of the Year and still utilize the logo. The monetary impact has been amazing, but the good-will of new customers that are proud to be a part of our win was a joy we didn't anticipate.
The customers' bond with our marina has strengthened, and they love telling people their marina is national Marina of the Year. They also love the T-shirts, the bags and the stickers.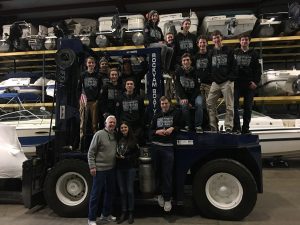 We have received other awards on our journey to Marina of the Year, but none that we invested the concept of award marketing into at such a deliberate manner.
The applications for Marina of the Year are due soon, I strongly encourage you to apply. But just be aware, the award is not the end, it's only the beginning!