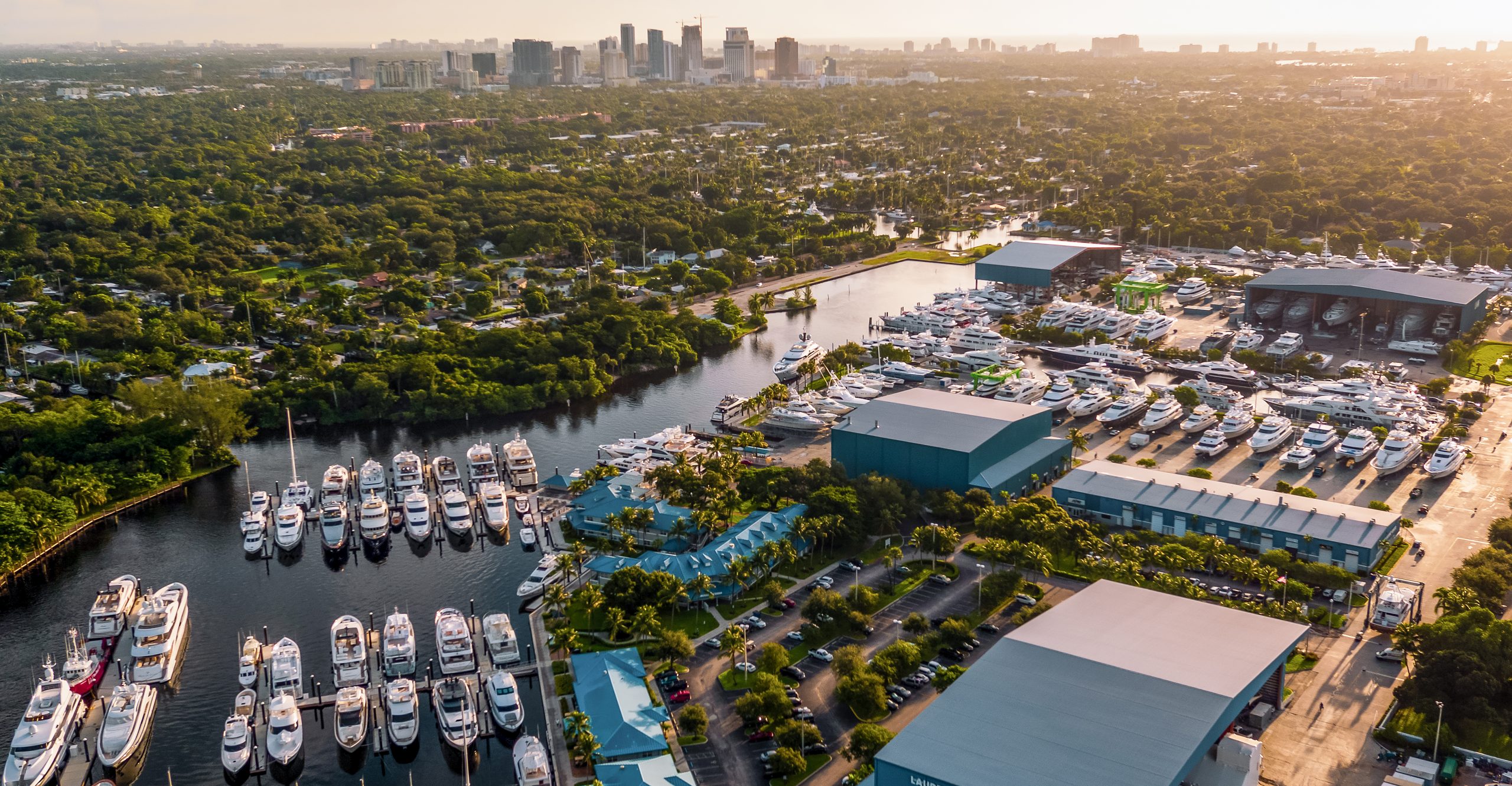 Safe Harbor Marinas Purchases Lauderdale Marine Center
Published on June 24, 2021
Safe Harbor Marinas has added the country's largest yacht repair and refit facility to its portfolio with the acquisition of Lauderdale Marine Center in Fort Lauderdale, Florida.
"Lauderdale Marine Center was a compelling opportunity for us because it caters to a different part of the superyacht service business, providing the ability for captains who wish to manage the work themselves to be able to do so in a world-class location," said Carlos Vidueira, who oversees Safe Harbor's superyacht marinas in South Florida. "It is the perfect complement to the full-service superyacht offerings that already exist within our Safe Harbor network."
Lauderdale Marine Center (LMC) was designated the country's first marine Free Trade Zone in 2017. The facility includes 19 out-of-water covered sheds, eight in-water covered slips, and dry docking for more than 100 vessels. With a lift capacity up to 485 tons, it can accommodate some of the world's largest yachts with hurricane-safe dockage and a secure yard and facilities with 24-hour surveillance. LMC employs more than 100 full-time professionals and is home to hundreds of marine industry tenants and contractors. An on-site restaurant and gym, along with nearby shops, restaurants, and educational opportunities are available for the captain and crew.
According to the LMC website, its marketplace model is designed to "provide the perfect one-stop destination for your yacht, total control of your repair and refit projects, and to always give owner, captain, and crew absolute peace of mind above all else."
Sign up for the Marina Dock Age newsletter.
Our newsletter delivers the latest news straight to your inbox including breaking news, our exclusive content covering the marina and boatyard industry, new products, and much more.
"Although the Safe Harbor network already includes facilities with both full-service and self-service offerings, there is simply no superyacht facility comparable to Lauderdale Marine Center anywhere in the world," said Vidueira. "The unique opportunity to acquire a 65+ acre, state-of-the-art facility situated right in the heart of Fort Lauderdale, the self-proclaimed Yachting Capital of the World, makes our business that much more dynamic.
Vidueira said with each acquisition, Safe Harbor begins by establishing a capital plan to improve the property and enhance the member experience. The company will immediately add 31 superyacht slips at LMC, introduce new upland amenities and implement enhancements throughout the facility in order to better serve the industry. "Over the long term, we will continue to make strategic investments to ensure that the facility remains the finest in its class," he said.
Safe Harbor Marinas is the largest owner and operator of marinas in the world. Based in Dallas, Texas, the company is dedicated to providing exceptional service and memorable experiences to the global boating community. With the closing of the Lauderdale Marine Center transaction on May 3, Safe Harbor now owns and operates more than 115 marinas in 22 states. The LMC transaction was valued at approximately $340 million.
"We are excited to bring Lauderdale Marine Center and their talented team into the Safe Harbor family," said Baxter Underwood, CEO of Safe Harbor.
"LMC is now connected to our network of superyacht facilities at West Palm Beach, Riviera Beach, Old Port Cove, Charleston City, and Newport Shipyard and will help us further grow along the East Coast by providing a world class 60-acre service and repair facility for our members."