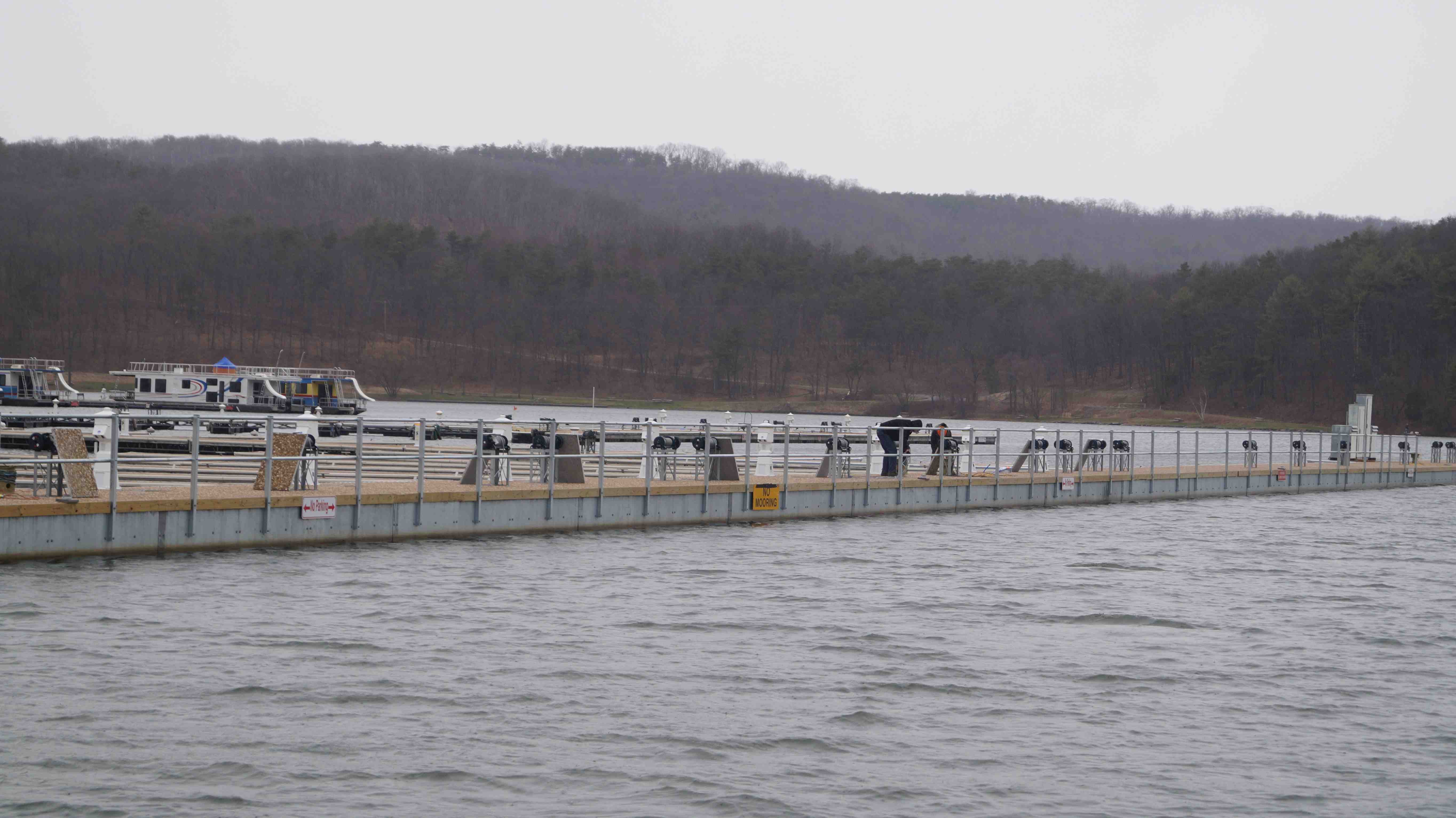 Seven Points Marina Installs New Wave Attenuator
Published on April 30, 2018
Meeco Sullivan completed work on a 10-foot by 550-foot wave attenuator at Seven Points Marina in Hesston, Pennsylvania.
The marina replaced the wave attenuator due to storm damage, according to Pauline Hetrick, who co-owns the marina with B. J. Filson. "Since we needed to replace it, we took the opportunity to update the design of the dock. Meeco Sullivan was extremely helpful in making our vision a reality."
The marina chose a floating concrete attenuator because Raystown Lake, where it is located, is a flood control lake and they have to be prepared for varying lake levels.
One of the challenges of the installation was removing the existing attenuator. "We would have preferred to be able to sink it for a fish structure, but we were not permitted to do so," Hetrick said. Despite the weight of the waterlogged attenuator, the marina crew took it out safely.
Sign up for the Marina Dock Age newsletter.
Our newsletter delivers the latest news straight to your inbox including breaking news, our exclusive content covering the marina and boatyard industry, new products, and much more.
"We are blessed with a seasoned crew at Seven Points Marina; they were also able to save existing finger piers for the 22 houseboats parked on the inside of the wave attenuator," she added. The houseboats range in size from 50 to 80 feet.
"Our family has been in the marina business since 1946 and at Seven Points Marina for 42 years," Hetrick said. "We have developed and maintain a strategic plan that identifies needs for upgrades to our facility, our slips, our rental fleet, etc. Our founder, Jim Filson, was a visionary; we started with 200 wet slips and added docks as we were permitted by the Corps. We added a rack storage facility in the 80s, which houses 246 boats under 24 feet, so we now have approximately 700 wet slips for a total of 946 slips."
The marina has worked with Meeco Sullivan for all of the upgrades. "Prior to the attenuator, we replaced our courtesy/houseboat rental dock; the result is a 638-foot, well-constructed dock that allows boaters on the lake to visit our retail facility and restaurant. Our houseboat rental docks are on one side and allow our customers to have easy access for loading their gear on-board for their houseboat vacation." The angled docks make docking easier, given the wind conditions that sometimes occur on the lake.
"In our history we have evolved from wooden truss docks to the existing concrete paved docks," Hetrick said. "We have upgraded 13 mains with fingers with Meeco. Feedback from our slipholders and the general public using our courtesy dock and gas dock has been very positive in terms of having a top-notch facility."
The next slip upgrade will be to the fuel/daily rental dock. The marina has seven fuel dispensers, two pumpout stations, a portable toilet dump station and freshwater on a 15-foot by 212-foot dock. The plan is to go wider to 24 feet and longer to 250 feet, to add another fuel dispenser and two more pumpout stations and to maintain the fresh water station. That will leave plenty of room for the 12 pontoon rentals on the dock, plus additional space to service fuel customers, even as the marina staff handles the turnover for houseboat and daily rentals.