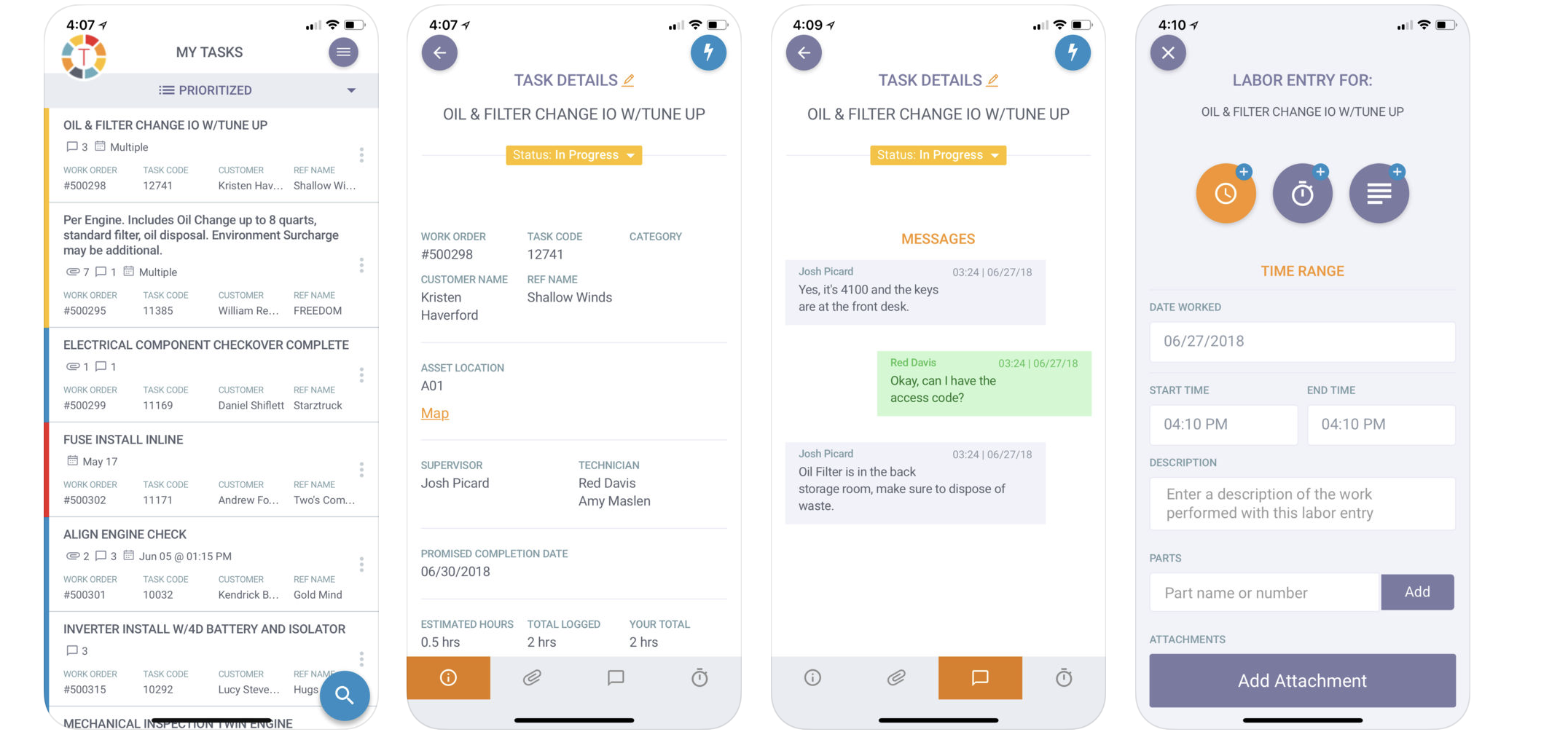 Software Platforms and Mobile Apps Can Increase Boatyard Efficiency and Profits
Published on August 30, 2018
Getting organized and getting control of work flow processes can create a more efficient, more profitable boatyard. If a boatyard's service desk is cluttered with stacks of work orders, timesheets, job notes, it makes it harder for service technicians to keep an accurate accounting of their time and work in an efficient manner. Technology can help break through the clutter and make it easier for marinas to get organized and stay on task.
MacDougalls' Cape Cod Marine Service (MCCMS) began using MyTaskit Pro in September 2016 and technicians there started using the new MyTaskit mobile app released in July of this year.
Operations Scheduler Trevor Vermette said 90 percent of MacDougalls' technicians are using the new app, and it took them only 10 to 15 minutes learn how to use it. "We've had a pretty favorable response," he said.
Vermette likes the enhanced search option on the new app. The search and filter feature allows technicians to access their schedules and prioritized task lists and lessens the chance for misinterpreting instructions. It also gives supervisors a real-time view into tasks. They can search by technician to see who is assigned to what job or they search by task category, such as mechanical, plumbing or electrical. When a technician completes a task, the program generates a report the supervisor can review and confirm the job has been completed. Videos and photos can be attached to the report as well. "It saves a lot of time," Vermette said.
MyTaskit CEO and founder Kevin Hutchinson said they began working on the new native app in October 2017, then ran beta testing in February and March. A few MyTaskit customers used the app for a month and a half to help identify any bugs or kinks in the program. The company announced the launch of the app in July 2018.
"We've been surprised at the number of downloads," Hutchinson said. Following the launch, he said the company started calling some of its customers to let them know the app was available, and several of them had already downloaded and started using it. "It was under high demand for technicians," he said.
Work Coordination
MyTaskit is an online, subscription-based work coordination platform. The program launched in 2015 and grew from the My-Villages platform Hutchinson created in 2012. The original Boat Village was a social and service coordination program that connected boat owners with service providers and helped boaters keep track of information about their boating equipment, manuals and prevention reminders. "The goal was to enhance the relationship between the boat owner and the service provider," Hutchinson said.
However, the company received a lot of feedback from service providers who said they needed a way to coordinate the work of their teams and sub-contractors. In 2014, Hutchinson began developing and creating MyTaskit. He said the company chose to launch the program with the marine industry because it has a lot of specialties, such as mechanical, electrical, plumbing and HVAC, that are also found outside the marine industry. Since that time, MyTaskit has expanded to include the construction industry, property management and city governments.
The original MyTaskit Pro is Web-based, meaning users access it through a web browser such as Safari, Google Chrome or Internet Explorer. It is designed to be responsive to whatever device a person is using—desktop computer, tablet or cell phone.
Once again, it was feedback from the service providers that led to the creation of the new native app, which can be downloaded from the Apple App Store or Google Play.
"We had a lot of demand from the service world for something technicians could use when they did not have internet connection," Hutchinson said. Since service and repair work is often out of cell signal or a Wi-Fi range, such as inside a boat or in a concrete structure, a technician could not fully use all the program's features.
The new app offers an offline/online mode that allows technicians to continue entering information on their tablets or phones, even if they don't have an internet connection. The program will automatically sync and update the data when a connection is re-established.
Other features of the new app include:
• Time-stamped support content—as a job is in process, before-and-after photos and videos can be uploaded into the mobile app. Supervisors view the progress of the project and can share this time-stamped content with their customers.
• Record Voice Notes to Text—Technicians can record voice notes on their mobile phones in self-contained, real-time messaging format, instead of via a separate email or SMS text system. This allows everyone on the team to instantly see the same notes—supervisors, in-office staff, field technicians and even sub-contractors. All notes are stored together, creating a detailed work history of the vessel which is helpful for future service jobs or when the boat is resold.
• Efficient, accurate labor hours reporting—Work time is submitted directly into the mobile app in real-time, providing efficient and accurate recording of billable hours. Hutchinson said the technicians press a start/stop button when starting and finishing a job. While the job is in progress, the supervisor can see how much time is being logged and how it compares to what they quoted the customer. MyTaskit's software integrates directly with DockMaster and QuickBooks, allowing faster and more accurate invoicing.
• Real-Time Job Updates—As work is in process, real-time updates from technicians enable supervisors to view progress. It offers the ability to deploy service teams and adapt to changes quickly, and to gain greater control over the business.
"We help you get organized and we help you get control so you can get more done," Hutchinson said.
Technician Approval
MacDougalls' is a full-service repair yard, marina and winter storage facility that has been in business for 80 years in Cape Cod. The boatyard services about 200 boats annually and had used a manual system to manage, assign, schedule and track jobs. Job cards were printed on paper and often got lost in the work process. "It was a big move to an electronic work flow process," said General Manager Jeff MacDougall.
MacDougall said MyTaskit's ability to tie-in with DockMaster was beneficial and helped satisfy a lot of the company's needs. "It was a little bit rocky at first; we had some hurdles to overcome on our end, but the usability (of the application) is pretty straightforward."
MacDougall said in the beginning there were a few kinks to work out and some unexpected expenses, such as updating their hardware and improving the Wi-Fi capability throughout the facility. They also invested in iPads for the technicians and spent three days training them on the new system.
The service technicians range in age from 18-year-olds just out of high school to long-time boatyard workers in their 50s and 60s. "I was surprised how well the whole team here adopted it," MacDougall said. "Even the old curmudgeons in the boatyard who are not current on the latest technology really tried hard to embrace it." He said one technician was a little hesitant at first, but once they explained why they were switching to the new technology, he got on board. It makes technicians jobs easier and more efficient.
An independent study by Marine Business Advisors conducted in late 2016 at MCCMS concluded the use of MyTaskit resulted in an overall return on investment of approximately 15 times the cost.
The study noted, the use of MyTaskit:
• Saved 40 minutes of tech time per day and two hours of unauthorized overtime pay.
• Saved 80 minutes of administrative time per day and 1.6 hours spent on daily scheduling, which means administrative staff can reallocate that time to other tasks.
• Allowed the business office to send out invoices 10 days faster than their old system.
"It has a lot of efficiencies we weren't able to create before and provides more transparency with the technicians," MacDougall said.
Trevette said the program helps the technicians be more efficient. "They can use their iPads to figure out what their next assignment is rather than having to go back to the office to check in. They also don't have to worry about losing a paper version of the work order."
MyTaskit is a subscription service with an annual fee based on the number of licenses issued to the boatyard. MCCMS currently has 20 technician licenses for the program. Hutchinson said MyTaskit customers include multiple-site businesses, single-site boatyards, large repair shops, and businesses with technicians working from their vans. Some of their largest customers have as many as 100 licenses while the smallest has five.
A free demo can be scheduled on the MyTaskit.com website and comes with a 30-day, risk-free guarantee.
"It works for us," Vermette said. "It's worth sitting down and looking at it and giving it a whirl." MacDougall suggested boatyards look at their existing work flow processes and investing in technology that fits that process.