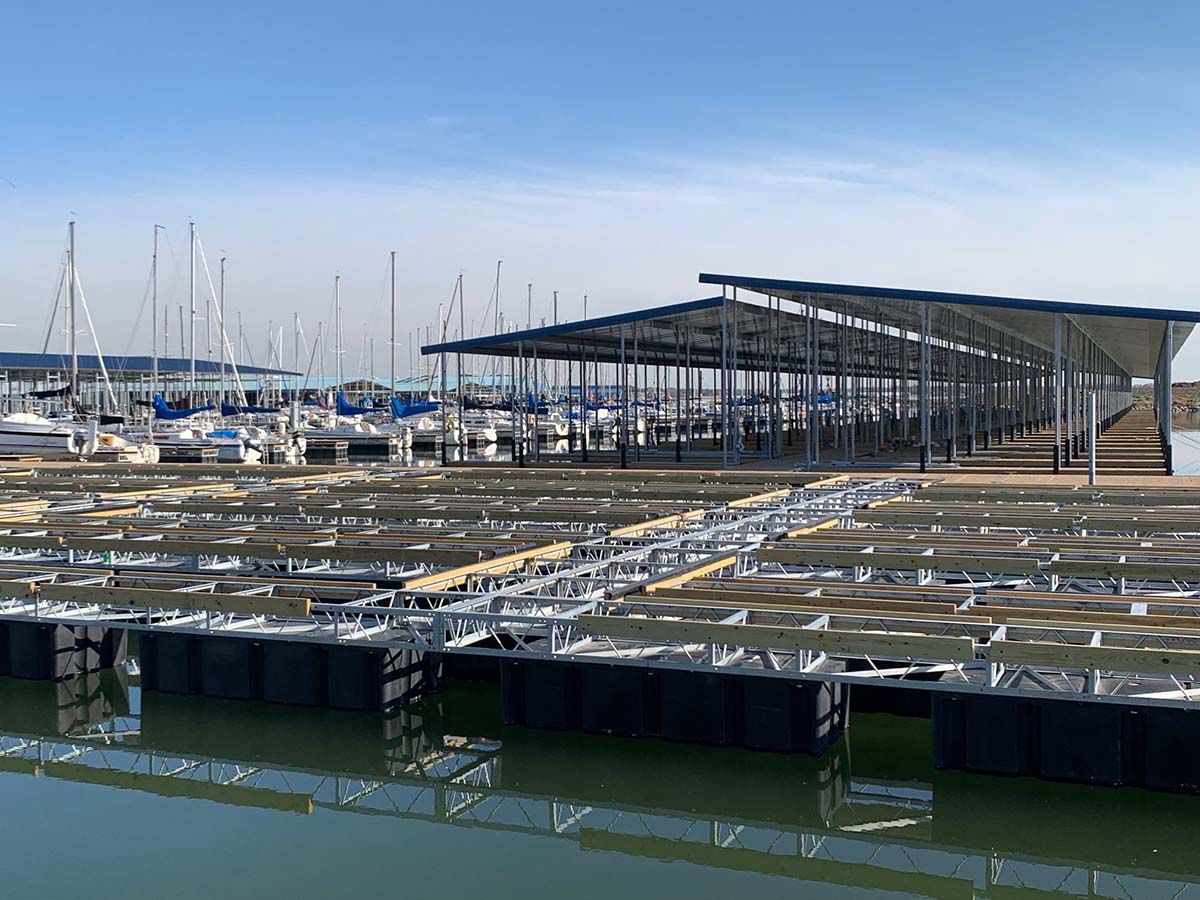 Texas Marina Operational After Storm Damage
Published on May 1, 2023
The Sapphire Bay Marina (SBM) on Lake Hubbard has been a hub for boaters in the Dallas area for nearly half a century. When the marina was sold in 2019, the sale triggered a change of property lines, which required the relocation of the marina's on-the-water ship's store and its accompanying walkways. Meeco Sullivan designed and manufactured the gangway for the store's new location, approximately 500' away.
Less than two weeks after the move, a windstorm destroyed 16 of the marina's 17 dock houses. The ship's store and new gangway were not damaged, but the marina was dislodged and in disrepair. Upon discovery of a ripped power line from one of the dock houses, the site was declared a danger zone by Dallas Water Authority. The marina power was shut off and a month long assessment of damage followed.
Despite everything, the Sapphire Bay Marina staff upheld their high standard of customer service, shuttling customers to their boats, providing generators to run bilge pumps while the marina was offline and charging no rent to slip holders for eight months after the destruction.
Thirty days following the storm, the marina was back online and within 60 days the insurance work was satisfied. The destruction prompted the partners to reconfigure the marina layout and make their second order with Meeco Sullivan in May of 2021. Meeco Sullivan designed and finalized the new marina plans in five months. Steel frames and paver decking were used for the 17 new docks, 14 of which are covered with the remaining three suited for sailboats.
Following the reconstruction, the marina went on to win Marina of The Year in 2022 by the Marina Association of Texas (MAT). "We may have modern slips with fiber-Wi-Fi and all the amenities, but our goal is to deliver smiles on the water every day to members and visitors alike" said Mike Hall, general manager at SBM.
Sign up for the Marina Dock Age newsletter.
Our newsletter delivers the latest news straight to your inbox including breaking news, our exclusive content covering the marina and boatyard industry, new products, and much more.