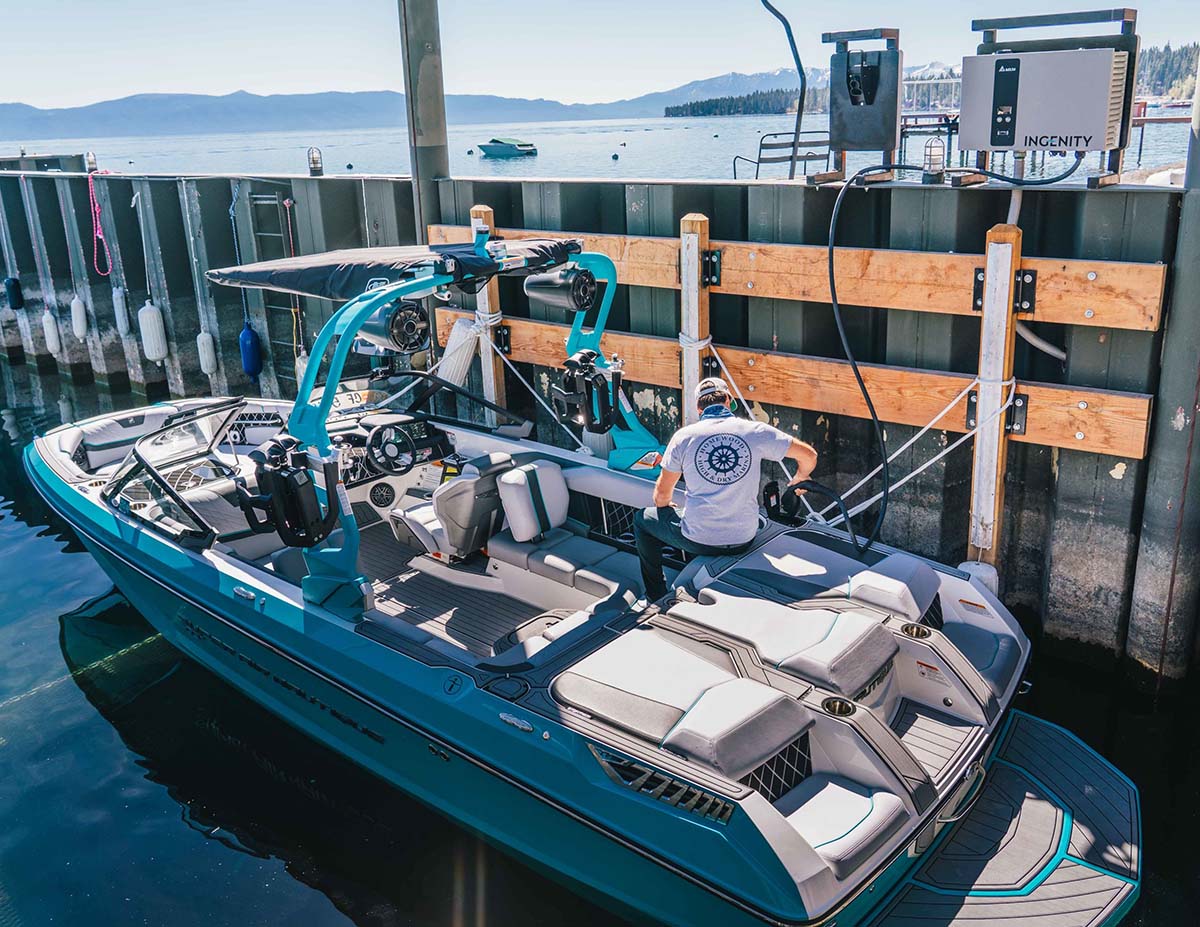 The Evolution of Recreational BoatingThe Future – It's Electric
Published on November 13, 2022
There is no question that one of the biggest trends in the world today is the transition to an all or mostly electric future – and not just for the home, office, industry and cars, but for the marine industry as well. There are those who are carrying the spear and pushing hard for fast changes, and at the other end of the spectrum there are the skeptics, while most of us are probably somewhere in between and believe in doing the right thing – but are not quite clairvoyant enough to know what the right thing is right at this moment.
I recently took my car into my auto mechanic and, as usual, we got to talking. She is quite a character, outspoken, knowledgeable – takes the complex and reduces it to simplicity. As we talked, I asked if she was to buy a car today, what would she get? That turned into a half hour discussion on the current status of electric cars. Her simplified answer was that the only thing she would buy today would be a hybrid – maybe even a plug-in hybrid. Her perspective was that while battery technology has made considerable advances over the last few years, it is still a ways off from being meaningful for the whole transportation industry – and a fully electric car just would not yet meet her needs. The battery range is not there relative to the time required at, and the availability of, charging stations, and the initial costs are still at a premium.
In a similar discussion, a friend of mine reminded me of the era when many were pushing the "all electric house," which became outrageously costly to run due to the cost of electricity at the time compared to the cost of oil or gas. It was also a time long before the types of advances in-ground and air-sourced heat pumps that we have today, and that are increasingly tempting homeowners to go electric – not to mention the increasing list of governments that are requiring at least all new construction to be fossil fuel free.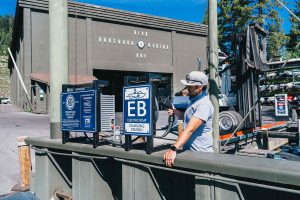 There is no question that fossil fuel emissions are out of control worldwide, with long-term adverse implications to the world as we know it. And as various alternative energy sources increasingly are coming into play, there is also growing awareness of the day-to-day trade-offs we make for our current mostly fossil-fueled life. Even climate change skeptics might begrudgingly acknowledge that fact. It's hard to deny the desirability of smog-free city skies, buildings not covered in soot or buses passing by in relative silence and without a blast of exhaust fumes.
Sign up for the Marina Dock Age newsletter.
Our newsletter delivers the latest news straight to your inbox including breaking news, our exclusive content covering the marina and boatyard industry, new products, and much more.
Electric and Boating
So how does all of this affect the marine industry, particularly the recreational marine industry? The answer is big time – but most of us are not quite sure just how, where, or when. As my mechanic said, "It will flush itself out over time." And there are innumerable efforts out there to make that time happen sooner than later, whether promoted or required by both governments and investors.
In Amsterdam, there is a requirement to end the use of diesel engines within the city by 2025, including for the boats plying the waters of its canals. Tour boats are already being converted to battery-powered systems, and so far things seem to be going pretty well. The refitted boats charge overnight and by day carry their passengers without the noise and smell of their previous diesel engines.
Hinkley Yachts is in production on their "SilentJet" hybrid Picnic Boats, the current marketing for which focuses primarily on the quality-of-life benefits offered by running on the battery power when at dock/anchor or running slow – eliminating the noise, fumes and vibration of the diesel engine – but then powering up the diesel engine when out on the open waters and getting somewhere at 35 knots, while also recharging the batteries. They may also be anticipating days in the not-too-distant future where use of the diesel will not be allowed unless out on the open water.
Indeed, many boat manufacturers, both old and new, are scrambling to produce meaningful hybrid and/or full electric powered boats. As noted in a report conducted by the market research firm IDTechEx, it is expected that "the market for hybrid and pure electric boats and ships will rise rapidly to over $20 billion worldwide in 2027. Assuming the boat market continues to grow in line with historical trends, it is likely there will be more than 1 million electric boats by 2030."
On the fully electric front, there are several vessels that have particularly caught our eye at the moment.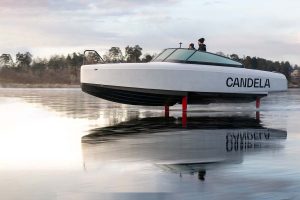 One is the new Super Air Nautique GS22E high performance waterski and wake sport boat from Correct Craft's Nautique and Ingenity subsidiaries. It does everything you would want it to, but without the gas and with much less noise. It has a fairly respectable run time for skiing/boarding of two to three hours on a full charge. While some might say that is still too short, for my own waterskiing life, I typically head out at sunrise, ski for an hour or two, and then the boat is back at the dock or in my driveway until the next day – so this kind of battery life and the needed charge time really would not be an issue, except that my dock doesn't currently have an outlet/power pedestal.
Another is the C-8 day cruiser from Sweden's Candela Technology AB. If you have not seen it, you need to. The C-8 is an all-electric hydrofoiling boat with a range of 50 nautical miles at high speeds. As noted on their website, "All other boats just became obsolete. Candela C-8 is the craft that breaks existing rules and sets the new ones. Merging advanced aircraft technology with software and electronics, C-8 flies above the waves in absolute silence. Consuming just a fraction of the energy conventional boats use, C-8 is the first true long-range electric cruiser. But that's just the start." Although the hyperbole of the advertising department may be be a bit much, it is a remarkable achievement.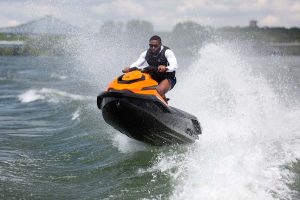 On a different scale is the all-electric Orca PWC from Taiga Motors in Canada. While Taiga's first mission when founded in 2015 was electric snowmobiles, they have now burst into the PWC market with the Orca – the first all-electric PWC in production. It's got up to 160 horsepower and a range of about 27 miles and can run exuberantly for about 2 hours on a full charge. It's got three modes – range, sport and wild – and reviews of the wild, which is where you get the 160 hp, suggest it is just that. It, like the above motorboats, is also pretty quiet – something not typically associated with a PWC, and something that would be welcomed on many a lakefront.
All three of the above vessels are in production, out on the water, quite expensive and have considerable waiting lists. I suppose you could say they are trending. The C-8 and Orca also make considerable use of carbon fiber (another trend), though Taiga soon will be producing two lower cost (and lower performing) models that will not be carbon fiber.
Battery Limitations
So, aside from the typically very high sticker prices of these and other electric boats, the other obvious downsides, just like the electric cars out there, are range/run time, the time to recharge, and the availability of charging stations. Battery life is limited, so if one is going out and using the boat for more than a couple of hours there is the issue of draining the battery and not being able to recharge it in the middle of the water – and you can't just have someone bring you out some gas (not that that is always possible, but psychologically it feels better).
There are, of course, researchers the world over working on constantly improving battery technology, and we wouldn't be where we are today without the considerable advances to date. Meanwhile, there are ways to mitigate and extend battery life – including solar and wind energy. The larger the boat the more potential to combine these alternative approaches both for direct energy as well as recharging batteries. The use of hydrogen-powered systems is also getting more attention, particularly for large motor yachts. The work being done by Aicon Yachts together with Renewable Innovations is certainly intriguing. Step one for them is making use of hydrogen fuel cell systems to power all the onboard systems while at anchor, with longer term goals of providing the power (and freshwater as a byproduct!) for point-to-point journeys. Renewable Innovations also has and is further developing hydrogen powered charging stations, both portable and fixed, that can allow for battery charging in areas lacking electrical service or having inadequate grid potential.
On the more traditional charging front, there are currently three options. Level 1 is simply plugging into a standard outlet, which typically takes 8-14 hours for recharge. Level 2 is the same as having a 240volt outlet for your clothes dryer, which can typically shorten the charging time to 3-6 hours. Level 3 is for the quick/rapid chargers, which is where the key to greater practicality ultimately lies, and where most currently can get the time down to 1-2 hours (Taiga is expecting just 20 minutes for the Orca).
Ingenity has set up a fast charging station on Lake Tahoe as a means of promoting the Super Nautique. Taiga is currently working on setting up charging stations at marinas (and on snowmobile trails) throughout North America, and is actively looking for marina partners. Aqua superPower, based in the UK, is building a network of superchargers in Europe and elsewhere, most often partnering with a marina to provide the electric "gas dock" infrastructure and then collecting a percentage of the fee charged for its use.
How to Prepare
So, what does this all mean for most of us? Well, as I suggested, a lot, but, at the moment, hard to say exactly.
For those who are retrofitting, expanding or creating new marinas, it would certainly be prudent to give considerable thought to the robustness of the electrical service being provided throughout the property. As most everything you and your customers currently power with gasoline, diesel, oil or gas goes electric, your electrical needs will definitely increase. If the budget does not allow for that increase right now, at least try to plan the infrastructure to accommodate it later with the least amount of disturbance. And don't forget the upland rack storage. It might be easier to retrofit than the docks, but we don't typically think about power pedestals for the racks.
For facilities not contemplating changes now, keep your eyes open and start thinking about how and what your plan will be to adapt your facility for the future. At least many if not most marinas these days do have power pedestals for most of their slips, so you already have some degree of Level 1 charging already in place. If you don't have individual meters for each slip, that is something to keep in mind as more boats start plugging in.
Also keep a lookout for opportunities to partner with the boat manufacturers or other rapid charger developers, as well as government grants, tax credits, etc., that might make sense for your specific facility.
As with so many things, knowing your boating market and understanding your customers' use of their boats is particularly important in these decision-making processes. The long-term trend for all of these markets will be moving, like the automobile industry, to hybrids and, ultimately, full electric motors. Regardless of one's personal perspective, it does seem to be the wave of the future (pun intended).
Boating for me has always in part been about getting out on the water to recharge my batteries, soon enough I'll be recharging the boat's in exchange.
Happy boating.
Dan Natchez is president of DANIEL S. NATCHEZ and ASSOCIATES Inc., a leading international environmental waterfront design consulting company specializing in the design of marinas and marina resorts throughout the world. He invites your comments and inquiries by phone at 914/698-5678, by WhatsApp at 914/381-1234, by email at dan.n@dsnainc.com or on the Web at www.dsnainc.com.