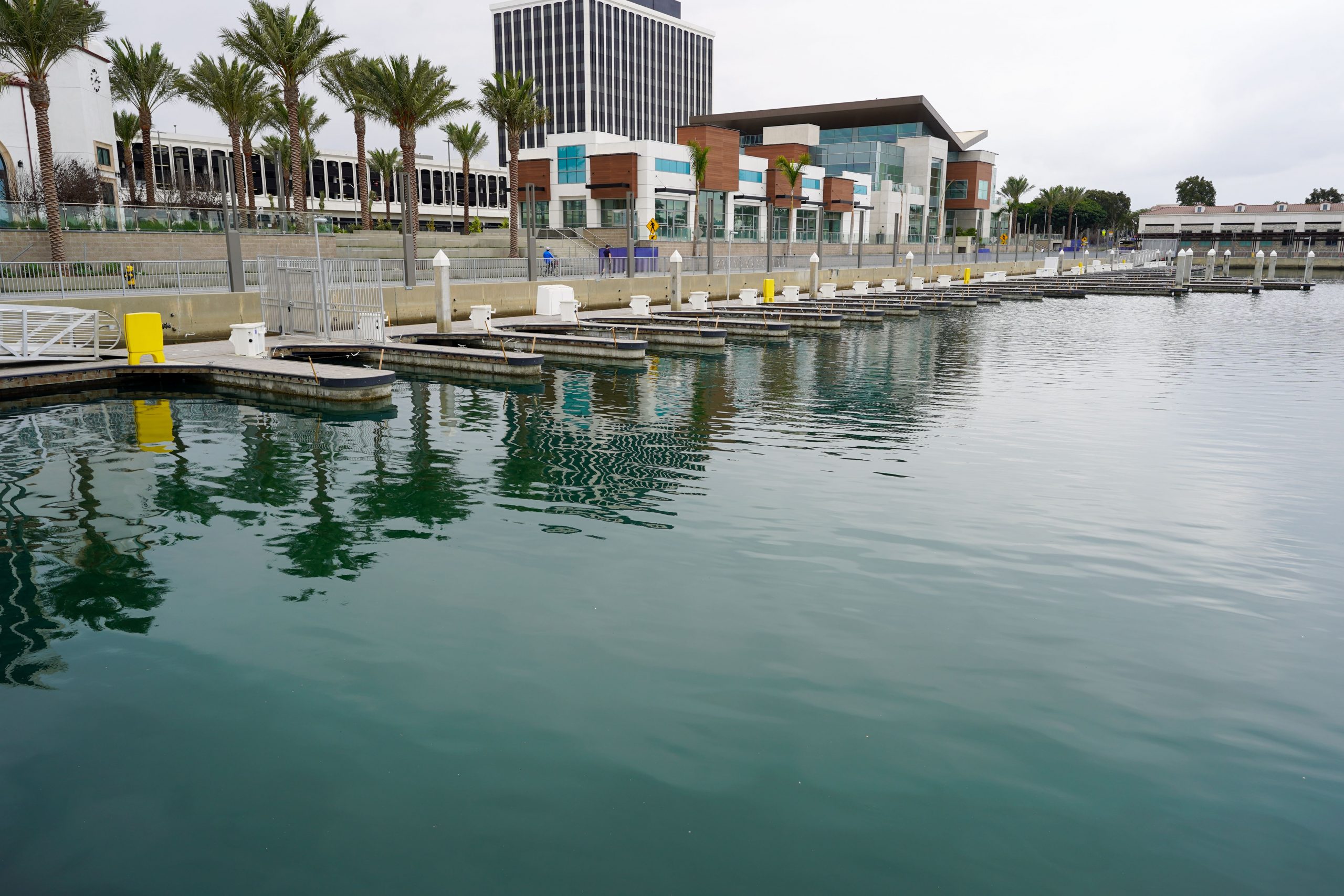 Upscale Remodel for Pier 44 Marina
Published on March 22, 2021
Pier 44 Marina, located in Marina del Rey, California, recently completed a redesign and reconstruction project that has resulted in a more accessible and aesthetically pleasing facility for slip holders and the surrounding community.
Bellingham Marine, which was responsible for the in-water portion of the project, started work in September 2018. "It was a design/build project. We had to demo the existing marina and put in new floats and fingers for a 141-slip marina," said Usmita Pokhrel, a junior project engineer. Although that was a reduction from the original 223 slips, it was necessary to accommodate the larger boat slips that are more in demand today.
The new docks do offer some transient slips and places for dinghies. In addition, the marina is able to accommodate up to 60 boats in its new 2,450 square foot dry stack storage facility, which is served by a jib crane.
Bellingham Marine's concrete floating dock system included a 9-foot by 9-foot pier, a 9-foot by 9.5-foot pier and a 2-foot by 9-foot pier for the Jib crane platform. The docks feature wood walers and steel thru rods, and a unique gray, concrete-stamped deck that mimics the appearance of an ashlar-cut stone walkway. To better meet ADA compliancy and federal guidelines for marina accessibility, Bellingham installed 80-foot-wide pedestrian gangways throughout the marina.
Sign up for the Marina Dock Age newsletter.
Our newsletter delivers the latest news straight to your inbox including breaking news, our exclusive content covering the marina and boatyard industry, new products, and much more.
The marina's new pedestal/power centers, with LED lights, can be programmed for white, red, green or blue lighting. Other amenity upgrades include a pump out station, boater restrooms with showers and laundry, a 24-hour controlled access gate and Wi-Fi.
Pier 44 Marina underwent a redevelopment on its landside as well. It now features waterfront dining and shopping, including a retailer for boat parts, supplies and accessories, an onsite yacht club, and additional boater services offices.
This landside development did not impact the slip construction. "We are used to building in Marina Del Rey, where we have limited access to landside facilities," said Bryce Fisher, Bellingham Marines project development manager. "We delivered floats to the site as needed to put them into place, and we do all the construction that we need on the water side based out of either our pile-driving barge or the work boats that we have on site."
Although the permitting for the completely reconstructed marina took two years, the work went smoothly and was completed in November 2020. The marina planned an opening for some time in March 2021.