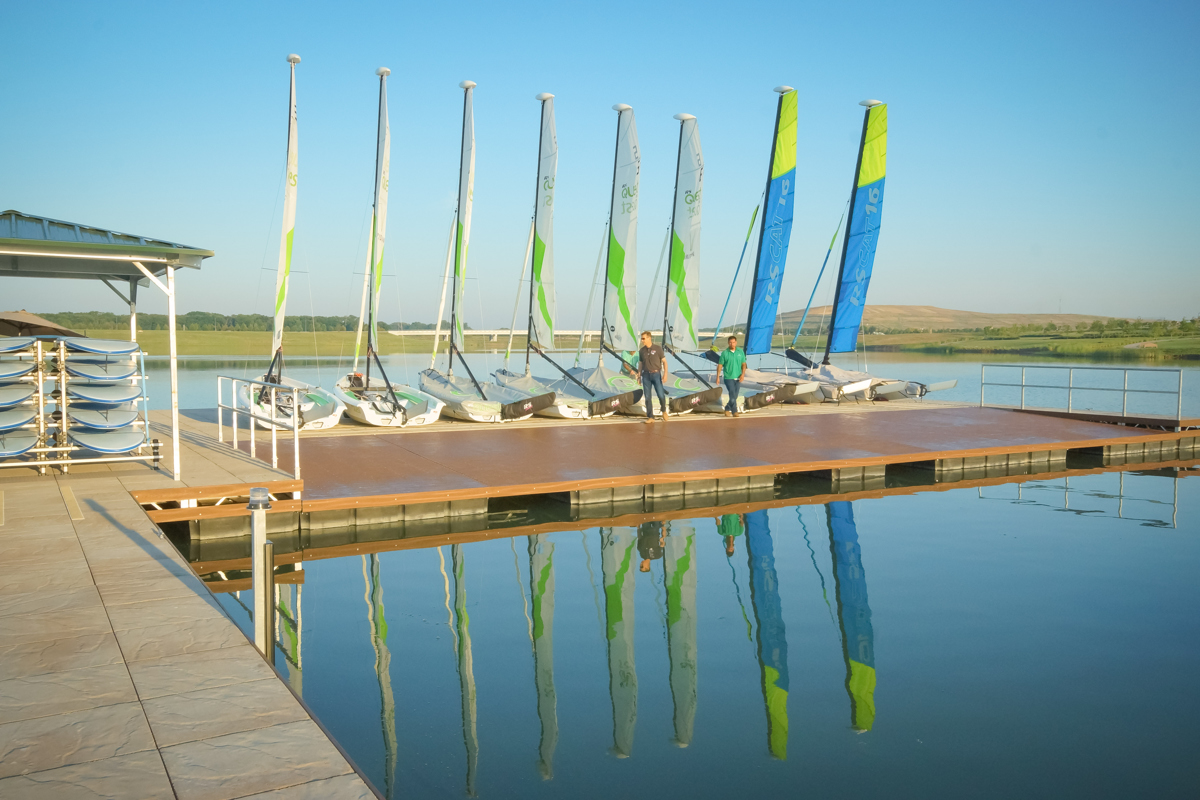 Viridian Sailing Center Capitalizes on the Natural Waterfront and a New Kind of Boater
Published on September 1, 2017
The vision behind Viridian Sailing Club emerged slowly, the collective dream of several boat racing and sailing professionals. As the idea took shape, the goal was to construct a sailing venue that could serve as a center of community life, a place where boaters and landlubbers alike might come together to enjoy the outdoors.
Location was key, and the visionaries found it on a swath of land in Arlington, Texas, a 20-minute drive west of Dallas. In the early 2000s, it was run down, blighted by many accounts. Transforming it into a place where people wanted to live, not to mention sail, would require not only smart design but also the help of state and local government. At this stage Robert Kembel, general manager and now vice president at Houston-based Johnson Development Corp., took the reins. He helped cultivate local government contacts. At different junctures the City of Arlington and Tarrant County, including key stakeholders like Tarrant County Hospital and the Tarrant County College District, got behind the project. Kembel calls the public-private partnership the "secret sauce" behind Viridian Sailing Center's eventual success.
Vision to Reality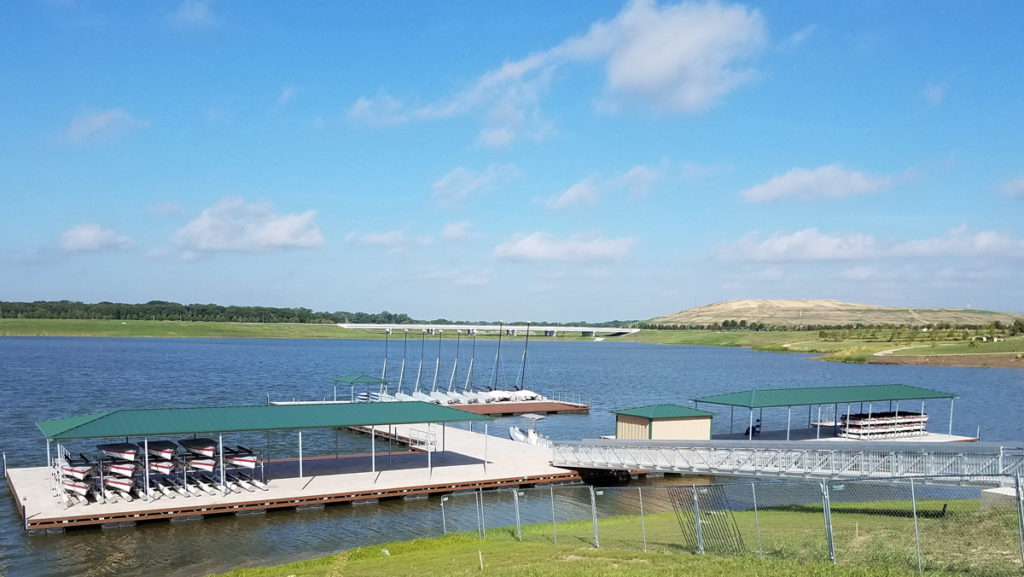 Fast forward to 2017, and Viridian is a 2,000-acre development with hundreds of homes spread across several neighborhoods. Where there was once a blighted site, today Viridian is a thriving community that has generated an estimated $2.5 billion in value.
Sign up for the Marina Dock Age newsletter.
Our newsletter delivers the latest news straight to your inbox including breaking news, our exclusive content covering the marina and boatyard industry, new products, and much more.
Half of Viridian's acreage will never be developed, and over half of that is made up of rivers, streams, lakes and wetlands. As testament to the success of the master-planned community, in early 2015 Viridian became the first development in Texas to receive Audubon International's "Gold Signature Sanctuary," based on the community's design, planning standards and environmental stewardship.
As the Viridian community took shape, Kembel and the development team at Johnson Development worked on the best way to nestle a sailing center in the community. Kembel worked with LJ Edgecomb, a sailor out of Orange County, California, who'd been apart of Ted Turner's America's Cup-winning team, and Tim Hogan in order to refine the vision.
Kembel, Edgecomb and Hogan were all serious about sailing, but they also recognized that the facility's success—and more generally, the survival of sailing as a sport—would depend on a broader set of recreational boaters. In other words, those for whom cost and, increasingly, environmental impact, are major factors in the decision to go out on the water. "In our society today we are busy," Kembel said. "For sailing to survive with young people on a broader level it needs to be convenient and quality." Along these lines, one early goal was to reduce as much as possible, the time it took from arrival until a boater was out on the water. They also studied ways to bring down the cost of boating.
Still in the planning stage, the team decided that no motorboats would be allowed on Lake Viridian. Viridian started working with St. Louis-based Tiger Docks to create a sailing center comprised of floating docks. Instead of conventional piers and pylons, Tiger Docks outfitted Viridian Sailing Center with a SeaFlex Mooring System. As a result, the docks have a clean, smooth appearance, with no visible piles over the water. For watercraft, Viridian purchased a variety of boats and catamarans from KO Sailing, out of Seabrook, Texas. KO Sailing has a reputation for backing initiatives that encourage youth and race boating. At Viridian Sailing Center, KO Sailing helped install a custom rack for the craft that was unobtrusive, safe and worked to minimize potential repairs.
Summer Initiatives Encourage Access
Last June, the Viridian Sailing Center opened, its floating concrete docks capable of handling up to 40 sailboats. So today any member of Viridian Sailing Center members who passes a skills test enjoys full access to use a variety of small-hull boats, as well as larger catamarans. And the Viridian Sailing Center's management team is striving to make as much of that waterway and natural space as open as possible. Anyone who signs up for a sailing camp, or who is a pass holder, is welcome. It's the same principle that guides admission at most national parks.
The variety of watercraft and the ease with which people can use them have proven a hit with residents of Viridian and other nearby areas. "Without exception people have been so impressed with the thought and speed to get on and off the water," Kembel said.
One particular focus is youth sailing. This summer the Viridian management team is reaching out beyond the residents of the neighborhood with an eye toward recruiting youth from the larger community. To do this, they have partnered with an inner-city ministry outreach program. Viridian Sailing Center's summer camps are available to the entire community, and in order to extend the reach of the programs Johnson Development has partnered with a few private donors in order to provide limited financial assistance to kids who would not be able to afford to participate otherwise.
The idea is to expand access to sailing and boating by bringing down the costs as much as possible. Already the program has stoked interest in sailing among area youth. "It's not surprising," Kembel said, "all the kids work well together and love to compete on the water once they figure out how sailing works."
For Kembel, it's not just an example of a successful master-planned community that has at its heart a sailing center. Viridian shows what a public-private partnership can produce. Viridian Sailing Center is publicly owned, and managed by a foundation. The public ownership keeps costs as low as possible, and makes sailing more accessible.
The Viridian Approach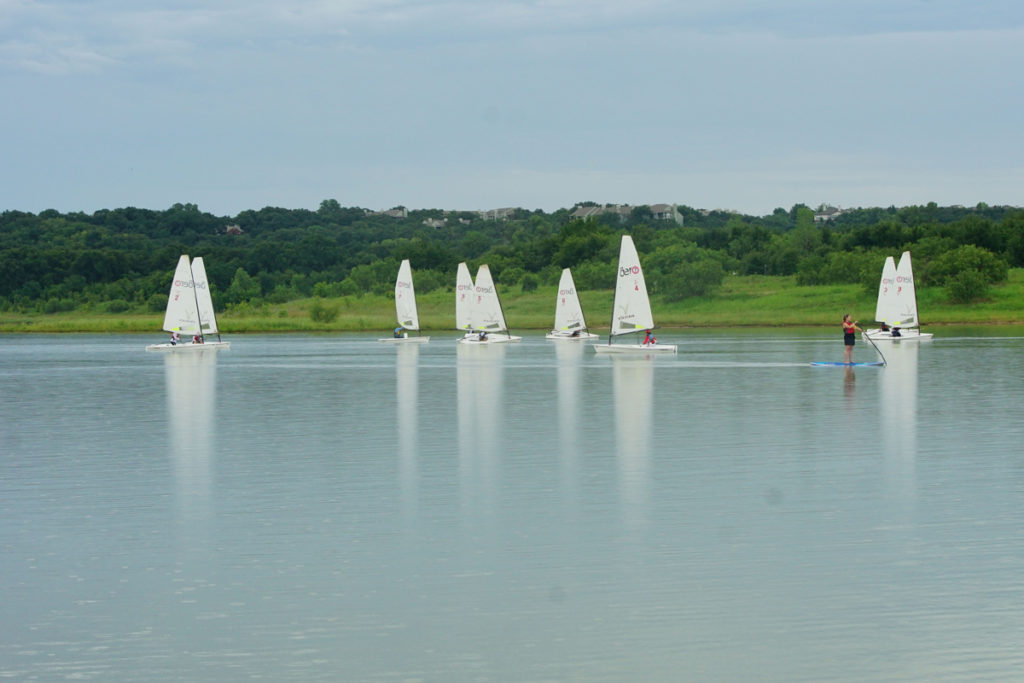 Based on the early success of Viridian Sailing Center, the management team have sought to expand dockage, adding ramps and increasing the total number of watercraft from 40 to 75.
Kembel and others have taken to calling it the "Viridian approach." Community planning that prizes public access with environmentally friendly construction and operations. "We hope to earn the right to show through the Viridian approach that local municipal control with state and federally delegated tools is the best model," Kembel said. "Only then can great experiments like Viridian be successfully deployed. We have to work together to give the boots on the ground the tools, without micro management, to try new solutions for building community in housing, education, and serving our underserved.  We believe the Viridian Sailing Center is just a great symptom of this approach."
It's an approach that promises further benefits, not just in terms of forward-leaning design for communities but also in terms of introducing boating to the next generation of boaters. On this score, Robert Kembel is particularly upbeat: "Hopefully we add hundreds and potentially thousands of new sailors to the community in the coming years."