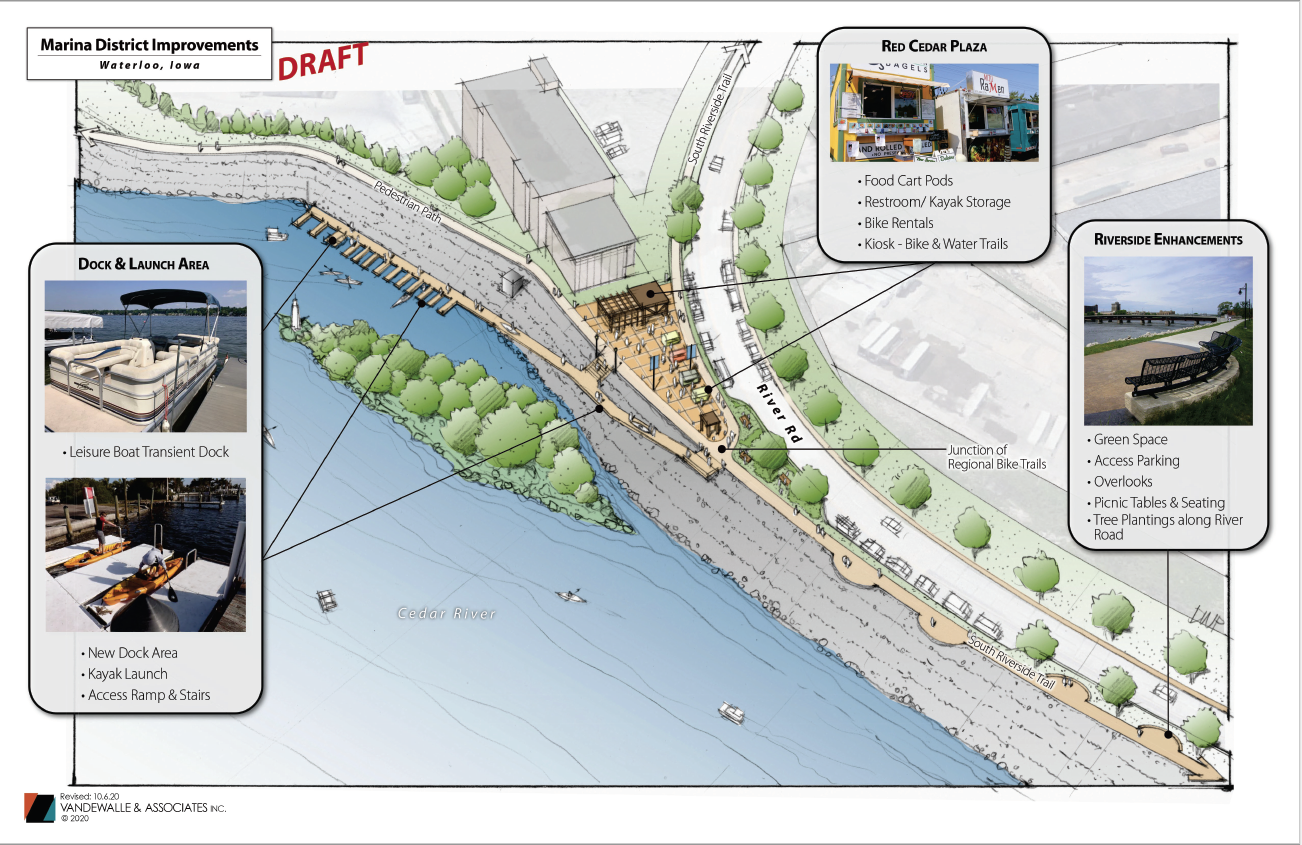 Waterloo, Iowa Begins Construction of Cedar River Marina
Published on March 23, 2022
The city of Waterloo, Iowa, is gearing up for a new marina and boat launch on the Cedar River, made possible with funds awarded in July of 2019. The project will include river excavation, and construction of a docking system for recreational boaters, as well as a parking lot, street lighting, and decorative walking paths for waterfront access. Iowa's Department of Transportation is participating in the project by providing funds through Iowa's Transportation Alternatives Program (TAP) as well as ensuring the project complies with federal requirements.
The city is most excited about the river access this project will create for Iowa residents, especially for the use of small recreational watercraft. The marina will include a dedicated launching system for kayaks and canoes, providing a safe access point for novices and families. Mooring spots for small water craft will also be constructed. The city expects that natural features of the site, which includes a bend in the river, will further protect the marina area and create a stable and serene docking experience. The facilities and parking lot will be located along the existing Cedar River Water Trail system, which stretches along 47 miles of river through the cities of Waterloo and Cedar Falls as well as undeveloped regions with various access points along the way.
A portion of the new marina site was formerly a John Deere employee parking lot along with some unused open space, so the city is looking forward to breathing new life into the region. The marina is part of a larger plan to develop the waterfront area for multi-use buildings, serving commercial as well as retail businesses. "As the city has continued to work on the marina design, it was decided to make the marina accessible for boats as well as a focus on kayaks and canoes for future planning of a whitewater course downstream," said Noel Anderson, Waterloo's economic development director.
The city is excited about the long-term potential for watercraft-centric businesses making a home in the proposed multi-use buildings in the long-term development plan.
Sign up for the Marina Dock Age newsletter.
Our newsletter delivers the latest news straight to your inbox including breaking news, our exclusive content covering the marina and boatyard industry, new products, and much more.