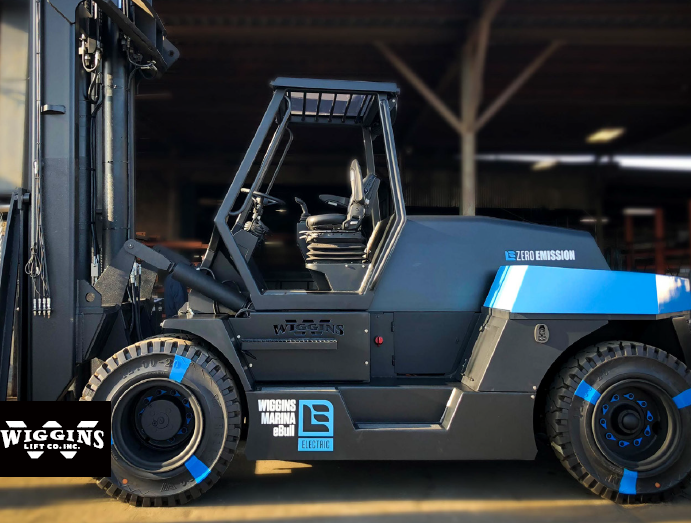 XL Lifts Distributes Wiggins new Zero-Emissions Marina Forklift
Published on November 12, 2018
XL Lifts, has partnered with Wiggins Lift Company to distribute the Wiggin's new Marina eBull, the first commercialized lithium-battery, large capacity, zero-emissions marina forklift.
"Wiggins is once again leading the charge in marina forklift innovation. The new Marina eBull will significantly reduce greenhouse gas emissions and sound pollution while providing marinas and boatyards with the horsepower required to run their operations," said Mike Marzahl, president of XL Lifts. "With the introduction of the Wiggins Marina eBull, XL Lifts now has a full range of electric forklifts to meet our marina and boatyard clients' needs."
Featuring innovative, fast-charging lithium-ion battery technology, the Wiggins Marina eBull can be quickly charged so it can run continuous shifts.
The Marina eBull is designed to meet clean air and noise reduction mandates, such as those required in California. It comes with non-toxic coolant and long-life all-weather hydraulic fluid, as well as an auto-lube system to help minimize maintenance needs. Safety features include a reverse backup camera, daylight strobes, white noise generator and optional backup alarm. Forklift performance is monitored through the IQAN™ System.
Sign up for the Marina Dock Age newsletter.
Our newsletter delivers the latest news straight to your inbox including breaking news, our exclusive content covering the marina and boatyard industry, new products, and much more.
XL will distribute the Wiggins Marina eBull west of the Mississippi River (excluding Texas) and in the Great Lakes region. Taylor Machine Works will continue to distribute Wiggins marina products in all other regions.