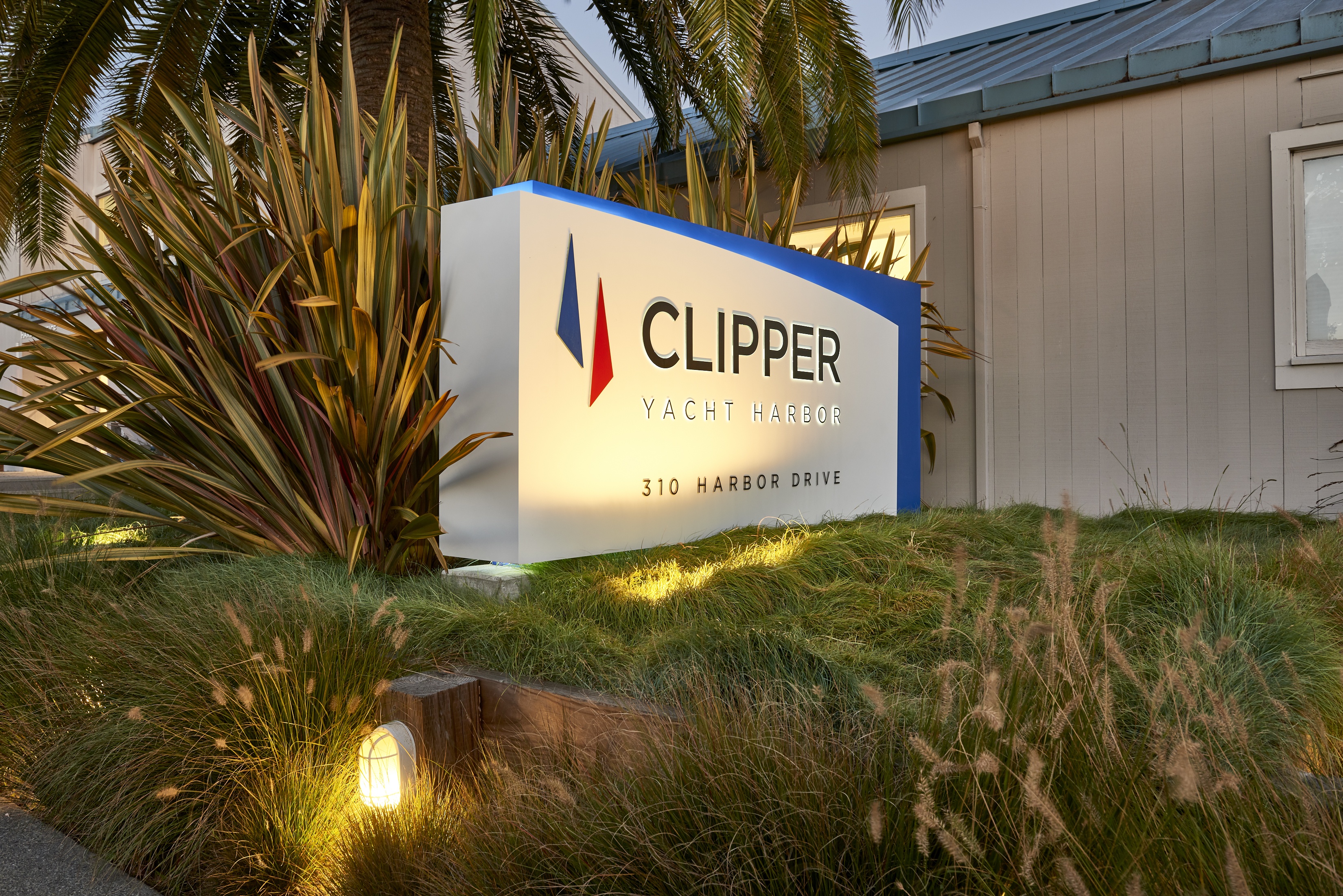 Anza Environments Helps Clipper Yacht Harbor with a New Perspective: the Ins and Outs of Rebranding
Published on August 30, 2018
In today's ultra competitive market, branding is more important than ever. Marinas and yards need to consider their existing brand and the possibility of rebranding to bring their facilities up to date and make them more attractive to customers. This will likely result in increased occupancy, if done right. Rebranding can make a marina stand out and create an inviting, cohesive environment, filling slips and drawing new customers. It is important however, to recognize that rebranding doesn't just involve a new logo or a website, but must be carefully strategized and enacted with a cohesive plan in mind.
Clipper Yacht Harbor, a full-service harbor located in Sausalito, California, completed a successful rebranding with Anza Environments, a brand development company and design firm that it says, "develops compelling brands that communicate passionately to consumers." Dale Hoover, president of Anza Environments, has a background in architecture and working with renowned international design firms; he took his experience in market-driven architecture and created Anza Environments. With an impressive list of easily recognized domestic and international companies that it has worked with in rebranding and transforming, his company offers services in all the steps necessary to rebrand your business. These include strategic analysis, branded environments, graphic design and implementation. Hoover explained that all of these steps are important in creating a successful rebranding.
The End Goal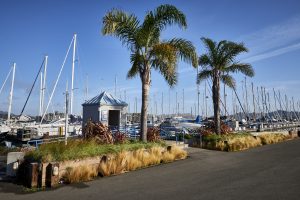 Hoover said that marinas thinking about rebranding should consider several things, the first being to understand the end goal. "Is it really just a subjective refresh effort because their signs are dated? Or is there a goal established because they are losing market share? Or their greatest competition is killing them in the market place? Are they looking to fill vacant slips? Update slip rents? The first step is to define clear and actionable goals and then employ a set of tactics to accomplish them."
According to Hoover by doing structured customer research and understanding what customers feel about marinas in general – what they expect from marinas and where their marina aligns with those expectations or where they do not – then the marina in question can respond by creating a strategy bridging those gaps and building their new brand.
The research that goes into understanding those customers can be accomplished in a variety of ways. These include data from social media, a crafted customer research guide, and services such as open source survey platforms or hiring a customer research firm. This is often times the process when the stakes are higher for a large corporate entity. Anza would help in coordinating this and Hoover said it is critical to understand a marina customer's expectations and preferences. In a marina environment, this could vary between a high tech marina with a lot of stainless steel and a modern high tech feel or a more classic experience with rope railings and wooden docks.
"I think that marinas also need to understand what their personality is and what they want to be seen as. So there is this blending of what customers' expectations are with what a marina's concept is and how they want to be perceived. That is super important," Hoover said. "Those two things are how we help visualize a way to meet a customer's expectations but also deliver this unique personality that the marina management see as a valid differentiator in their market."
After determining the attributes of a company, the negatives, the capability of implementation and where a company fits into its market, they can then put together a written strategy document, Hoover said. Once agreed upon, the creative work begins.
Upgraded Family Business
Clipper Yacht Harbor approached Hoover and his company to help with a rebranding when the marina came under new management, as Ken Pedersen, the current owner of the marina, took over operations from his father. The successful marina was not losing market share to other marinas and was well known and renowned as a top full-service harbor in the area; however, Pedersen indicated that his father had done well running the marina and building its reputation but branding had not been a priority and the harbor needed updating. With his experience being in the business for decades with his father, the change in management and a capital improvements made it the perfect time to incorporate a brand refresh. Pedersen did not want to take market share from other marinas but rather retain his client base and keep his high occupancy rate with a fresh brand that still retained the family heritage.
With an identity in place, Clipper's rebranding needed to move forward with its experiential (environmental, three-dimensional) branding. Hoover explained that they walked the property and he pointed out things that an outside eye with a fresh perspective was able to highlight. "Things they saw but got used to," he said. Things such as the corporate offices that were put together in the '60s. They worked every day there and were fine, but when looked at with a fresh perspective, it could be seen that it was dated. As a place that makes first contact with customers, it did not reflect the modern, contemporary, technologically savvy company that Clipper Yacht Harbor is. Pedersen took Hoover's advice and as one of the first steps in the rebranding, along with all the paper and collateral modifications such as contracts, letterhead, business cards, etc., renovated and updated the harbor's offices, giving the marina a fresh look and customers a fresh perspective.
Clipper Yacht Harbor is a large property covering 37 acres. Pedersen explained that it is primarily fill land that required the raising of its parking lots due to excessive settling. The result was in Hoover's terminology a "tarmac" appearance; it looked more like an airport runway system than a marina, he said. This combined with adjacent property lines blending with Clipper Yacht Harbor's, it was not clear for new visitors where to go or how to find their way around the harbor.
Signage and Directions
Anza Environments designed raised landscaping planters (necessary due to the high salt content of the soil), which the staff built, and clear, consistent and cohesive signage helped visitors find their way around Clipper Yacht Harbor. The landscaping and hardscaping, along with clear signage, created easily recognizable throughways and paths around the Clipper Yacht Harbor property and where its neighbor's borders are. Once installed there was an immediate reduction in people asking directions, and the property's dozen commercial tenants were thrilled to have their businesses clearly signed and accessible.
Hoover even identified small features that would benefit from the rebranding, such as signage that read, "Stay Off The Rocks, No Swimming," was reworded with the same message but in a softer more friendly tone, such as "The Rocks Are Slippery. Please Avoid The Rocks."
The signage also brought a degree of continuity to the property not just with signage, and this was enhanced by building colors and paint. All the property's buildings were painted in the same colors and trim. Pedersen explained that Hoover was even so thorough in unifying and creating the brand that he improved an area that was tucked away on a corner of the property and seldom seen by customers and guests. He installed a color-coordinated barrier limiting the exposure of those containers and adding aesthetics to that part of the property. The process is one that has advanced over a period of several years as capital improvements to the property progressed. Along with the office upgrades and the raised planters and signage, the marina has made timely capital improvements, including renovated bathrooms, a new Bellingham dock systems and raising the upland property.
Future Customers
The rebranding also included an update to the harbor's website and social media platforms. Although K.C. Pedersen, Clipper's vice president, reports that they have not seen a significant uptick in business from these sources because the current demographic client base is not all that active on social media, there is a younger boating community developing. The marina needs that branded social media presence to help grow the next generation of boaters and develop new markets.
Visitors, customers and tenants were thrilled with the new look and cohesiveness of the marina. Eva Kanemoto, Clipper's harbormaster, said that compliments are frequent and forthcoming. Clipper's fresh new branding has taken them out of the past and prepared them for a bright future.