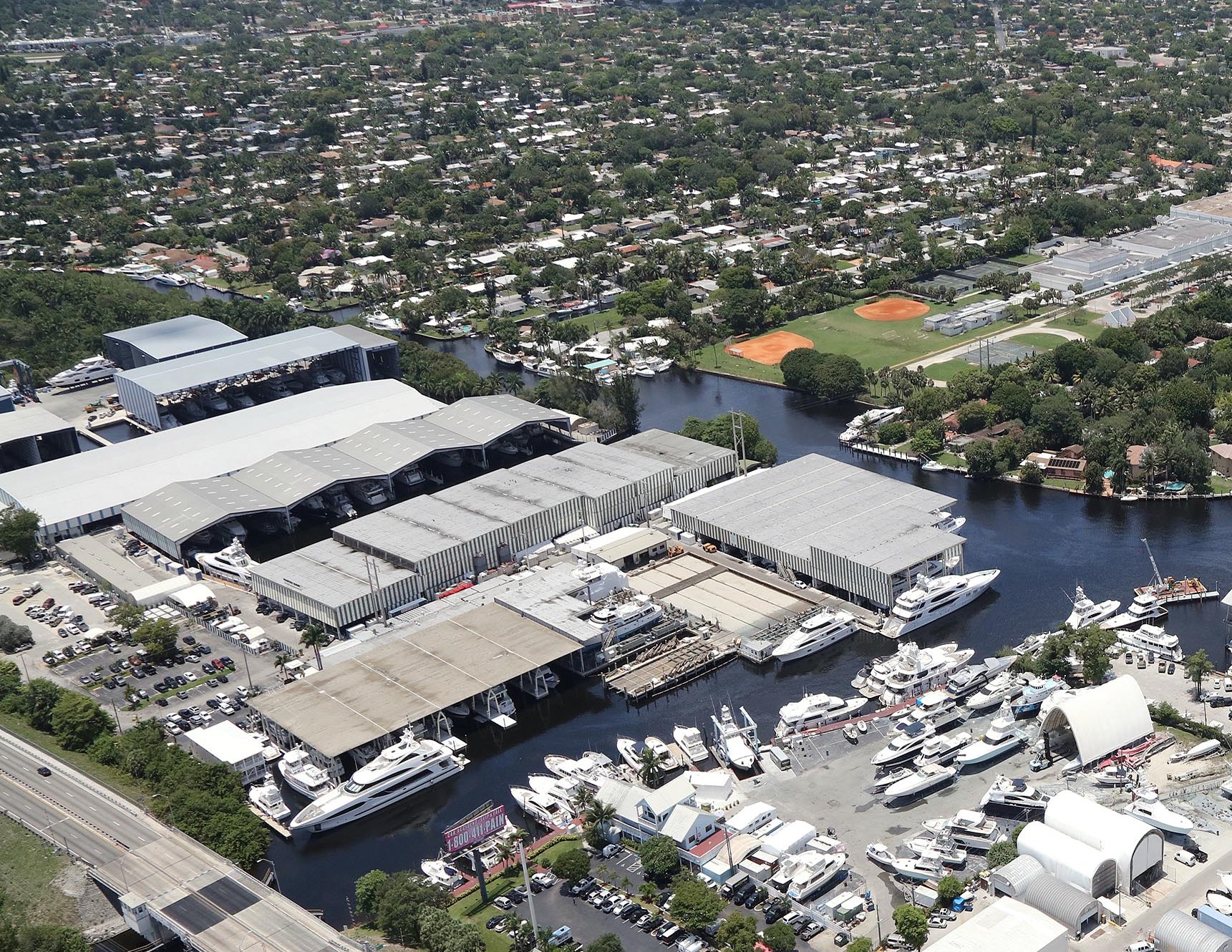 Fort Lauderdale Yacht Harbor Acquires Bradford Marine
Published on February 4, 2019
Fort Lauderdale Yacht Harbor, LLC (FLYH) announced in January the acquisition of Bradford Marine in Fort Lauderdale and Freeport, Grand Bahama.
Bradford Marine was established in 1966 and grew into a leading megayacht repair facility, and marina and yacht brokerage operation.
"Bradford Marine has been a leader in the marine industry for over 52 years," Michael Kelly, FLYH chief operating officer, said. "Fort Lauderdale Yacht Harbor, LLC has the vision to not only continue this great legacy but to take the company to the next level in infrastructure, amenities and the overall customer experience."
Fort Lauderdale is known as the yachting capital of the world, and the marine industry has an $8.8 billion economic impact in Broward County. Kelly said the area is poised for continued growth, and Freeport is positioned to be a world-class port featuring the deepest harbor on the Eastern Seaboard.
Sign up for the Marina Dock Age newsletter.
Our newsletter delivers the latest news straight to your inbox including breaking news, our exclusive content covering the marina and boatyard industry, new products, and much more.
FLYH is focused on yacht owners, captains and crew. "We will be working with this whole community to ensure we are their first choice for repair, refit, dockage and brokerage services," Kelly said.
FLYH will provide continued training for the staff to keep pace with the needs of the yachting community. "Yachts are getting larger, new construction materials are being introduced, and onboard systems are more sophisticated than ever," Kelly said. "Keeping up with these innovations is important to us."
New high-speed WiFi is being installed at both the Fort Lauderdale and Bahamas facilities. The WiFi network will cover the full yards to enable owners, captains and crew to access the internet for Voice Over Internet Protocol (VoIP), video conferencing and high-speed entertainment streaming. "This complimentary WiFi service will have the bandwidth and speed to allow for simultaneous use by all yachts in port, enabling everyone to be productive and entertained," Kelly said.
The traffic flow and parking for owners, captains, crew and guests is being improved at the Fort Lauderdale facility and new dockage will be added at both facilities. Kelly said additional enhancements will be announced as plans are finalized.
Both properties will continue to operate under the name Bradford Marine and Bradford Marine Bahamas. FLYH Chief Executive Officer John Kelly said Paul Engle will continue as president of Bradford Marine and manage the daily operations, and Tom Thomas will remain as chief financial officer.
Engle said he was pleased with the new ownership and their long-time passion for yachting. "They have plans for substantial enhancements that will be greatly welcomed by our customers. Continuing as a family-owned and operated business makes FLYH the perfect fit to acquire Bradford Marine and to position us as the premier yacht facilities in South Florida and the Bahamas."
Julie Fisher Berry, principal of Marina Investments Group, Stiles Realty, brokered the transaction. She said John and Michael Kelly have a keen vision for the future of Bradford Marine. "They understand the trends in the marine industry and what is needed to service megayacht owners, captains and crew as the industry evolves to the next generation of yachting."
Bradford Marine in Fort Lauderdale is one of the world's largest in-water,  covered facilities with 11,000 linear feet of slips and service bays. The covered slips can dock vessels up to 180 feet. Bradford Marine Bahamas was founded in 1997; it is located 60 miles off the Florida coast and can accommodate superyachts up to 500 feet.
The acquisition of the Fort Lauderdale property closed on January 1; the acquisition of Bradford Marine Bahamas is pending governmental approval from The Bahamas. The purchase price is not being disclosed.