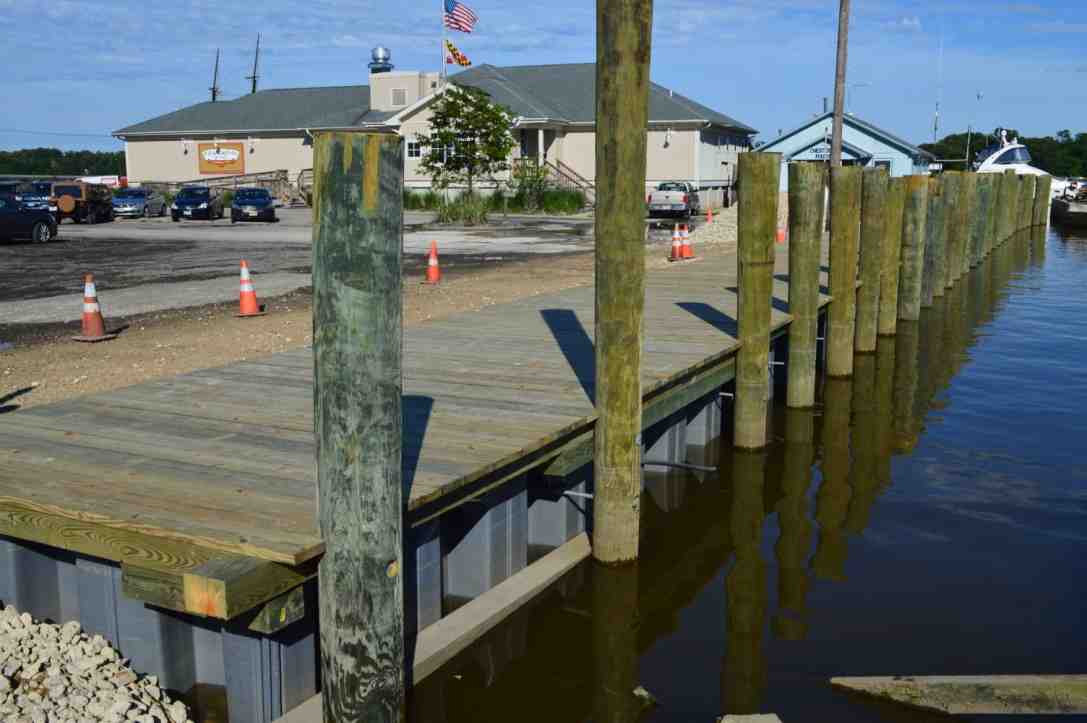 Chestertown Marina's Upgrades Include New Slips
Published on April 30, 2018
In 2012, the Town of Chestertown, Maryland, bought a rundown, 55-slip marina along its waterfront from a private owner. Now, six years later, the renovations at the town's property, located on the Chester River, are well underway.
"We broke the project into phases," said Chestertown Mayor Chris Cerino. "We have completely replaced the bulkheading along all sections of the boat ramp basin and have put in a new boat ramp. We've also installed a new raised boardwalk along one of the sections of the bulkhead, since the site has pretty consistent nuisance tidal flooding at high tide."
The most recent work has included the demolition of the old marina store and groundbreaking on the new center that the town hopes to complete this fall. The center will be divided into three sections. One will be the marina's headquarters, which will include a small marina store and a waterfront visitor's center. Another section will provide bathrooms and showers for transient boaters, while the third section will be available for a tenant to rent.
"We've also demolished two of the old piers, including a lot of the slips," Cerino said. "We will end up with three piers, two of which will be floating wood docks. The fixed pier that we currently have is in good shape, and we will be adding finger piers to the downriver side of that and extend it out another 70 feet." Dissen & Juhn Company of Stevensville, Maryland, is handling this work.
The town is having the entire marina dredged as well.
Sign up for the Marina Dock Age newsletter.
Our newsletter delivers the latest news straight to your inbox including breaking news, our exclusive content covering the marina and boatyard industry, new products, and much more.
"We previously had about 55 slips and we hope to end up with 70," Cerino said. Although this sounds like a modest increase, many of the previous slips were not usable because the marina basin needed dredging. Once that is complete, Cerino said all of the slips should be usable on a consistent basis. The town has also made upgrades to the electrical service on the new docks.
Much of the funding for the marina's transformation came from grants from the State of Maryland's Department of Natural Resources, including a waterway improvement fund and dredging fund. Federal money from the Department of Housing and Urban Development (HUD) was used for the new center, and the town also received a grant/loan package from the U.S. Department of Agriculture.
The Town of Chesterstown has closed the marina during the renovations, but expects to be open again in the spring of 2019 with some highly visible physical improvements. Cerino anticipates all work will be completed by the end of next year.