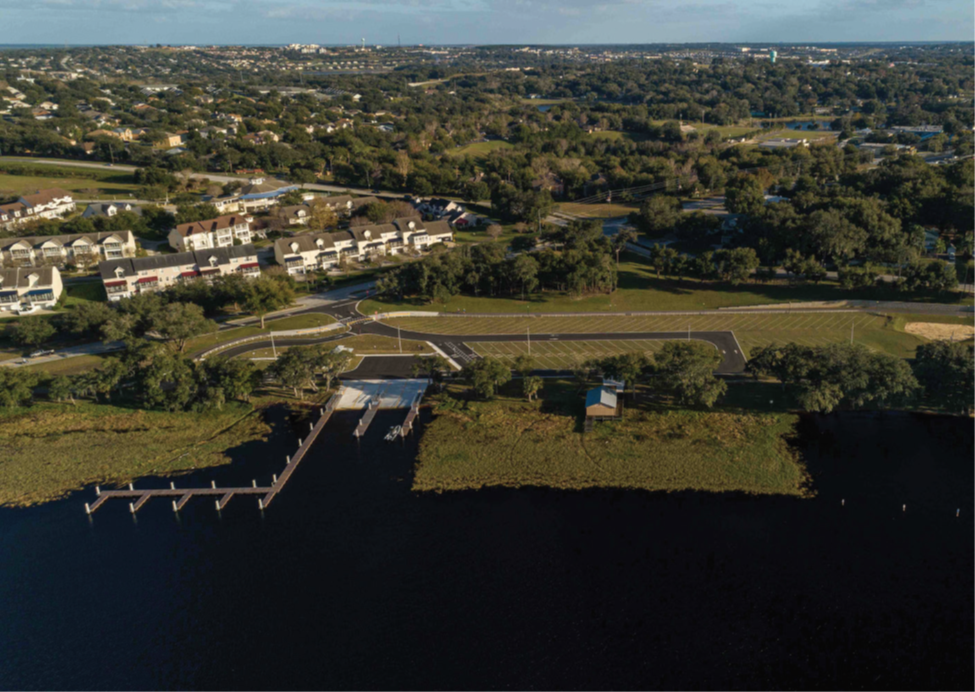 City of Clermont Eases Boat Congestion with New Docks
Published on February 21, 2020
On January 10, the City of Clermont, Florida, held a ribbon cutting ceremony to celebrate the opening of its new 10-slip dock. The dock replaces a previous facility that couldn't handle the demands of the many daily boaters who tied up at the slips and launched their boats from the ramps.
Traverse Group, the general contractor for the project, chose a system from Golden Marine Systems, LLC for the dock construction. Before it could install the docks, the contractor had to erect a turbidity barrier to prevent any silt from escaping into Lake Minneola. It then dredged about 6,000 cubic yards from the shallow, sandy bottom of the lake before driving 12 by 12 concrete piles for the dock.
Golden Marine supplied 3,000 square feet of dock with Cumaru decking and adjustable cleats. There's a short outside dock that measures 6 feet by 65 feet long; a middle dock that's also 65 feet long and 8 feet wide; and one dock that's 8 feet by 85 feet. All of the docks are ADA compliant.
"The docking system that Golden Marine supplied was nothing like what had been originally designed," said Alex Shafer, vice president of operations at Traverse Group. "The city wanted a conventional dock with gangways that went into concrete floating docks. We started to have some problems with lake fluctuations and elevations, so they opted to make the whole thing floating docks; otherwise, the docks wouldn't be usable at some times. Mike Shanley from Golden came in with the idea of using their extruded aluminum system."
Sign up for the Marina Dock Age newsletter.
Our newsletter delivers the latest news straight to your inbox including breaking news, our exclusive content covering the marina and boatyard industry, new products, and much more.
With the type of hinging system that Golden uses, which works with the waves so the docks don't bind up, the city feels comfortable that its new docks can withstand hurricanes. That's important because many municipalities in the area had their docks destroyed by Hurricane Irma in 2017.
The project, which was funded by the city and by the Lake County Water Authority, began on Memorial Day 2019 and was completed by the end of the year. The Traverse Group also handled the upland work at the site, which included construction of a parking lot and a restroom facility.