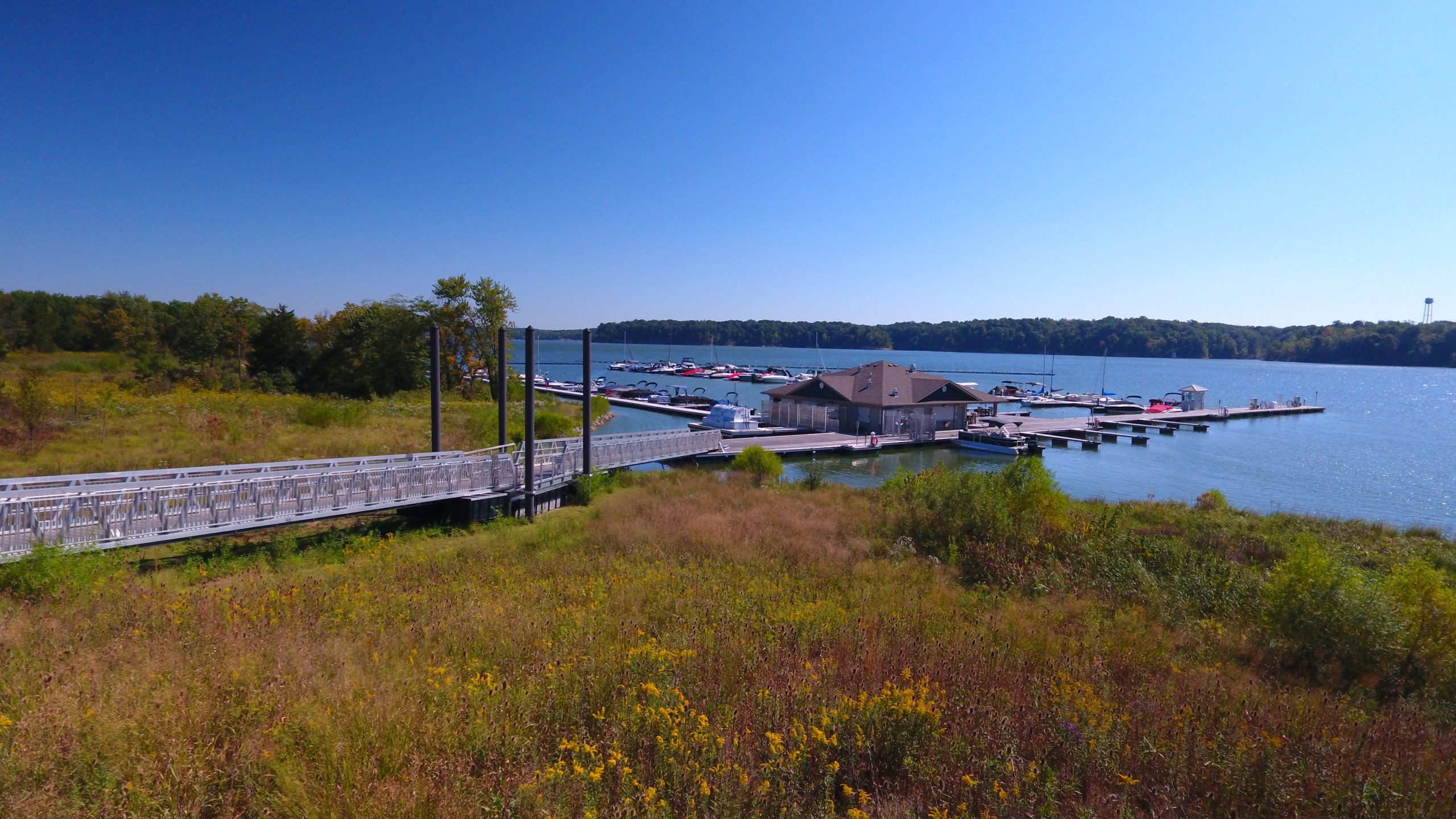 Navigating the Challenges of Modern Marine Design: An Interview with Heather Sheets and Sarah Orlando
Published on August 20, 2020
A team from the Michigan, Ohio, and Wisconsin Sea Grant programs as well as Ohio State University and the Ohio Department of Natural Resources has been collaborating on a three-year project to help marinas make their facilities more environmentally sustainable by harnessing the power of green infrastructure. Supported by a grant from the Great Lakes Protection Fund, the Advancing Stormwater Management at Marinas in the Great Lakes project features an online toolkit to help marina owners and operators choose feasible and effective green stormwater management strategies that fit their facility.
The website launched in September 2020. SmithGroup's Jason Stangland spoke with Heather Sheets and Sarah Orlando from Ohio Clean Marinas Program about this unique new resource to support more sustainable marina design.
Give us a general overview of this initiative. What are you hoping to achieve with it?
There are hundreds of marinas located along the shores of our Great Lakes that are important recreational and economic drivers for coastal communities. These marinas and the boating industry depend on clean waters and a healthy coastal environment for the success of their business and for continued use by recreational boaters. However, a marina's cumulative long-term impact on coastal and nearshore water quality and on aquatic habitat can be substantial.
The Advancing Stormwater Management at Marinas in the Great Lakes project leverages the momentum around on-site stormwater management by developing a toolkit and outreach process specific to marinas. This customization for the marina industry is key. The stormwater best practices highlighted here represent true marina best practices, with applications and results that demonstrate the benefits of marina green infrastructure (GI) via on-the-ground installation projects. Monitoring of new on-the-ground installations will also be conducted moving forward to assess the effectiveness of these GI practices as practical solutions for water quality and/or water quantity management in a marina setting. The end goal is to create a resource with proven examples to help more marinas learn, visualize, and ultimately build green infrastructure at their facilities throughout the Great Lakes.
Sign up for the Marina Dock Age newsletter.
Our newsletter delivers the latest news straight to your inbox including breaking news, our exclusive content covering the marina and boatyard industry, new products, and much more.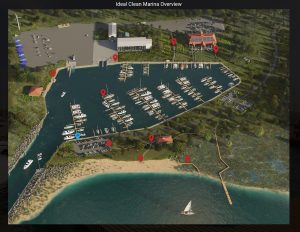 Why do you feel that green infrastructure is so important for clean marinas? How does this project address the main challenges to implementing more of these practices?
With Great Lakes marinas being located at the water's edge, there is a unique opportunity to not only address the potential pollutants generated on site, but also stormwater runoff from the surrounding watershed. Marinas offer a "last chance" opportunity to address water quality and quantity issues from coastal communities before runoff reaches the Great Lakes. This becomes exceedingly important given climate projections for the Great Lakes region that forecast a substantial increase in the number of extreme-precipitation storm events that contribute to excess runoff. Focusing in on green infrastructure opportunities at marinas enables us to approach stormwater management with a new perspective – other than traditional grey infrastructure solutions or good housekeeping practices required through a stormwater permit. GI offers Clean Marinas a way to showcase their stormwater management actions in an aesthetically pleasing way that sets an example for others.
This project focuses specifically on marinas – and more specifically small, private marinas. That's because private marinas typically have more limited access to financial and institutional resources to fund innovative approaches for reducing impacts of stormwater runoff at their sites. Many marina owners lack the time, financial resources, or expertise to review the multitude of green infrastructure (GI) practices available, visualize how they'd look installed, and decide which will work best for their site. This project will summarize a set of GI practices that address stormwater management for performance, practicality, cost, and aesthetics to help marina managers develop a streamlined list of GI practices best suited for their facility. The website's virtual reality tour will help marina owners and managers understand what GI practices will look like and how they will function on their own site.
While enhancing awareness of practices and visualizing how they may look and function in a marina environment is an important step, funding to implement the GI practices is no small hurdle. For those seeking assistance, the Clean Marina Stormwater Toolkit also includes a listing of potential funding sources that support GI construction. While many programs require the grant recipient to be a public entity, some sources provide assistance to private entities. Creative public-private partnerships can also be established that allow local municipalities and other governmental entities to participate in ways that enhance funding eligibility.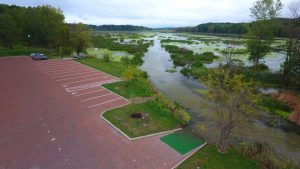 Describe the elements that are part of this toolkit. How will the visualization tool be used, and how will it help with design decisions?
The project team developed an online toolkit that includes a set of resources geared to marinas that will help all marinas with identifying appropriate and cost-beneficial GI practices for their site. The toolkit includes a decision support tool (DST), GI design renderings and an interactive virtual tour map supported in part by Great Lakes Restoration Initiative (GLRI) funds.
The virtual reality (VR) Ideal Clean Marina map created by SmithGroup focuses on green infrastructure practices and provides marina owners a way to visualize these practices in a marina setting. This virtual tour map will walk a marina owner through an Ideal Clean Marina, allowing them to view GI practices and how they may function and appear in a real-life marina setting. Still imagery and 360 degree video content of actual marinas in Ohio was generated by the Ohio Department of Natural Resources and will be featured in the VR map. In practical applications, this VR tour will also be used by Clean Marina coordinators and stormwater management professionals to help marina owners better understand green infrastructure practices.
This virtual tool is an innovative approach to educating marina owners and operators about Clean Marina best management practices and offers a new way to share environmental BMPs with this audience. It allows for a lot of interactivity to explore options, and to see how multiple BMPs can work together across a marina site to produce better outcomes.
What are your plans for rolling out and promoting this tool?
This is a first-of-its-kind resource for Great Lakes marinas, so we're really excited about rolling it out. Sea Grant's involvement provides a strong outreach arm to support that through in-person and online efforts. Ohio Department of Natural Resources' involvement provides an ongoing opportunity to feature existing green infrastructure projects across the state and continue to build upon our resources by featuring other environmental best practices into the future. The Ideal Clean Marina VR Tour will be featured on the Clean Marina Stormwater Toolkit website , as well as on the Ohio Clean Marinas Program page. The project team will also create various printed outreach materials such as project summary sheets, posters, and tri-fold panels. These informative materials will expand upon the project as well as supplement the educational resources on the GLCMN website. The materials will also be available to marinas across the Great Lakes via the GLCMN website and Clean Marina Online Classroom.
The team will also create permanent educational signage that will display the project process, the practice installed, and expected benefits at each marina pilot project site. The team will feature these projects through the Great Lakes Clean Marina Network, the national Clean Marina Initiative, and other relevant networks. Following post-construction monitoring at the three marinas, we will develop a report that compiles the knowledge gained from each project and provides a technical and educational resource for the entire Great Lakes Clean Marina Network. These monitoring results will also help inform clean marina initiatives beyond the Great Lakes.
The team will host one in-person post-project technical workshop at one of the installation sites. Clean marinas, not-yet certified marinas, other Great Lakes Clean Marina Programs, and interested partners will be invited to participate in the technical training workshop. The workshops will focus on using the toolkit and sharing lessons learned from the project with a focus on installation, monitoring, and stakeholder engagement. The state Clean Marina Program coordinators will receive the necessary materials to start implementing the toolkit to advance adoption of GI practices at marinas within their state program.
A presentation on the Ideal Clean Marina VR Tour was made at the 2020 Docks Expo conference, with plans for another presentation by members of the project team at the end of the overall project summarizing outcomes, monitoring data, and outreach.
Have you thought about how this tool might be expanded upon moving forward? 
The goal of this particular project is to enhance awareness and change behaviors and attitudes about green infrastructure, increase adoption of these types of practices, and better address stormwater runoff in the Great Lakes watershed. For future development of the Ideal Clean Marina VR Tour we plan on expanding the best management practices marina owners can view beyond green infrastructure to include solar and wind energy, aquatic invasive species control, and other best management practices we encourage our Clean Marinas to implement. Ultimately, we want to expand the toolkit in ways that will support the overall goals and initiatives of the Clean Marinas program.
Heather Sheets is Program Coordinator for Ohio Clean Marinas and with the Ohio Department of Natural Resources' Division of Parks & Watercraft. She can be reached at Heather.Sheets@dnr.state.oh.us. Sarah Orlando is Program Manager for Ohio Clean Marinas with Ohio Sea Grant. She can be contacted at orlando.42@osu.edu. Jason Stangland is SmithGroup's Waterfront Practice Director and can be contacted at jason.stangland@smithgroup.com.