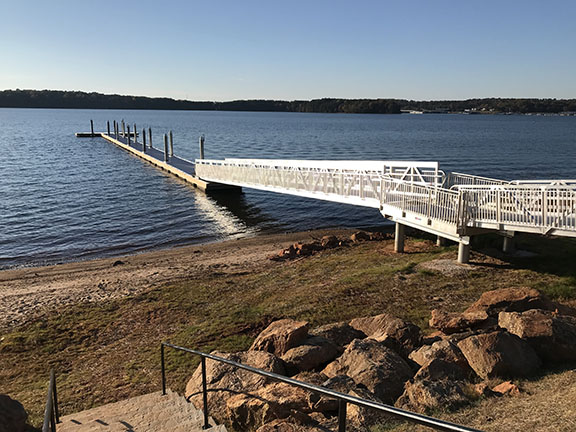 Green Pond Landing Now Open in South Carolina
Published on March 23, 2022
The new dock and site improvements on Green Pond Landing on Lake Hartwell in South Carolina, which began in early 2021, came to a successful finish in November of the same year. The $2 million project included a new floating dock system, two added boat ramps, increased parking space, and an open-air 1300 seat amphitheater and stage. The project was a much anticipated upgrade for anglers of the region as the landing has historically played host to a number of fishing tournaments, including the Academy Sports + Outdoors Bass Master Classic in early March.
The construction was performed by Belk Company, who subcontracted the dock installation to Marine Specialties of Anderson, South Carolina. The floating docks, manufactured by Marina Technologies, include a 10-foot wide by 240-foot long aluminum dock, which includes a 40-foot long tee at the end. "The county chose Marina Technologies for the project because our unique dock system is able to provide all the challenging requirements for this demanding application," said Bob Berry, project development manager at Marina Technologies.
The "ground-out capable" docking system needed sufficient buoyancy to accommodate the increased load presented by the crowds during events which could surpass 40psf. "The site is quite exposed, so wind and wave loading were a factor," Berry noted. "There are also significant utilities on the docks, so top access utility troughs were a requirement."
The aluminum dock system is the company's S-190 system with non-skid aluminum decking, internal pile guides for 12-inch steel pipe piles, adjustable cleats, silent-flexible rubber dock connections, 16-inch-deep timber fenders on each side, and six-sided high-stability concrete floats with bottom-mounted timber skids. The Green Pond Landing on Lake Hartwell is already welcoming anglers and recreational boaters as well as spectators for the year's fishing tournaments.
Sign up for the Marina Dock Age newsletter.
Our newsletter delivers the latest news straight to your inbox including breaking news, our exclusive content covering the marina and boatyard industry, new products, and much more.