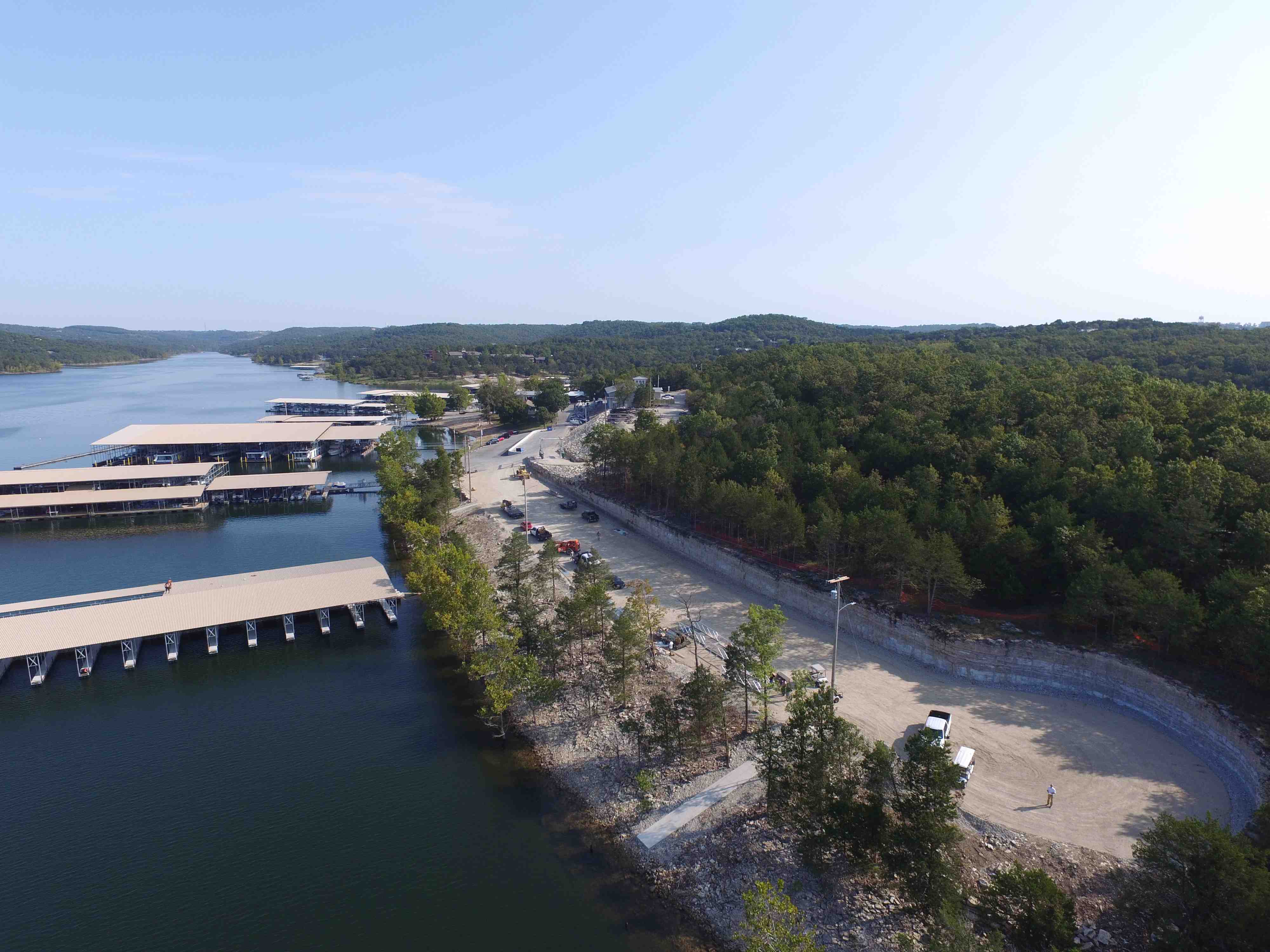 Harbor Marina Begins Five-Year Expansion Project
Published on March 6, 2018
Located on Table Rock Lake in Branson, Missouri, Harbor Marina is one of three marinas on the lake owned by brothers Bob, Patrick and Phil Cox.
"We purchased the Harbor Marina about 12 years ago and have been expanding and improving it ever since," said Phil Cox. Before the most recent work began, the marina had 200 slips. "We have good demand, but haven't been able to expand much here because we have been constrained by our physical dimensions and our parking."
The current project, which began last year and will run about five years, includes the construction of an 80-car parking lot and the addition of three new 30-foot docks. In 2017, the owners concentrated on building the parking lot, which included blasting rock, and laying the groundwork for the new docks. "Whenever you put in new docks the big piece of the puzzle is the infrastructure—the parking, electrical, cable and water. The floating structures are the last piece," Cox said.
The galvanized steel, box-truss-framed docks with concrete surfaces are being built by MariCorps U.S. The owners had been impressed with the work that the company did on refurbishing a dock at one of their other facilities. "They turned a dock that had a low return on investment into one of our nicest docks," Cox said.
Sign up for the Marina Dock Age newsletter.
Our newsletter delivers the latest news straight to your inbox including breaking news, our exclusive content covering the marina and boatyard industry, new products, and much more.
Harbor Marina added its first dock in 2017 and will add another one this spring. "The idea is that we will put in three docks—30-foot pieces—and add on to them as needed. We will build a dock, fill it up and next year add another one," Cox said. The 30 slips on each dock will be 12 feet by 32 feet.
Like all the other slips at the marina, these will be covered. "We are on the edge of rough weather; we have been through snowstorms and have lost docks to snow load, and we had a tornado hit this marina about five years ago," Cox said.
Getting approvals from the U.S. Army Corps of Engineers and the state did take a while, but Cox said the added time allowed them to think about the project in more depth and make improvements to their plans.
Amenities at Harbor Marina include electrical water at the slip, cable TV and WiFi. "More and more people are using WiFi for streaming, and everybody has a handheld device capable of streaming video. That has strained our Wi-Fi infrastructure, so this year we're spending another $10,000 on equipment to bump it up a notch," Cox added.
Harbor Marina will also be building three onshore covered picnic pavilions and barbecue areas this year. "We are trying to encourage people to get fire and flame off of the docks and onto the shore," Cox said. One of these pavilions, plus a new restroom, will be located near the new docks.