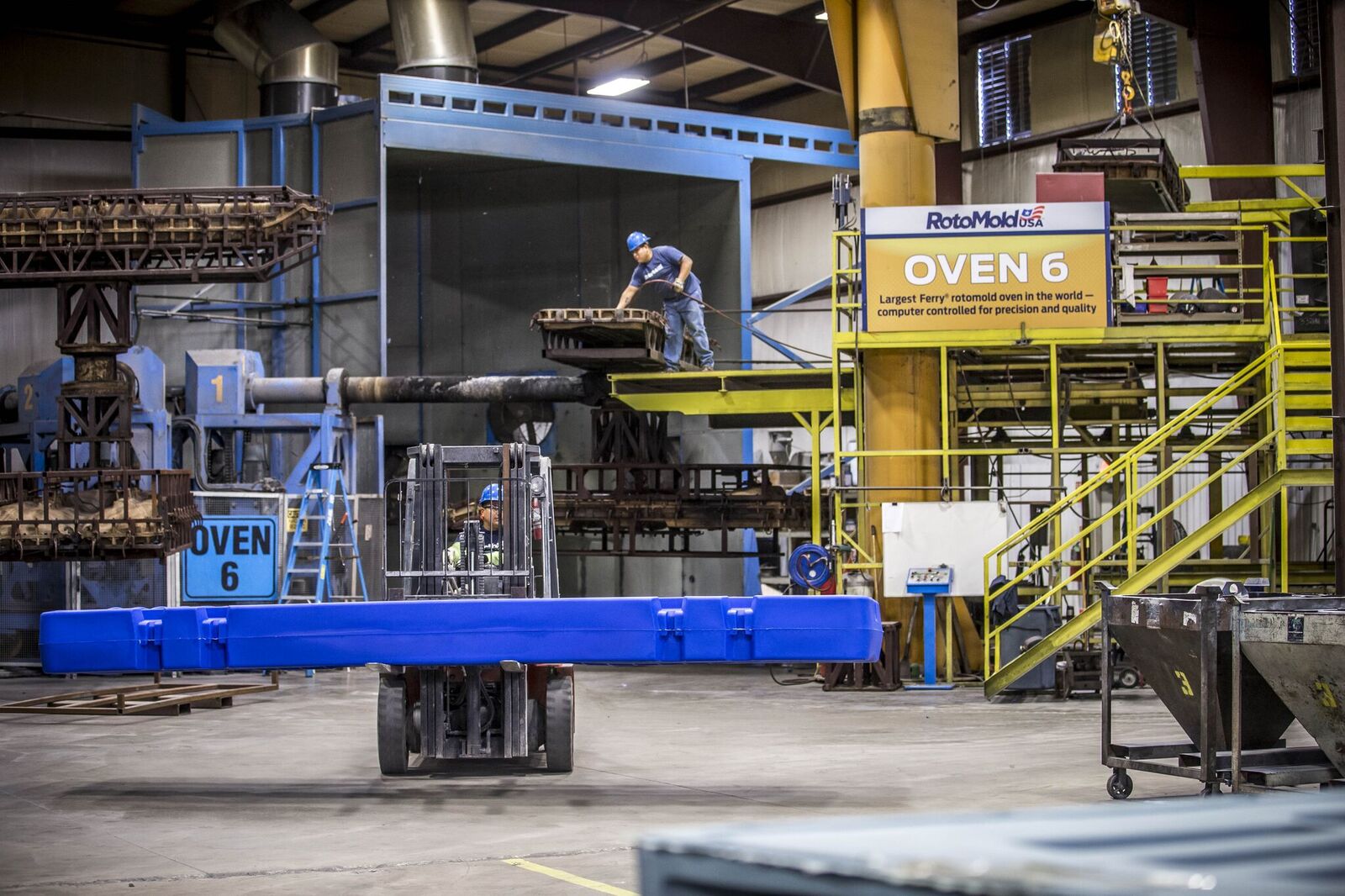 HydroHoist Subsidiary RotoMoldUSA Shifts Production to Medical Material Handling Equipment
Published on May 1, 2020
To help the fight against COVID-19, HydroHoist, LLC subsidiary RotoMoldUSA geared up in late March to produce critical medical material handling equipment at its Oklahoma facility. The reusable plastic pallets are used to ship medical supplies nationwide. Upon receipt of the contract, the Department of Homeland Security deemed the business an essential manufacturer. Since then, RotoMold has contracted with two more companies in Toronto, Canada, and another based in Iowa.
The third week in March, a pallet and packing management company in Ithaca, New York, contacted RotoMold about producing its pallets, which are made from a Food and Drug Administration (FDA) approved resin. RotoMold has produced the pallets in the past for other medical suppliers.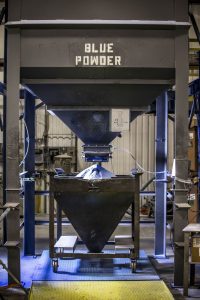 In 2002, HydroHoist took 50 percent ownership of RotoMoldUSA and took full ownership in 2008. The 55,000-square-foot facility has two ovens, including the largest bi-axial rotomold oven in the world, which can swing up to 18 feet for making very large parts. Typical ovens work at about a third of that space.
In 2011, RotoMold started making the pallets for a major pharmaceutical and medical supply company. When one of its production facilities, based in Pennsylvania, shut down, it temporarily transferred production to Puerto Rico. The company had issues with supplies shipping back from Puerto Rico because non-native insects were burrowing into the wooden pallets and reached out to RotoMold about its fully-enclosed pallets, which would not allow insects to burrow. RotoMold eventually made the pallets for other pharmaceutical companies and food companies like Hormel.
Sign up for the Marina Dock Age newsletter.
Our newsletter delivers the latest news straight to your inbox including breaking news, our exclusive content covering the marina and boatyard industry, new products, and much more.
Overall, HydroHoist was so busy on the marine side of the business, it never pursued the pallet business aggressively. However, when companies started calling in March about the special pallets, it was an easy switch, as it didn't take an additional tooling or set up.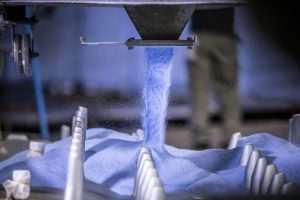 "This contract has been good for us. It's keeping our facilities running close to full capacity and everyone working. The key risk is if a team member contracts the virus," said Mick Webber, CEO of HydroHoist. "We are taking multiple steps daily and weekly to keep the team safe along with the work environment."
The facility has lengthened working hours to meet demand, and adhere to social distancing guidelines. Workers also wear masks and perform multiple forehead temperature checking throughout the shift. The entire facility is also sanitized twice a week by an outside company. All equipment inside is wiped down every two hours by staff.
The RotoMold pallets are unique because they are entirely hollow. The same concept, as part of a boat lift tank, is used to trap air for flotation, but instead, the pallets have a metal frame that can hold a dynamic load (on a forklift) up to 9,000 pounds, and static loads up to 18,500 pounds. The company's proprietary process fully encloses the metal frame with no bleed through.
The pallets are also critical during a pandemic, where the smooth surface lessens the transmission of bacteria and viruses. The non-porous pallets are also easy to pressure wash and sanitize.
RotoMold did need to secure extra metal frames, which it expedited from a vendor in Broken Arrow, Oklahoma. The frame is made of carbon steel and welded together in-house at RotoMold. Chevron Phillips and Exxon Mobile provide the special products to make the plastic resin. Once those products were available, production started on March 25.
HydroHoist, LLC is also an ISO 9001:2015 certified rotational molding company. "That's what attracted those larger companies to us," Webber said.
RotoMoldUSA has been producing rotational molded parts for 56 years. Its state-of-the-art rotational molding equipment and processes can also perform in-house mold repair and provide lab testing and leak detection.
Webber expects to be producing the pallets at least into mid-May. "In this time of great need, many companies within the boating industry have the power to help," he said. "Our facilities can easily produce large quantities of products that are necessary in the fight against the spread of Coronavirus."