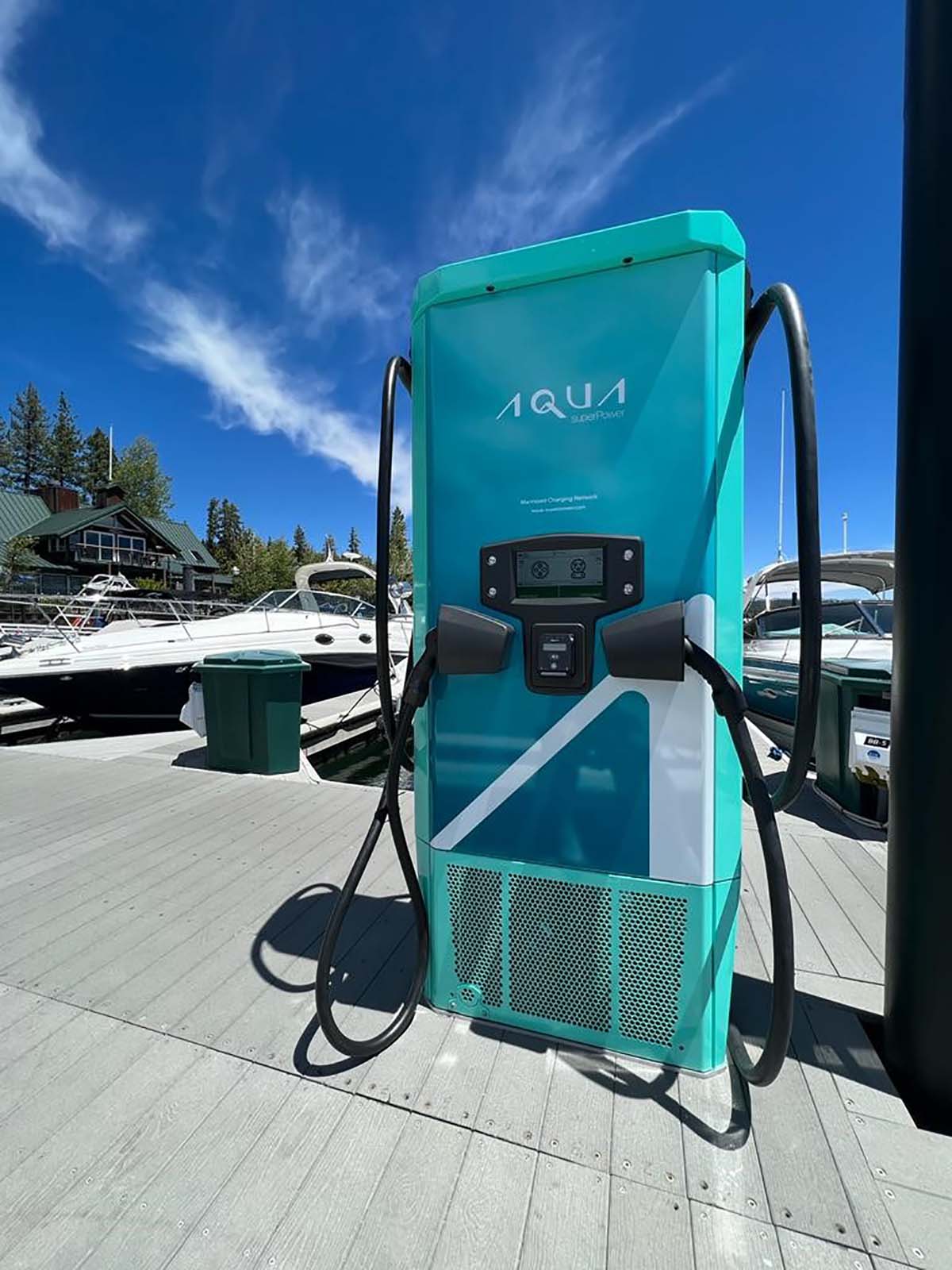 Interest in Electric Sparks a New Product
Published on August 15, 2023
Interest in electric boats is growing with engine companies like Torqeedo and ePropulsion regularly releasing newer and better models that meet a greater power demand and boat type. Boat manufacturers, from Nautique and Hinckley to newcomers like Seattle-based Pure Watercraft are also turning to electric as boaters look to play a role in reducing emissions and noise.
With an influx of electric boats and motors, the need for charging stations is rising as well. As the efficiency, size, and usage of electric batteries on boats increases, the average shore power offered at marinas is proving insufficient, with estimates that boaters wanting to enjoy a full day on the water could have to wait days for the battery to be fully charged.
One company, Aqua superPower (Aqua) is answering the call by installing its fast-charging stations in locations throughout the United States and Europe. Using the Aqua charging station, a battery can be fully charged in just 20 to 90 minutes. With such capabilities, the company is working to transition boaters away from traditional engines and turn to electric by creating robust corridors of chargers within boating areas identified as prime for early adoption of electric.
Embracing Electric Boating
There are different factors that have impacted the acceptance of electric boating. Scott Canning, vice president of U.S. business development for Aqua admitted that Europe has been much quicker to embrace electric. He said what moved the needle was seeing electric boats in action. As one example, he referenced the Aqua-sponsored Monaco Energy Boat Challenge, which just celebrated its 10th anniversary. The event brought together students and professionals from all over the world to race boats that are powered by alternative energies in Energy, Solar, and Open Sea Class. The audience saw firsthand the efficiency and speed that can come from sources like electric, wind, and solar.
Canning also said that where the industry is focusing on enticing the next generation to try boating, bringing sustainability into the equation can pay off. "There's concern in the industry about how we get next-gen boaters to try and stick with boating. My argument is to turn to electric because in every other sector of the market, young people consider sustainability as a massive part of their purchasing decisions and they are turning away from carbon," he said.
Fast Charging Stations
Aqua has a unique concept for its charging stations that poses little risk for the marina. The company not only manufactures the charger but it shoulders the engineering for the installation and conducts ongoing maintenance. Marinas benefit from a free charging station, and they also avoid added billing and bookkeeping. Boaters pay Aqua directly for power usage through the AquaApp, secure contactless payment, or an RFID card. The end-to-end payment process is handled by Aqua and the marina is provided a quarterly usage report.
Marinas sign a long-term contract so Aqua can recover its investment, but then the company profit shares with the marina for the duration of the contract. In addition, the marinas that sign on for the chargers are advertised and promoted through Aqua's app and through the company's connections with electric boat manufacturers. "We have close relationships with boat manufacturers as they bring electric boats to market to ensure they will be compatible with our charger. We're open to any manufacturer as long as safety and reliability are paramount," Canning said. Once the charger is up and running, marinas can promote themselves as destinations for electric boat users.
Marinas Make the Switch
In identifying prime areas for its product, Aqua looks at a combination of an extensive boating culture, areas where people are good stewards of the environment, and where there's access to large boating communities. Political will also plays into where they locate, as there have been areas that welcome electric with grant funding and support. Canning has found utility services and electric companies are welcoming to Aqua for the obvious reason it boosts their electric sales, but also because many see the benefits of electric to cutting air pollution. The only place Aqua would hesitate to install its charging station would be where there is no electric market and none coming in the next several years. Canning said he can't see that happening.
Once a marina agrees to host the charging station, Aqua conducts a site assessment to determine what upgrades may be needed to the marina's grid connections, and to estimate the number of electric boaters a facility may need to support.
Lake Tahoe was the first site in the United States that brought in Aqua and now several marinas around the lake have installed the chargers. Aqua is also working on contracts for marinas in the San Francisco Bay area, as well as a few in Michigan. Queen Boat Company on Lake George in New York celebrated the installation of Aqua chargers at their facility early this summer. The marina started offering electric boats within its Freedom Boat Club fleet five years ago and has seen the demand for the boats grow beyond their expectations. The new charger allows multiple trips for each boat eliminating wait times. "Lake George is beautiful with a storied history of boating, access to high-net-worth people who are likely to be early adopters of electric boats, and the location is manageable in that boaters aren't looking for power to get them 100 miles out to sea," Canning said.
He also commented that this was the first collaboration with a boating club, which is a market he hopes to expand further into. So far, the installations have all been in marinas, but they are also looking at destination restaurants and municipal facilities, as well as commercial operations. The company is working with the Thames River Ferry and is in early talks to add ferry projects in the United States to their portfolio as well as service for workboats.
Canning is aware that creating infrastructure around electric is challenging, but fossil fuels are no longer the answer, and other potentials like hydrogen, would be much more problematic to work with, especially in the boating industry. "If people embrace it, the switch to electric will happen faster. It's my mission to help make that happen and I'm already seeing that people are much more open to speak to me than they were just a few years ago," Canning said.