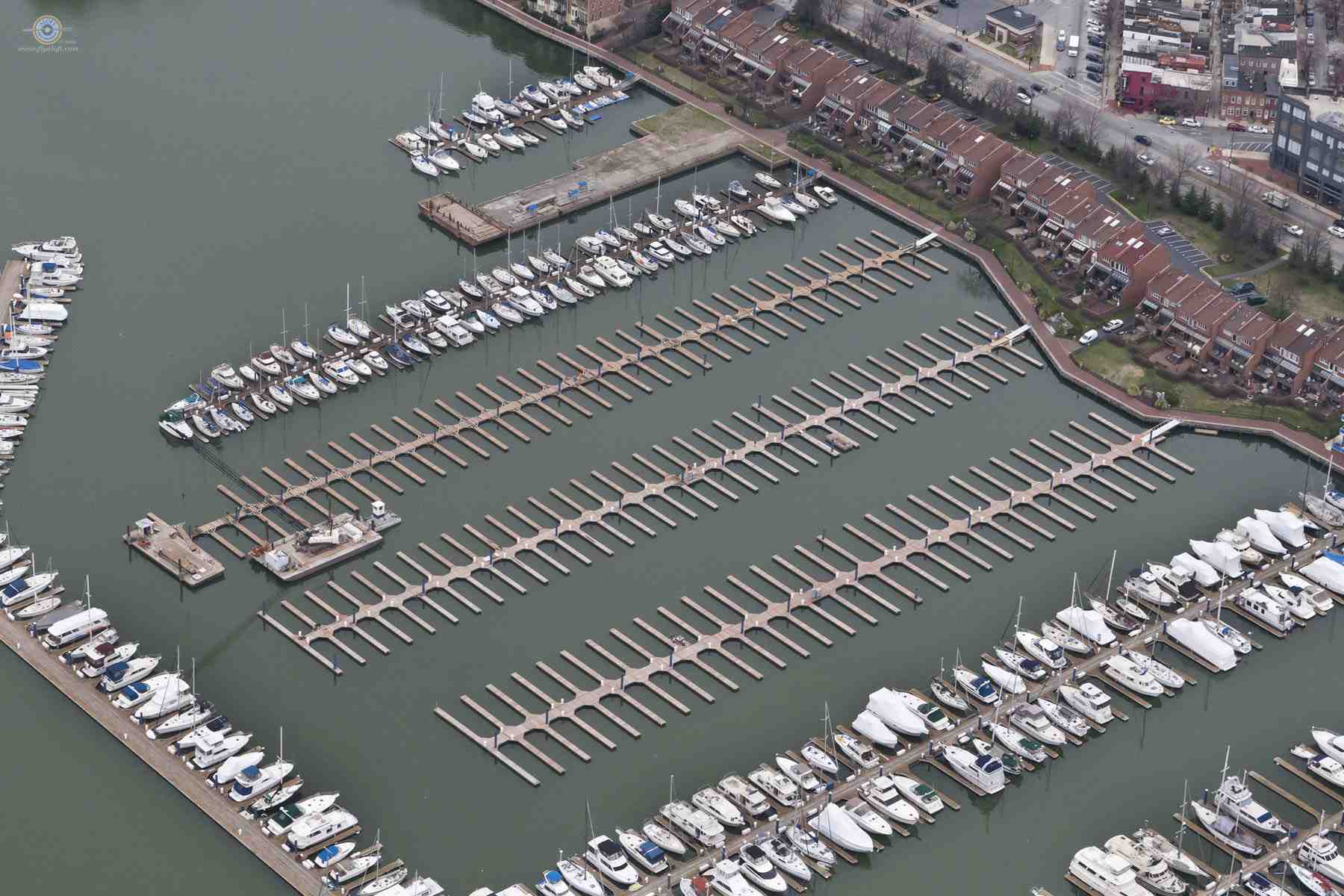 Major Renovation Completed at Marina in Baltimore
Published on November 12, 2019
Anchorage Marina is located in Baltimore's Canton neighborhood, a mixed-use district that includes luxurious residential properties, trendy bars and restaurants and waterfront parks. The condominium marina, which has been a mainstay of Baltimore boating for decades, completed a project to replace three of its largest docks, D, E and F.
This was the first major renovation of the 571-slip marina in three decades. "I have been in the marina business for a long time, but never oversaw a renovation project as large as this one," said Glenn Shaefer, general manager of Anchorage Marina. The marina management chose Dissen & Juhn Company, headquartered in Stevensville, Maryland, as the general contractor for the project.
The existing docks, installed 30 years ago, had been exhibiting advanced stages of deterioration, requiring frequent maintenance. Dissen & Juhn demolished and disposed of those structures and installed three docks: a 35-foot, a 40-foot and a 45-foot. Bellingham Marine manufactured the wood-framed floating docks, which featured mechanically laminated walers, heavy, solid sawn framing members with galvanized steel connectors, plastic floats and IPE hardwood decking. The docks are finished with vinyl fenders and galvanized cleats.
The work included more than 1,900 linear feet of main dock and 205 finger piers plus the installation of electrical, water and fire standpipe systems. Dedicated raceways distribute the electrical, water and standpipe lines throughout the docks. Dissen & Juhn's subcontractors upgraded the new docks' entire electrical system. The system's components, manufactured by Eaton Power & Lighting, include substations, panel boards and lighthouse power pedestals with 30- and 50-amp service.
Sign up for the Marina Dock Age newsletter.
Our newsletter delivers the latest news straight to your inbox including breaking news, our exclusive content covering the marina and boatyard industry, new products, and much more.
Both Bellingham and Dissen & Juhn faced several challenges on the job.
"Because the dock mooring piles were remaining in place, the docks had to be manufactured to very tight tolerances. A small deviation over the length of a 600-foot main dock could adversely impact the location of dozens of finger docks," said Gil Dissen, president of Dissen & Juhn. "The dock manufacturer did a great job designing the system around the existing poles."
The job site was hemmed in by residential properties, so simply getting materials in and out posed a challenge. "There was no way to access the site with tractor-trailers, so we had to barge materials from a yard on the other side of Baltimore Harbor. That's a 1.5-mile run, subjecting the operation to increased weather exposure and difficulty navigating the barges through a still, boat-filled basin," Dissen said.
The new docks have received excellent reviews. "The IPE docks were installed beautifully, and Dissen & Juhn's communications throughout the job was outstanding," Shaefer added. "Our customers are over the top. In fact, we are running about 95 percent thumbs up, which is really good for our customer base."