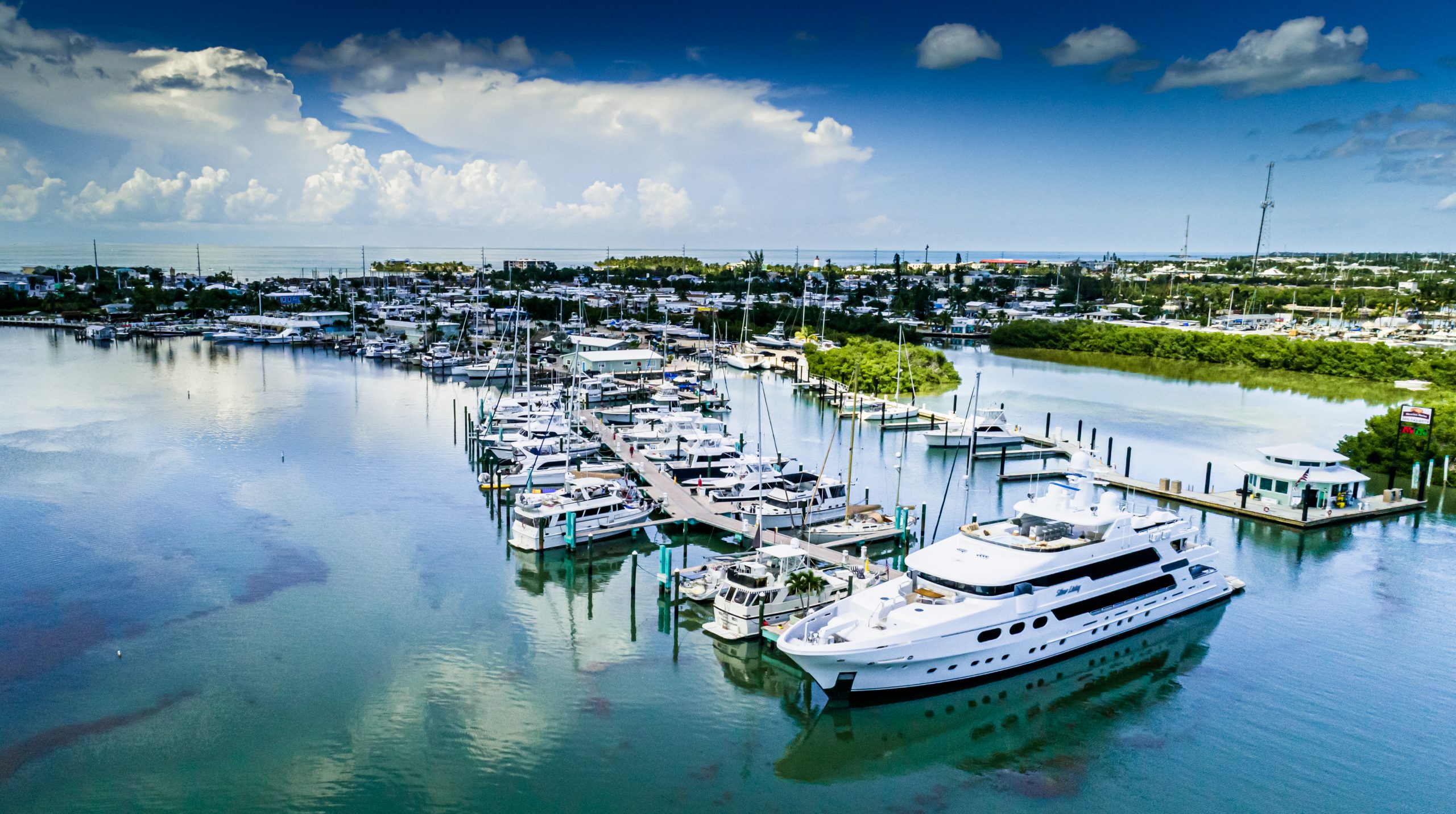 Marathon Marina Offers World Class Service To Boaters
Published on January 12, 2021
Marathon Marina in the Florida Keys has an inspiring mission statement that the entire staff takes to heart each day. It reads: To daily, have a positive impact on our customers, our community, and the environment.
2020 put that mission statement to the test as COVID-19 forced the marina to go above and beyond in order to assist boaters from all over the world who were virtually stranded in paradise. Congratulations to Marathon Marina, the Marina Dock Age 2020 small Marina of the Year.
Up For a Challenge
During the height of the pandemic in early 2020 it was all hands on deck for the staff at Marathon Marina. States started shutting down just as the marina's snowbirds usually head north. Most of them couldn't leave because other marinas weren't accepting new boaters and they didn't want to be off shore for an extended period of time. At the same time, the Bahamas forced all boaters to leave the islands just as Monroe County, Florida restricted all tourism in the Keys for a 10-week period beginning March 22. People were only allowed to enter the Keys if they worked in the county or were delivering supplies. The restriction prevented hotels, marinas and vacation rentals from extending rentals or accepting new ones. Since everyone interpreted the restrictions differently some marinas forced all boaters to leave, while others allowed their current customers to stay.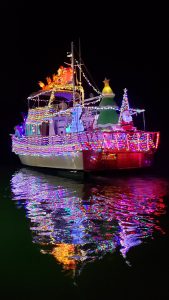 Suddenly, boaters were coming from everywhere, with nowhere to retreat. "For 10 weeks during the lock down we could see at least 50 boats in the harbor every day," Susan Prichard said. "Our slips were full and most of our guests didn't want to leave the property. The boaters off shore could only come in for fuel but they couldn't get off their boat while at the fuel dock."
Sign up for the Marina Dock Age newsletter.
Our newsletter delivers the latest news straight to your inbox including breaking news, our exclusive content covering the marina and boatyard industry, new products, and much more.
With operations at a standstill, Prichard, the general manager at Marathon Marina, and the entire staff got to work. For the following 10 weeks they stocked the ship's store with hard-to-find necessities such as hand sanitizer, toilet paper, and groceries. They worked with a local produce supplier to bring in fresh fruits and vegetables every day. "We had a rolling cart that we would stock with fresh produce and roll it right out to our boats," Prichard said.
Marathon's restaurant, Lazy Days South, was closed to dine-in customers, but the staff continued to prepare sandwiches and deliver them to the docked boaters. Marina staff also helped with Publix grocery deliveries, prescription medication deliveries, and anything else the boaters needed. When the boaters sitting in the harbor came in to refuel, staff took their garbage, offered pumpout services, and delivered supplies. "We as a team did everything we could do for our guests and our community," Prichard said.
Rooted in History
Boaters have been docking at Marathon Marina for 70 years. The marina, located in Marathon, Florida at the entrance to Boot Key Harbor, sits on land that was once occupied by a mechanics shop used during construction of the Florida East Coast Railway, which was built by Henry Flagler to connect Key West to the mainland. In 1931, the first commercial fish house in the Keys was opened on the property. Twenty years later the fish house was sold and Marathon Marina opened in its place. "A few of the buildings that survived Hurricane Irma in 2017 are the original fish houses from the 1930s," Prichard said. "The marina is part of Marathon, Florida's history and we are very proud of that."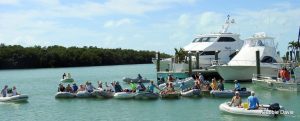 Current owner Robert Leef purchased Marathon Marina in 2009. "It was in need of repair and Robert believed in what the marina could become and invested back into it," Prichard said.
Today, Marathon is home to 123 slips able to accommodate vessels from 20' to 130', designated transit slips, 30-50-100 AMP electrical service, restrooms, showers, laundry, high speed WiFi, and security gates with 24-hour video surveillance. Boaters are also able to take advantage of a new pumpout system, fuel discounts, a ship's store, 75-ton Travel Lift, 15-ton Marine forklift, 10 designated work areas, and long term storage for vessels up to 75'. In addition to the floating and fixed concrete docks, Marathon offers a fitness center, saltwater pool, four vacation rental apartments, and a nine-site RV park.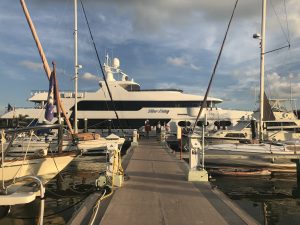 Renovations and updates have taken place over several years and in July of 2017 Marathon celebrated the opening of a new floating fuel dock built by Bellingham Marine. The $2.5 million floating dock renovation was partially funded by a State of Florida $1.5 million Boating Infrastructure Grant. In September 2017, just two months later, Hurricane Irma struck the Florida Keys. As the storm approached, the marina's hurricane plan went into effect. Staff hauled boats that were covered by Marathon's hurricane haul out agreement and assisted boaters with their personal hurricane plans.
"We don't allow our customers to ride out a named storm on their boat, but we don't force them to move their boat from our docks if they don't have anywhere to go or if the weather doesn't allow for them to leave," Prichard said. Prichard added that 28 boats chose to ride out the storm in the water in their basin or on the west dock. Marathon didn't allow boats to remain at the new floating fuel dock. "As irrational as it was, we didn't know how the new floating fuel dock was going to survive a category 5 storm with boats attached to it. But Bellingham did an awesome job," Prichard said. "Not only did the dock survive with no damage, you can see the pilings where the water rose with the nine feet of storm surge we had."
The original fish houses and office survived Irma, but the storm surge destroyed everything inside the buildings. In addition to interior renovations, all pedestals at the marina were replaced and brought up to current electric code because the storm surge destroyed the infrastructure underneath the concrete docks. The pilings on the east dock, as well as fencing and piers, were also replaced. "The west dock faired better with only 50% of the pilings and piers being replaced. We had nine boats topple off stands in our yard and two sunk dockside," Prichard said. "Five of us came back in with first responders and we immediately started working on clearing debris from the boatyard and canal. I will never forget that experience, which really cemented us as a team."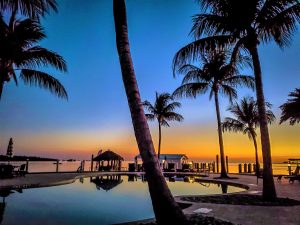 That team feels more like family to Prichard and the rest of the Marathon staff. Even the boaters share the same sentiment. Many of the larger, transient boats that pass regularly through our marina evacuated to Louisiana to get away from Irma. They then filled their boats with supplies and returned to Marathon. "We had a stockpile of blankets, diapers, food and water that we passed out to the community," Prichard said. "The overwhelming compassion from our boaters proved to us that we are one big family. I think that is what boating is supposed to be."
Preparing for the Unexpected
While COVID-19 posed its own set of challenges, Marathon suffered another unexpected loss in 2020, when their operations manager, Robert Kinnison, passed away in October. Robert and his wife, Jules, have been part of the Marathon team for five years. As operations manager, Robert was involved in every aspect of the marina. He trained staff, worked with customers, and made sure the marina was compliant with electrical systems and OSHA standards. He played an integral role in developing the rebuilding plan after Hurricane Irma.
"Robert always did what was best for the marina. He and Jules lived on the property and he worked tirelessly to make the marina better. He truly lived what our mission, vision, and values are and he always wanted to make a positive impact on what he touched. He is missed," Prichard said.
That sense of family is what Marathon is holding on to as it looks toward the future. "We sacrificed a lot this past year, but we remain hopeful for the future and we look forward to welcoming even more boaters to our facility."
Preparing for the Future
In addition to the daily operations at the marina and providing extra services to boaters, COVID-19 led to new protocols for cleaning and sanitizing. Prior to the pandemic, the restroom facilities and common areas were cleaned twice a day. Now, they are sanitized three to four times per day. "At the beginning of the pandemic we were doing it to help our customers stay safe," Prichard said. "Now, that extra attention has led to less maintenance issues since we are always checking the facility. That is something we plan to continue even after things improve."
Marathon is also moving forward with upgrades and facility improvements. Plans to add a new floating dock will get underway later this year. Our capital improvement plans are still going forward this year, we just might work at them a little differently," Prichard added.
Marina life typically doesn't slow down at Marathon. All year long they are home to transient boats cruising to and from the Eastern and Western Caribbean, the gulf states, the upper Atlantic states, and the Bahamas. Prichard said their vacation rentals are fuller than normal, and their RV spaces are booked. She noted that a lot of their current guests are Florida residents, who are choosing to remain a little closer to home. "We expect things to look a little different in the Keys this year," Prichard said. "Many of our usual guests might not visit due to underlying health conditions but we are seeing a lot of new boaters, which is inspiring."